(This article is suitable for Policy Makers & Decision Makers of Manufacturing entities with an aim to create economic wisdom. Effort has been made to convey important message till last word.)
During 2007-08 we initiated capacity expansion of our plant with a capital outlay of Rs 25 Bn. It was a fully integrated & automated, remote-controlled using 'Centre of Excellence' or 'Control Tower', state of art technology  complete with sensors capable of reducing work force by 90% of 4000+ strong work force, probably the technology what we are talking about today. The only difference, though vertically integrated, we were not horizontally connected with the market using IIoT.  However, I was pleasantly surprised to learn, our young generation were highly informed when I hear them saying- "Internet of Things is the future". 4/5 years down the line when I wanted to learn more about Industry 4.0 & the technology, I contacted these people. To my utmost surprise, they confessed to have no idea! What they wrote in social media was on the basis of hearsay. Even today as Consultant, when I visit industries and ask people across hierarchies, I am told they have no idea about Industry 4.0. This was exactly reported by PwC in their 2020 report. Various seminars & workshops by so called IT experts, Tech Companies, Consultants etc carries same glossaries what I read in various global articles & science journals.
Nevertheless, Industry 4.0 is said to work with high speed internet connectivity. In India, where we still get 3G in the name of 4G, where 5 G is still to be rolled out, full technological roll out and its application does not seem possible before year or two. Globally, where top consultant like McKinsey etc are still struggling to find various use cases of technology at Industry level; it appears we are still at nascent stage. Going by Michio Kaku, a renowned US based physicist- Have you evidenced augmented reality? Have you seen transparent paper rolling out of your mobile device on your table top where you can make designs and then roll in your device? Have you encountered Robotic Doctor on your drawing room wall asking you to scan your body with the help of mobile sized device and diagnosed your health condition suggesting medicines? Have you encountered any smart city or smart factory yet? He talks about analysis of business activities as facilitated by technology but is miles away. Yes, I have seen Industries investing huge money & fast adopting technology/ IIoT post pandemic and integrating the plant but with no knowledge of its potential use.

With no experience yet, use of hi-tech, sophisticated, tough & complex Industry 4.0 glossaries by some is bit scary! In an investment sensitive country, I have a feeling we should inspire Industry Leaders with perfect use cases, performance pillar, benefits & returns instead of scaring them. All Industry Leaders are not tech savvy but all of them have to adopt the technology sooner than later for sustainability & growth. Even US being "Number One" in digital competitiveness,  is still struggling with right use cases, not to speak about augmented reality and what Michio Kaku has spoken about innovative ability of technology.
Without use of Technology, India has been successful in inventing effective vaccines for corona virus earlier than globally known US pharma companies. Why China has failed in vaccination program despite having the technology? To my mind, what matters most is the skill & ability more than technology.
Assuming or propagandising Technology can entirety replace human intelligence is absurd & baseless! India cannot afford to pay pension to each person for sitting idle given the size of population, neither can country like US! That being so, education system, work experience, banking system etc will collapse alongside whole economic system! Wrong notions being built for extreme capitalism & protectionism measures will ultimately defeat globalisation leading to imposition of trade barriers and ultimately deprive them of global trade & commerce defeating wealth creation opportunity.
Competency & wisdom lies in use of plain & simple words to the extent technology can practically be understood & strategized in the system & be realistic. Inspiring the society to create space within themselves for doing more taking advantage of the technology can work wonder. All cannot be tech/IT skilled.
Revisiting the core
Using my expertise, I have been researching on use of technological tools & its utilisation ever since 2012/13. Technology or no technology, fundamentals of business has to remain, rather, is set to be intensified with the help of technological disruption. As consultant, I am offering my highly specialised service on operations for last five years now. My four decade industrial leadership across diverse industries has helped me reach to the core integrating technology. Though not being a tech person, I find I am second-to-none & most successful in guiding manufacturing industries through performance pillar relevant to technology and developing Industry 4.0 ecosystem.
If  Industry 4.0 is all about technology & it's tools, the changes set in motion by Industry 5.0 is already irreversible- leveraging companies to explore & develop it's capability to integrate human-machine interface and create talents to foster effective, sustainable and safe production scaling growth practicing fundamentals of manufacturing for efficiency & excellence that otherwise is crucial even without technology. I leverage Industry 5.0 exploring what has been ignored for more than three decades, chartering unchartered unlocking organisational potential and prepare them for the journey to Industry 4.0.
Most humbly, I would like to ask tech experts- Can Technology alter business economics?
Let us remain focussed in what industries want. Not all tools of AI are required by all industries. Application & choice of various tools varies from sector to sector based on industry dynamics. Generalising the matter, let us not confuse the industry or scare them of investment. The tool required by assembly plant is not required by process industry. What health/medical or Retail sector requires is not required by manufacturing sector & vice versa. Let us be more specific & realistic to help industry & economy grow!
This write up is all about Manufacturing entities.
In my previous articles I have been very specific from both business & technology point of view. I would prefer to reiterate-
Business Leaders worldwide expect their organization to capture competitive advantage. Globalization & Digitization has pushed the organization in a direction that represents new normal of uncertainty. Survival or growth of enterprise depends on capacity to generate wealth across value chain. Sustainability is rapidly becoming a strategic priority for businesses.
It is now amply clear that technology of Industry 4.0 is creating new opportunities and challenges in operational front providing operational insights for achieving Operational efficiency. In being more specific, machine can only give us insights & perspectives to reach to a solution and not the judgement or ingenuity. People will. Human Brilliance, Human Skill & Human ingenuity will always be required by the world more and more….more intensely. Machines are not inborn intelligent. They are made intelligent by people to do the routine task and accelerate error free decision making process while accelerating production. It's a journey from Knowledge Economy to Wisdom Economy. For judicious utilisation of the technology, we must be equipped with economic intelligence, business intelligence & decision intelligence capabilities. This requires economic reasoning skill to read operational economic fine prints.
While we all are busy talking about technology, no one is speaking about how to use it, inter-alia, business practices & modules that could benefit organisations and/or how to develop capabilities/skills relevant to the technology. While we all say required skills are not available but we fall short of spelling out required skills or shy away in developing required skills! Global experts limit themselves to soft skills but prefer to ignore basic skill to work with. This is more important in a situation where basic fundamentals are not being practiced across industries. I wonder repetition of ERP of 2000 era. Due to no knowledge of first digitization process during 2000 and after, ERP has remain a backend office tool with capacity utilisation of about 25-30% in 99% of industry.
Let us not be misguided by western world to copy & produce misguiding contents. Let us use our own logic to succeed. UNIDO in 2017 has said, western world is closely monitoring strategy being adopted India & China. As per their own submission, Industry 4.0 & digitization has been formulated to reverse FDIs from developing nations and create disparity between developed & developing countries. US ranks number 1 in digital competitiveness and India is ranked at 44. How US is benefitted? They are still dependant of other countries. So far as skill preparedness is concerned India ranks at 'Number One'. Let us utilise our skill in strategizing our growth through perfect use of technology instead of complicating the matters.
Incidentally, how many of industries have been able to appoint Data Scientists? The profile seeks to be an IT Expert with knowledge of mathematics & statistics along with domain knowledge. But the fact remains, no leader can wear all the hats to claim he has due knowledge across all domain i.e Materials, Production, HR, Accounts & Finance, Industrial Engineering, Costing, Operational Research etc? The salary on offer about a year & a half back was around Rs 1.5 Cr mostly by e-tailers. How many of them could get this profile or could afford? Can you get or afford to become bankrupt?
The world of Algorithm that enables machine to capture predictive data requires huge expertise to anticipate macroeconomic & micro economic changes. Macroeconomic changes cannot be limited within algorithms. Do we have such expertise to assume fast changing economic conditions? No. So let us be practical and focus on customizing our strategy on broader economic terms developing capabilities to add economic value across operational segment and meet social challenges while remain connected with world in a way that enables us to understand & capture economic shifts and work at tandem.
The shift & our findings
As said earlier the purpose of technology is to bring operational efficiency, inter-alia, improve productivity across resources & be cost efficient with competitive advantage so far as manufacturing sector is concerned besides facilitating product design and enabling 3D printing to accelerate production. Improving connectivity with the world- with supply side and demand side is also facilitated to capture real-time data, enabling required changes, fast decision making process and offer fast service to customer/s.
Technology or no technology, Operational efficiency is central to success. But organisations have failed to strike balance between top line & bottom line. Although each and every unit produced by us carries equal amount of profit, but profit is never proportionate to change in sales. Manufacturing being an economic entity, the solution to problems lies in economic principles and not accounting principles.
However, as manufacturer, since last three decades we have been appointing CEOs having expertise in sales. We have succeeded in accelerating sales, may be to the extent of 30-40 times or even more but have grossly ignored bottom line that is governed by factors and resource behaviour to adversely affect our return, at least not to the satisfaction.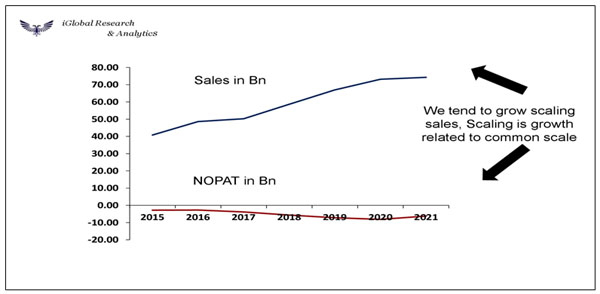 Economic performance analysis of most of the industries has revealed a very poor state of affairs through years. Sample study of about 250 industries gives a very worrisome picture. Total operational cost for a healthy company is supposed to be less than 80% whereas on an average it is found to be 95%+ in most of manufacturing entities.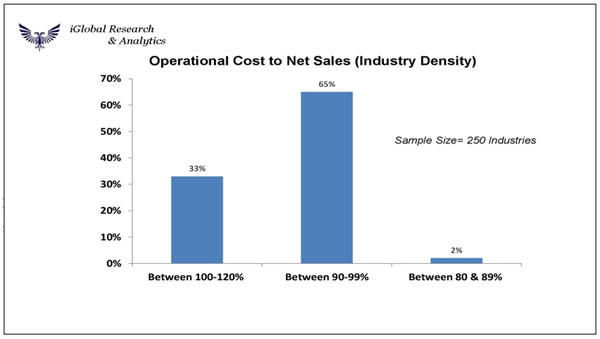 Surprisingly, for goods produced by any manufacturing entity, channel partners namely Distributors, Stockists & Retailers have the opportunity to earn 10 & 20% respectively as commission while the entity that produces it earns little over 5% despite meeting statutory hurdles! They have the right to earn more which must be explored.
As per Capgemini, if sales has the capacity to generate prize money of 10%, operational analytics has the capacity to generate more than 30%. Capgemini in its 2017 report said- more than 75% of global industries have shifted their focus from "Customer Analytics" to "Operational Analytics".
However Operational Analytics has been grossly ignored for real-time control measures. As per Times of India report, Kolkata Edition dtd 25th April'22 – Post pandemic there is a shift as confirmed by one of the Leadership search firm. They have found 34% of the candidates that were appointed as first-time CEOs were from operation. Firms MD said- Operations is churning out more CEOs than in the past. A number of organisations prefer making budding CEOs, first COO as they get better grooming while being exposed to different facet of business as well as a deeper understanding of internals.
Operation & supply chain, as part of value chain has never got the importance that it deserves as told by Lupin Global President (HR), Mr. Yashwant Mahadik.
Glad, we are in right track now! Here again working superficially will not help- Industry Leaders must decide- Operation Management or Operational Efficiency?
Provided further, many industries are said to be fast adopting tools of AI post pandemic. This is basically done for two reasons- One to avoid dependence on workforce and second to accelerate production.  While former requires competent workforce to create "Centre of Excellence" or "Control Tower" to guide the production process and the machine that may increase employment cost if not used judiciously, later is likely to meet limitations so far as production capacity is concerned in the short run and is always subject to demand of the product. Incomplete use of technology without measures of effective return could be disastrous.
As a customer, let me ask you a very pertinent question- Why should I buy your product? What value does your product offer? Quality remains a constant factor, what competitive advantage does your product offer over others? Incidentally, customers are willing to pay higher price for a product with higher value!
As manufacturer, if you have no capacity to add value to your own organisation, can you add value to your customers? Yes, you have the option to add value to your own organisation as well as your customer/s creating "Strategic Functions including Strategic  Marketing" – whether you are in B2C or B2B business model. You are no more liable to sell only the product. Customers of today require more….. for being loyal to you. Brand value has no importance today. What is important today is-What value your product offers against my hard earned money. "Shrinkflation" is no answer as adopted by US companies after being Number One in digital competitiveness.
PwC in their one of the report published during early 2020 has said-
"Mere adopting tools of AI will not yield desired results unless supported by robust performance pillar…. It further said- More than 90% of CXOs have no idea about requirement of tools of AI and risk associated with it…" 
Looking forward
Efficiency lies in judicious utilisation of resources.
Higher cost of finance is the result of higher investment due to poor factor performance / governance that often results in payment crisis..
Many Industries have Operational Specialist. Despite this organisational efficiency ratio dwindles with extremely poor factor output/productivity-most often less than 1.0. This means their operational investment is bound to be very high. They are running at greater financial risk unless they plug the leakages finding reasons and the gap.
Operational Efficiency is all about measuring efficiency of profit earned as a function of operating cost through use of various Econometrics- a statistical study of economic data to give empirical content to economic relationship between the factors to ensure common scale growth. This is missing across industries. Industries have to determine & optimize cost while plugging leakages for being relevant.
Mere working superficially with Lean, inter-alia, TPM will never yield any satisfactory result. Organisations must know effective use of economic Kaizens. Manufacturing is a dark place, shrouded in clouds. Manufacturing is more than assembly of parts or preparing input basket for value added product. Manufacturing is governed by multiple factors which in turn are governed by ever changing macroeconomics. Costs are ever changing across shifts, batches, days, weeks, months & years. Organisations have to continuously investigate variables before they decide on fixed cost investment. Cost of ignorance is much higher than cost of production & cost of quality.
Developing capability to read operational economic fine prints through use of economic reasoning skill with an ability to neutralize ever changing macroeconomic implications at micro level of operation is the key & first step towards journey to Industry 4.0. This beside, the team must also know-
What is the reliable source of data
What to do with huge data
On what operational economic parameters these data need to be analysed.
How to use the technology for predictive maintenance
How to integrate machine and the production for collecting variety of data to ensure "0" breakdown, stoppages, outages.
How to create strategic functions
And many more…..
Scaling is a growth related to common scale.  Growth & growing business complexities are directly proportionate to shrinking leadership ability. There exists an extraordinary connection between economy & investment results. Leaders who ignore the economy set themselves to fail. Decision makers who understand the economic stress point fair the best.
Organisations have to ensure policy shift, ideological changes and adopting scientific methodology to critically analyse operational economic parameters reading operational economic fine prints with economic reasoning skill.
Creating strategic functions and creating space for new analytical & strategic roles across hierarchy is the requirement of Industry 4.0 era for deep analysing governing factors. Era of "Managing the Resources" through control & command has gone. Organisations have to work at tandem "Enabling the Resources" for higher productivity across resources. Efficiency of productivity rises with availability of huge data to analyse based on various economic parameters. Organisations can no more be governed by Accounting principles which is proficient in book adjustments. Working on cost silos, organizations have to follow the economic principles to ward of intangible operational losses.
There is no ONE-SIZE-FIT-ALL solution to deal with the problems of all the industries. Not all tools of AI will be required by every industry.  The choice of tools of AI & economic tools like Economic Intelligence Tool, Business Intelligence Tool & Decision making process depends upon dynamics of the organization & the business. Nevertheless, organisations must follow AI investment rule- 60% on capacity development, 30% on tools of AI and 10% on various Algorithm.
No better than existing set up of any organisation knows the dynamics and the requirement. ERP has been facilitated by techies that are now used as backend office tool. In this case too, Techies can only support with infrastructure development under organisational guidance.
However,  infrastructures  can easily be developed & adopted in-house to save huge cost on Capex developing "Modelling Scientists" & "Decision Scientists". The project savings (Capex) could be around 90%. On the other hand, developing capabilities for operational efficiency with an ability to optimize cost across operation as facilitated by tools of AI has the power to yield around 30% on Opex- a huge ROI.
Use Cases
Business today is no more limited to conventional norm of selective improvement. Organisations today require holistic improvement & transformation through fundamentals & risk laden reboot with a goal of achieving dramatic results altering its future trajectory. Efficiency lies in maintaining standard limit, cost determination, achieve cost-efficiency for competitive advantage while measuring profit earned as a function of operating cost through use of Business Intelligence & Economic Intelligence tools & techniques, like-
Business Intelligence – Strategic & Scientific Business Planning based on demand factor, Reverse Costing, Strategic pricing, Lean Costing, Strategic Resource Planning, Strategic Audit, Loss Cost Matrix, Value Stream Mapping, Macro economic Convergence etc
Economic Intelligence – Factor Variance, Factor Productivity Index, Total Factor productivity, Total Cost Performance Index, Measuring Production Cost, Marginal Cost Analysis & Control, Efficiency Ratio, Wealth Generation as a measure of Organisational GDP etc.
No technology has the power to alter Business Economics, rather it has the power to facilitate & foster much to the delight of Industry Leaders, Stakeholders & Customers. Be ahead in the race…
About the Author: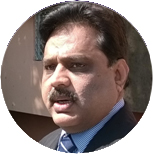 Sculpted through 40 years of rigorous work imprisonment leading changes from close economy to open economy & reducing gap between market orientation and performance relationship that moulded Manoj Trivedi through passion of excellence and enabled him to walk through world of opportunities to pay back to the world. Backed by Operational Research &  Materials/Supply Chain Management accolades, in his present role as Consultant, he is Second-To-None leveraging Industry 5.0 through operational efficiency & preparing manufacturing entities in the journey to Industry 4.0. His exclusive expertise has been used & retained by several national & international forums beside many manufacturing entities. Engaging with manufacturing entities & its talents, he helps them unlock potentials and  grow organically with fundamentals & scientific  rationale developing  capabilities relevant to 21st Century business perspective and Industry 4.0 ecosystem while customizing Operational strategy for Operational Efficiency based on industrial  dynamics & economic performance analysis. He strategizes developing economic moats across operational segment with the help of his specially designed Technique of Economic Engineering & Econometrics.
He can be contacted at :
LinkedIn : manoj-trivedi-65421316
Corporate LinkedIn : iglobal-research-and-analytics
Twitter : MANOJKRTRIVEDI
FaceBook : manoj.trivedi.927
Instagram : https://www.instagram.com/manoj.k.trivedi/
Mobile : +91 90518 31961 / +91 62912 05502
E-mail : [email protected]
Corporate E-mail : [email protected]
Web : https://manojkumartrivedi.business.site/
Also read his earlier articles: