(This Article is to the benefit of Industry Captains & Board Members to meet the challenges ahead in adopting Industry 4.0 that requires sweeping transformation, reorganizing their talents and shift from conventional business practice)
For past twenty years sustainability has become a strategic priority for global organizations. In absence of competitive advantage and with less returns, organizations have been experimenting utilising various methodologies but nothing seem to work. This includes frequent replacement of CEOs & other top level executives. Variety of schemes framed including voluntary & involuntary retirement, retention, incentive schemes etc have all proved to be ineffective. In many cases, this is also because shareholders or the board felt that the previous leaders did not understand the massive disruptions facing their industries- incessant technological change, frequent macroeconomic changes now means that leaders & organisations are being overtaken by their competitors at an unprecedented pace.
Selective and incremental changes with improvement across process & functions also did not yield any result. Adoption of Lean Philosophy- Kaizen, TPM, Six Sigma, 5S etc too have failed to remove the barrier in having competitive advantage.
My studies across number of Industries have all shown declining organizational economic performance chiefly due to declining Human Productivity Index that controls all the resources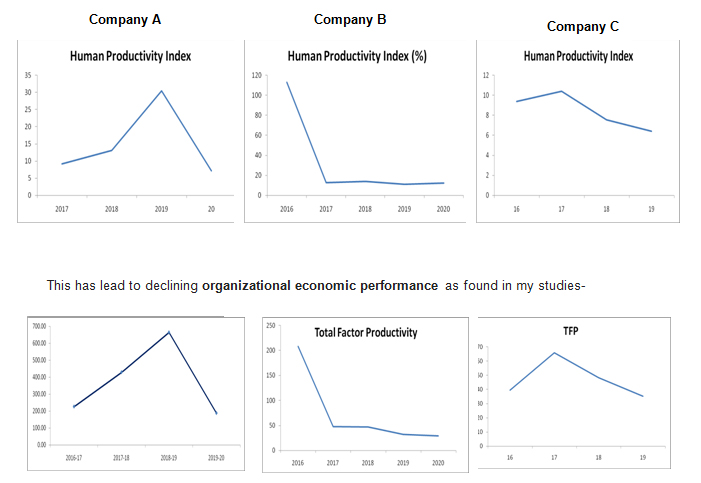 Many new CEOs and other C-Suit level officers come in with a mandate to transform the company—including its strategy, business model, organization, operations, and culture but have failed to bring any difference. Modern theory of firm strategy integrating various analytics have yielded little to no result. Variation in organizational performance through years signifies poor governance and abilities to neutralize macroeconomic changes.
Workforce ageism is a major source of concern that has become afflictive. The reason of such ageism is chiefly due to saturation with monotonous jobs for years with no new system, procedure or practice in place. New CEOs have failed to bring in new concept or practice to delight its team & the customer.
Employees at junior level look at their leaders for necessary guidance but have to live with age old practice that someone sometime has evolved. With nothing new to learn and with autocratic attitude of seniors, a resultant of their limitations, the employees prefer to leave and hunt for something new. And the process continues much to the dismay of Industrial Captains.
Industry Captains & Board members are yet to determine the reason that leaves organization in uncertainty and have to live with fortuitous returns driven by market forces. In most of the organization returns across resources have been found to be in the ratio of 1:0.70-0.80.
Disruptive Changes requires holistic Transformation
Competitive advantage does not come with product edge alone. It involves many factors to be worked upon through Machine Efficiency, Manpower Efficiency, Utility Efficiency, Cost-Efficiency, Finance Efficiency, Quality Efficiency, Supply Chain Efficiency & Over board Customer relation & service involving Strategic Marketing & Service. Industry 4.0 leverages all such opportunity that requires complete overhauling of process, approach, outlook, model, and practice & business perspective with 360 degree transformation.
Industry 4.0 is a reality now. The sooner we get on board, the better from sustainability point of view and staying relevant retaining our market space. It does not require PhD to start playing with AI. You just need to get your hands dirty. It is a team effort shunning principles of objectivity. It does not require any specific technical background. . It involves augmented intelligence. What you require is right people at right place with right value proposition & right skill.
Most people understand the importance of commitment by the CEO and other top executives to large-scale change. Yet, by itself, commitment is not sufficient. Companies must also involve the relevant middle managers in the planning and execution of the transformation program to make sure they buy into the goals and strategy. Without this, middle managers often become sources of resistance, defending functional silo's and power bases.
Companies often do not have the mix of skills that they need, and they tend to underestimate the skills and expertise of the people required to execute a successful digital transformation. For being successful, companies have to pay particular attention to transformation leadership positions, addressing both digital expertise and broader skills.
Industry Captains must learn from the past – ERP was the early digital revolution of 2000. Cost of ERP implementation has been to the extent of Rs 8-10 Cr. Average utilisation rate of ERP is to the tune of 25-30% of its inherent capacity and has remain a back end office tool. As the name suggests, ERP is not used for any planning purpose other than data centre and working platform.
Leadership must govern the transformation with an agile mindset and drive agile behaviours broadly in the organization. This requires authentic belief in the behavioural changes required, as well as playbooks, processes, and support to enable the organization to work in a cross-functional, mission-oriented way.
Being different, Industry 4.0 is inevitable and involves process and cannot be treated casually. The risk involved is massive to the extent of disturbing whole set up. Instant revolution does not discriminate between Small & Large entities.
Let you not be driven by general perspective, as is being narrated by many, it involves deep understanding of how it works based on business dynamics of each business, type of talents required including C-suit, White collars & Blue collars, what changes are required at each level of business-Operational, Technical, Commercial & Administrative front, benefits that may be derived etc has to be planned and need serious attention of Business Leaders to start thinking and planning from now.
There is no one-size-fit-all solution on offer. This need to be customized based on individual business need. For this detail knowledge of workflow and process is mandatory. Tech Companies are offering standard products & incomplete solution for implementation at a huge cost- Around Rs 5 Cr for IIoT Software for integration.. Their scope of work does not involve Machine Learning and automation. Machine are required to be Sensors and programmed to monitor & control. Such automation has to be done by automation industries separately. This comes with a rider and huge annual maintenance charges beyond control of organizations.
Building capabilities to read, filter & utilise huge data- Technical and Engineering involving Remote Asset Management & Process Analysis for quick decision making process has to be undertaken at junior level. This is the responsibility of organisation to prepare their team. Without building such capabilities, any move to financially commit will be suicidal.
Growing Business Complexity Biggest Organizational Dilemma
Ever changing macroeconomic implications, frequent disruptions- technological or else leave the organisations in more uncertain conditions, pushing them in a direction of complexities. Growing business complexities is directly proportionate to shrinking leadership abilities. Choice of CEOs is ideally made based on either his technical or sales capabilities. Due to general notion of growth scaling sales revenue, CEOs are made to focus broadly on production numbers & sales. Recent trend has shown philosophical inclination of a candidate was more preferred for leadership role.
A few years ago, a top consultant was asked to help find a new CEO for a family-owned electronics retailer that wanted to professionalize its management and expand its operations. They worked closely with the outgoing chief executive and the board to pinpoint the relevant competencies for the job and then seek out and assess candidates. The man they hired had all the right credentials: He had attended top professional schools and worked for some of the best organizations in the industry, and he was a successful country manager in one of the world's most admired companies. Even more important, he'd scored above the target level for each of the competencies they could have identified. But none of that mattered. Despite his impressive background and great fit, he could not adjust to the massive technological, competitive, and regulatory changes occurring in the market at the time. Following three years of lackluster performance, he was asked to leave. The company then elevated a person from within for the post who performed much better than qualified CEO.
Why did the CEO of the electronics business, who seemed so right for the position, fail so miserably? And why did the man elevated, so clearly unqualified, succeed so spectacularly? The answer is potential: the ability to adapt to and grow into increasingly complex roles and environments. The elevated person had it all; the first CEO did not.
New arrivals can bring new perspectives not the result. To deliver, he must have business sense making with capability to quickly adapt to the unique dynamics and understand its drivers-Socio-Politico-Economic- Demographic. The addition is Technological understanding to integrate with business. New Arrivals must be Techno-commercially strong satiated with wisdom economy capable enough to create wealth across organization. Hunting such people is not possible through few hours & few rounds of Interviews. It has to be long drawn process to identify. To build such capital across board, the process must start now.
No technology, however, can alter fundamental of business. Economic principles cannot be altered by any technology. With ever changing macroeconomic factors driven by many factors, Leaders must have the ability to neutralize its implication and integrate with the technology. Industry 4.0 leverages scope to follow the fundamentals of business at micro & sub micro level to derive higher value of money spent each day.
New Era of VUCA World
Little do the Board members know, talent spotting methodology with require traits to focus on has drastically changed. It is no more limited to 19th & 20th Century, IQ- that transited from verbal, analytical, mathematical, and logical cleverness to educational pedigrees and tests used as proxies. Under VUCA world competency-based appraisals and appointments are increasingly insufficient.
Unfortunately, potential is much harder to discern than competence but is inevitable. To a large extent Curiosity, Deep Business Insights, Business Sense Making, Strong Determination & Engagement will help to determine the fitment. More than this, Board should search for Entrepreneurs and / or Intrapreneurs.
Holacracy is working wonder in most of the global organizations. This proves, the team cannot afford to have master & servant relation and policing pattern. They must be allowed to work with complete freedom to create and innovate analysing entire business activities and customers psyche/interest. This can be possible only by reducing hierarchal length with complete empowerment delegating authority, accountability & responsibilities at the execution level.
Organization by virtue of being an economic entity , fundamental of business cannot be ignored that states-
The fundamental should be sufficient for the Board members to understand business ball game and most important factor to focus upon that is being grossly ignored.
"There exists an extra ordinary connections between the economy and investment results. Business Leaders who ignore the economy set themselves to fail. Decision makers who understand the economic stress point fair the best."
Transformation through Industry 4.0
Price Water House in its survey report of Jan'20 has said– "90% of CXOs have no idea of requirement of Industry 4.0 and risks associated with it."
Business keeps on evolving with frequent macroeconomic & technological changes. New technology impacting output, quality, and productivity & cost factors keeps on changing. Innovative products, specifications, combination of input material or material compositions has a major role to play in the sustainability of organization. CEOs must develop a clear purpose for the change to be ensured by Board. At any given time, in this era of always-on transformation, companies have multiple initiatives underway, which can be exhausting for people in the organization as they cope with constant change. CEOs need to reenergize people with an explicit purpose—the "why" around which management and the rest of the organization can rally.
In order to ensure this Business Leaders must incarnate upskilling & reskilling themselves first for the purpose. Read my Article: Industry 4.0:Adding Capabilities Industry Leaders need to Re-incarnate.
Industry Captains must adopt agile and digital methods to drive change. To get breakthrough results fast, while inspiring and engaging employees, leaders should adopt agile approaches—for example, mapping customer pain points, operational pain points, establishing cross-functional teams, and establishing new ways of working, such as two-week "sprints," obstacle boards, and minimum viable products. At the same time, they must leverage digital technologies to improve the customer experience and simplify workflows.
Industry Captains must assemble diverse leadership teams. Assembling the right team, a critical component of transformation success, is a challenge for some organizations. The ideal team includes people from inside and outside the organization who understand the current core business, as well as the actions needed in order to respond to—or lead—disruptive change. It is important to strike the right balance between external hires (who can bring fresh ideas and new capabilities, particularly digital) and internal talent (who know the business and organization).
Industry Captains need to apply directive and inclusive leadership. Leaders cannot simply set the broad vision for a transformation and then delegate its execution. Instead, they must show directive leadership, setting the ambition, articulating strategic priorities, and holding management accountable for results. At the same time, they need to be inclusive, involving their teams early on, fostering collaboration, soliciting honest feedback, and empowering teams to define and implement specific initiatives. Striking this balance can be difficult, especially during the intense pressure of a major transformation effort.
A transformation is not a series of incremental changes. Rather, it is a fundamental reboot that enables a business to achieve a dramatic, sustainable improvement in performance and alter the trajectory of its future.
Findings
Every organizations needs a transformation for better result. Over hundred of companies analyzed of their economic performance have been found to misaligned economic factors and sharp decline in economic performance despite growth scaling sales revenue. High operational cost with lack of competitive advantage makes them highly incompetent. Please read my Article- As a Customer Why Should I buy from You.
Industry Captains must find purpose of their organization from short term to long term. The fundamental of business & operation must not be ignored. Industry 4.0 can only facilitate.
World Economic Forum has rightly said- "The world will always need Human Brilliance, Human Ingenuity & Human Skill. Machine will supply us with insights & perspectives we need to reach to solutions, but, machines won't supply judgement or the ingenuity. People will."
It is not the machine over men as is being hyped by Western Experts. Men have to be at all point of time over machine. Bionics have its own limitation, cognitive feats have no limitation. Industries cannot run with machines & its digitization alone. Industry captains must strike a balance between machine & men, inter-alia, Skills with potential. It is predictable factors that separate the winners from the losers. Economic factors with ability to create wealth across organization have a significant impact on the medium to long-term results.
Industrial Dilemma
My discussion with several Business Leaders reveals the fact how ignorant they are in adaptation of or implementation of AI. I cannot blame them due to distortive narratives by Global Experts, ideally to create a gap between developed & developing countries. Please read my Article that has dealt with the issue to clarify- Industry 4.0 & Fundamentals of Manufacturing Ecosystem.
Industries must develop "Modelling Scientists" & "Decision Scientists" in-house for adoption of the technology. Every Industry has to build & customize infrastructure based on its product, process & business dynamics. Earlier, Tech companies have helped with installation of standard ERP Modules. They have been charging huge money, almost double the cost of the package, to customize. It is the lack of knowledge, understanding, capability and leadership support that Industries have not been able to customize in-house & guide their team in according to their need that met with limitations.
To avoid similar recurrence causing financial stress, Industry captains need to first understand their requirement, map their value chain, plan the requirement well in advance and develop their team initiating HR 4.0 roll out plan and required capabilities based on their own requirement. This is the first step towards transformation and shift to new normal.
The purpose of Industry 4.0 is more about Business Analysis, Business Intelligence and Decision Intelligence than technological advancement. The objective is to achieve operational efficiency, cost-optimization & be competitive in VUCA world improving organizational performance. It is only then return on investment can be worked out at an early date. Incidentally, developing Cyber Physical Assets in-house can save 90% of the total project cost. Developing performance pillar relevant to technology to improve performance can save nearly 20-30% of Operational Cost.
Industries should target their investment based on 10, 20, 70 rules as is being typically incurred by successful global companies-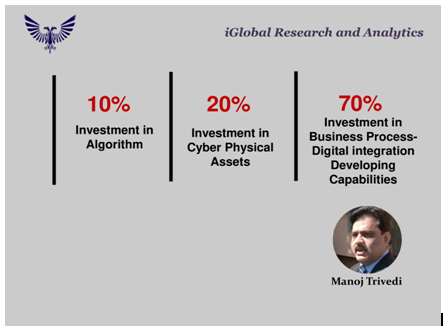 It is no hidden fact that Indian cost of production cost is higher by 10-20% in comparison to South East Asian countries on an average. Assess your loss annually and save your organization. There can no more be excuses in failing to tackle the underperformance conundrum, inequality in business and lack of diversity that I often hear blaming the Govt & recoverable taxes. Look inward. It is your case & wisdom that can save your organization from being perished. It's your case to make the competition tough for your global competitors. You can do it with strong determination & will to achieve…Prove you care for your organization.
Business is not a value. Business Value is a Model.
Business Value Model what we pursue.
About the Author: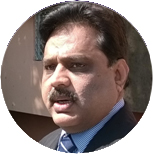 Enriched with Four Decade Leadership across diverse industries driving change through closed economy to open economy pursuing competitive advantage with operational excellence in VUCA World, Manoj Trivedi is Founder Director & Business Director at iGobal Research and Analytics, based out at Kolkata, Republic of India. His unique expertise has been retained by Consortium appointed by Govt of United Kingdom, & European Union to develop industries and several Central Govt agencies including Ministry of MSME & NSIC. He can be reached at [email protected], or, (91) 9433013863 / 9051831961 for preparing your organization for holistic transformation, developing capabilities for in-house adoption of technology & building performance pillar & business skill relevant to technology.
Also read my earlier articles