The World is drowning in data but lacks in Economic Wisdom
India and its manpower is at the center stage of the world. It's not a predicament, but it is the source of hope to the so called 'aging' developed nations. With an expected population of 1.52 billion by 2036, 67% of which would be in the working age group (15-64 years). India will be the powerhouse of the coming decade. According to a research by Boston Consulting Group, estimate is that by 2020 India will have a surplus of active population – about 47 million people. Greatest challenge before entire active population is to acquire much needed advance skills.
Simultaneously, in ever changing global economic scenario success of Indian economy lies on how Indian Companies and its supply chain along with value chain bring perceptual change in doing business. Paradigm shift in organizational behavioural shift to decentralize decision making process, flattered organizational structure, cross-organizational and cross-functional networking & information sharing and flexible work arrangements is ineluctable. In order to achieve this, all employees should be made to undertake more responsibility and contribute in value chain ensuring high productivity and innovation.
Banning of Chinese goods across world has created business space both in domestic & international market. To occupy the space Industry Leaders have to make their organisation cost-efficient and competitive to occupy the space. If small countries like Bangladesh, Indonesia, Vietnam, Phillipines etc can, why can't you? Industry 4.0 is not just about technological advancement; it is more about improving productivity that helps your return to scale and resiliency.
If you think you have hired costly & highly qualified talents who will take care of your organization, you must be doing injustice to your organization. Finding opportunities they will move on, where will you go?
Business is yours. As Business Leader you need to consider some incinerating facts-
Cost of implementing ERP has been to the tune of Rs 9-10 Crore by each organization. With average utilisation rate of about 25-30% of its capacity, it has remain a back-end tool across organization. The reason being the responsibility to implement was delegated to first line of hierarchy who in turn delegated this to functional team with their own limitation. How many CXOs use ERP in their day to day work?
One of the leading organisation has decided to adopt tools of AI engaging renowned consultant at a cost of Rs 5.0 Crore. Discussion with First Line hierarchy revealed they have no idea about Industry 4.0, how it works, about its performance pillar and it's benefit!
Concerned about bottom line, one of the Business Leader of leading organization in the world had always enjoyed the profit ou of demand supply gap and never bothered to intervene in the operational area for decades together. With change in business scenario, he is now incurring huge loss. The performance analysis reveals huge pilferage at the plant level which he is unable to control. His employees have prevailed.
With no knowledge of Value creation, Value Addition, Operational Efficiency & Excellence, the autocratic mindset of first line hierarchy is mostly focussed on achieving targets as set by board to compromise economic value both in short & long term.
There are many such instances. If Business Leaders are capable enough such negative traits will think twice. They must be inspired to take challenges & risks to enjoy the work.
Need for Innovation driven Growth
Economic success is increasingly based on the effective utilization of intangible assets, such as knowledge, skills, and innovative potential in all the activities of supply chain & value chain as the key resource for competitive advantage. Biggest challenge before the nation is, for arriving at GDP growth from 1.9 Trillion USD to 10.4 Trillion USD by 2034 requires complete transformation both at organizational and talent level by steering knowledge economy and innovation.In the New Economy, knowledge, rather than natural resources, is the raw material of business. Both corporate world and Government will have to share the burden to achieve common goal.
Importance of being a Leader
In such times of growth and stress, some or all of practices can be extremely valuable to turn organisational change into an opportunity for increased well-being, efficiency and productivity.
Just because you have the position does not make you a true leader.
Just because they have the qualification they cannot be a performer.
Pursuit of excellence lies on being important. As per Shloka 3.21 of Bhagwad Geeta, people follow the way as they are shown.
Interpreting Fire Rituals or "Havan" in Business terms, most of the Business Leaders sole focus is on God to bless them with "Tathastu" which comes as ROI to investment made in Fire rituals while ignoring the "Purohit", a Human Resourcewho by virtue of his skill has invoked God. He also ignores the process being followed at "Havan Kund".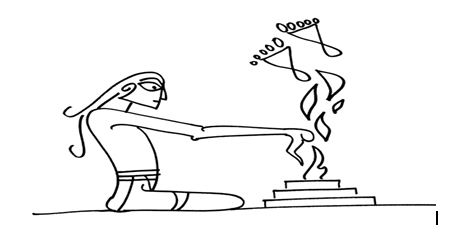 Lord Krishna best describes a Business Leader who blessed "Gopis" to dance with them in a dark night to convey he is always with them all at a time. Lord very well could have ignored gopis and asked them to go to Maharishis who are empowered to establish rule of law and policies. But Lord did know well that he and his importance will be recognized only when Gopis or the Executors are satisfied with his lordship. Business Leaders have to stay connected with executors who are the real asset of the organization. Mid & senior level officers often create barrier to cover up their misdeeds / limitations.
Lord Ram signifies exemplary Leadership. He made "Hanuman", a Monkey Man capable enough to be worshipped in his own temple by Human.
Business is not just about investment. It is more about wealth creation as a measure to sustainability goal. Sustainability can only be achieved through inclusive growth inspiring team members to achieve the goal. Such frequency and vibrations has to be initiated from top. You too can provided you develop your own capabilities.
Be like a Sheep Dog, not Shepherd
Prof C K Prahalad
This is the famous preachings of Prof C K Prahalad, Distinguished University Professor of Corporate Strategy at University of Michigan Stephen M. Ross School of Business, during 1991 that catalyzed Indian Business Leaders to build successful MNCs overseas by nurturing their team instead of following VRS policy as adopted by other companies. In 21st Century this holds more water to follow for being more & more productive.
Being Leader, Executors look at you for mentorship, guidance and growth which no other than you can only ensure. Leaving them at the mercy of hierarchy of commandment will leave you and your business in uncertain terms. In most of the cases these hierarchies have been found more of autocratic and destructor than the maker. Our life is governed by principles of 3Bs- Belief, Behaviour and Business. Belief is governed by our knowledge and perception which is subject to vary from person to person.
It will therefore be wrong to consider all people across first & second line of hierarchy as asset of the organization, save exception.
Knowledge Economy Vs Wisdom Economy
We are engaged in a series of conversations with others who are trying, in different ways, to do the same. The premise of those discussions has been that what has passed for social, economic or urban regeneration over the last decade needs to change.
In the knowledge economy dog eats dog. The wisdom economy says dogs do better in packs
Over the last several decades the entrepreneurial axiom has been that to gain competitive advantage in a globalised market economy through increased knowledge and skills. The knowledge economy was one in which creative and digital industries would thrive, new technologies and business opportunities would flow from our world-class research institutions, and we would think our way to success. Implicit in that view was that the dirty work of making things would be outsourced across the globe.
But most entrepreneurs turned out not just to be good at making things cheaply, but just as good as us at thinking and research and creating things. With limited capacity to make things and no obvious reason why our thinking should be considered superior to others', where does that leave our knowledge economy?
This is where a wisdom economy comes in. A wisdom economy doesn't ignore knowledge, but recognises that value is attached to the ethical and social framework within which that knowledge is used. Wisdom recognises that values and value-judgements are implicit in the way we live and that we need to be open about them.
So what might a wisdom economy feel like?
The knowledge economy is innovative. The wisdom economy is reflective. Reflection doesn't displace innovation: but it asks what the purpose and end of the innovation will be. It stops to consider the consequences, and will sometimes place a higher value on inaction than on action as a result.
The knowledge economy wants more. The wisdom economy understands 'enough'. Wisdom knows that a person's life doesn't consist in an abundance of possessions. Wisdom understands prosperity as a state of sufficiency; knowledge without wisdom values only accumulation.
The knowledge economy demands qualifications. The wisdom economy insists on qualities first. Qualifications can be excellent, but don't make you a better worker or even a better thinker.
The knowledge economy is competitive. The wisdom economy is collaborative. The knowledge economy is grasping. The wisdom economy is gracious.
Too often this stuff gets put into the little black box called corporate social responsibility. That is neither wise nor responsible. A wisdom economy should regard all activity as either socially responsible and worth doing, or not socially responsible and therefore to be avoided.
In terms of regeneration, little value is created in encouraging people to spend money they don't have to buy stuff they don't need in order to impress people they don't like. A wisdom economy might see more value in community work, relationship-based activity that builds self-esteem as well as skills, and creating local products people are proud to make. It might see more value in the gradual improvement and reuse of places, working with the grain of local identity and character, rather than tearing down and putting up shiny new buildings.
A wisdom economy isn't yet another 'new economy'. But it could give us the tools to make better choices about the one we've got.
Although separated in time and space, and against popular perception, practical observations, societal laws, and thoughts on economic matters were being written in ancient Indian literature as much as the otherworldly concerns. Most of the literatures have been composed spanned beyond a couple of millennia BCE. Humans have accumulated economic wisdom over millennia. Guided by the wisdom, that always have been, the maturity of economic thought that has found expression in ancient Indian writings is worth reviewing for economic wisdom. The esoteric meaning of mythological stories is worth evaluating that has greater impact over our life, personal and professional.
The Challenge
On one hand, Business Leaders worldwide expect their organization to capture competitive advantage; on the other hand, they are lackadaisical in adapting changes and prepare their economic entity for the challenges & opportunities ahead. Globalization with intense competition and digitization that brings business world more closely through improved connectivity is pushing organizations in a direction that represents new normal of uncertainty. Business environment is becoming more complex and fast moving than ever. Growing business complexities and disruption is the biggest organizational dilemma to hold the growth of an organization. Growth is directly proportionate to shrinking leadership abilities.
Successful beacons globally are taking necessary corrective steps to adapt the changes and fast occupy the business space pushing rest of the business world in a world of uncertainty. Sustainability, therefore, is rapidly becoming a strategic priority for businesses.
The challenges thrown up by ever changing macro economy lead by globalization, disruption, intense competition, protectionism, low margin and improved supply chain is rapidly and radically reshaping our business outlook. Competition is coming from new and previously unseen sources. For established organizations,lack of short term and long term planning, Leadership failure through inability to read macroeconomic and microeconomic driving forces and take right decisions at opportune time, inability to execute work at fast pace, entangling through delusion of false pride admitting mistakes, Know-All attitude, feeling it enough of great product, ignoring market needs, inability to manage and optimize utilization of resources, inability to value the value and host of other factors contribute to their failures.
In not responding to change and the challenge global elites like- Kingfisher Airlines, Blockbuster, IL& FS, Kodak, Nokia, Xerox, Yahoo, Segway, Blackberry, MySpace, Commodore Corp, Hitachi, Polaroid, Toshiba, Motorola etc are either struggling or have failed.
Changing economies, changing economics, changing business practices, changing business models & technologies, changing consumer preferences and taste, changing competition and host of many other factors are also adding to the woes. In not adopting change we are handing our business space to international players.
The Digitization
Rise of technology is introducing opportunities and obstacles for global and domestic companies alike. Through improved connectivity, fast execution and improved business analysis it is enabling small businesses to become "micro multinationals".
Digitization is not new. The process has started ever since two decades. Over 99% of Indian organization has not been able to derive advantage of the technology.
Incidentally, almost all the industries across various sectors have already been exponentially disrupted by the technology leaving no room for any choice to Organizations. Organizations can no more have the luxury of unutilised technology at the choice of its executives. Business Leaders should have the capability to lead by example and force its team to unlearn & relearn. For this they have to unlearn & relearn first to avoid diversionary tactics by its team as is being ideally practiced.
Mere adopting tools of AI will not yield desired results, unless supported by robust performance pillar…
– PwC
What is that performance pillar?
In recent survey during Jan'20 PwC reports- More than 90% of CXOs have no idea about requirement of tools of AI and risk associated with it.
Capgemini in its report during 2018 has reported more than 80% of Global organisation are shifting their focus from customer analytics to operational analytics. This is for the simple reason that growth scaling sales revenue has not improved bottom line enduring growth. Modern theories of firm strategy integrating various analytics has not improved bottom line. Neither have Lean principles nor TPM contributed to organisational growth.
Macroeconomy is ever changing due to various factors. Implications of macroeconomic variation need to be neutralized at microeconomic level of operation on real-time basis for best results.
"There exists extra ordinary connections between the economy and investment results. Business Leaders who ignore the economy set themselves to fail. Decision makers who understand the economic stress point fair the best."
Developing capabilities to analyse factors of operation in commensuration to macroeconomic requirements/changes for being cost-efficient and competitive with the help of economic reasoning skill reading operational economic fine print is the only Performance Pillar essential for organisational growth.
Economic Challenges
The short-term economic decline governed by multiple factors in the economic sentiment will now be a routine matter. For example COVID19 that has disrupted global economies. Whether or not there could be any macroeconomic slowdown, organizations hereinafter are set to face economic slowdown of their own businesses. Growing competition and inequality continues to increase. The rates of disparity and inequality – between rural and urban areas in developed countries, between developing and developed markets and ultimately between people and machines – are on the rise. Multinational companies are increasingly seen as agents of inequality and face growing pressure and criticism from governments and consumers alike.
APCO Worldwide's recent research revealed that only 14% of business executives surveyed feel very prepared to deal with unexpected geopolitical threats, and only 18% felt they were equipped for the challenge of recruiting and retaining the talent needed for growth. The key takeaway of the study is that enterprises today need to lean into risks and have a process to embrace and adapt to them. The model that emerged from the research identifies three critical building blocks of an agile enterprise:
Active leadership,
Shared advocacy, and,
Enterprising culture.
New face of globalization is emerging giving rise to reverse trend. Track record of the 500 largest firms worldwide was examined by The Economist and found that in eight out of 10 sectors, multinational firms have expanded their aggregate sales more slowly than their domestic peers that signal inclusive growth for sustenance. This could be seen as great opportunity and need to be balanced out by the compounding of small but far reaching changes and analysing business activities for the simplification and modernisation of economic systems for being cost-efficient and be competitive. Business Analysis, Business Intelligence and Decision Intelligence are far from reality. Trend shows poor performance through selective approach. Business Economics and Analysis trend too is highly selective and grossly ignored.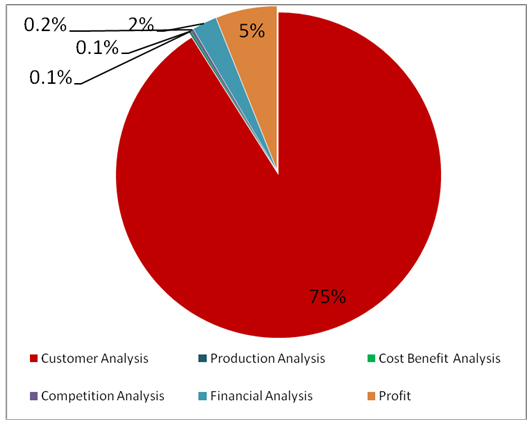 Total costs across each batch of production vary due to several factors leading to loss. Industry 4.0 is said to improve productivity due to automation and minimal human intervention. Subject to demand, your output will be limited to production capacity. Any effort to increase output will be subject to economic principles of Law of Diminishing Margin.
Unless Diseconomies of scale is dealt with aggressively to improve return to scale, no technology will ever help.. Industry 4.0 & tools of AI facilitates operational analytics. Business Leaders must learn how to improve productivity of various resources, be cost-efficient & competitive in VUCA world that is now more integrated than ever before.
Analysing factors for growth through common scale, Businesses need to in-built economic stabilizer to scale and neutralize the macroeconomic implications/changes.
Technology and its purpose
The purpose of technology, inter-alia, Industry 4.0 is fast execution of work through improved connectivity and integration, and decision making process reducing human error. The technology facilitates information, inter-alia, data from multiple sources. But the technology cannot provide judgement or ingenuity. The world has recognized Human ingenuity, Human brilliance and Human skill that are inseparable. For decision making process we must learn on what economic parameters these data need to be analysed!
The purpose of technology or Industry 4.0 is more about scaling productivity through business analysis, business intelligence and decision intelligence than technological advancement. Growth scaling sales revenue has not improved bottom line enduring growth. Neither has Lean principles helped. Sale is directly proportionate to investment, whereas, Profit is independent of investment. Organizations have to generate internal revenue & profit through operation and operational analytics.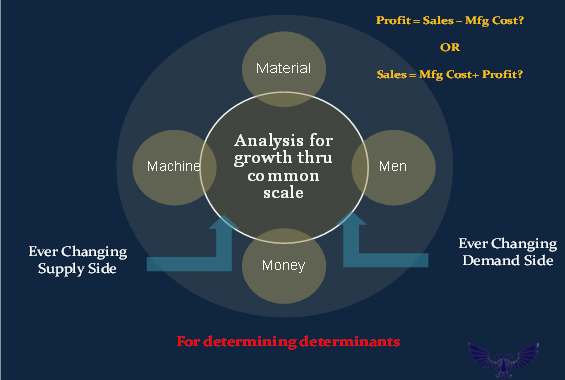 Adopting Change through agility
Qualifications are limited to Knowledge Economy; Organizations & experience helps through Wisdom Economy
Of course it's not just technology that's changing the world. Profound changes in demography and several macroeconomic parameters are the drivers of any business. Certainly nothing like it looked twenty years ago!
Traditional boundaries with conventional practices have disappeared to integrate the business holistically. Global talent pool are becoming more skilled and mobile, which presents a challenge for people in developing countries to adapt faster and simply stay competitive. Your ability to adapt to change, being agile and proactively make changes in your organization is what will make a crucial difference to where you find your organization five years from now. To quote Mr Darwin: "It is not the strongest of the species that survives, nor the most intelligent. It is the one that is the most adaptable to change."
In the area of organizational design, we are seeing an evolution from formal hierarchies to fluid networks. But this requires a substantial amount of unlearning. Our instincts are to think of an organization as an organizational chart. We automatically escalate decisions to the boss. I often hear executives talk about being "more networked," but what they really mean is collaborating across the silos. To truly become a networked organization, you need decision principles create both alignment and autonomy. But this requires unlearning in the areas of management, economic reasoning skill, leadership, and governance.
Selective or incremental improvement across functions & process has not yielded any result. Holistic improvement through 21st century business perspective inculcating economic reasoning skill creating new analytical role is the essence of the day. Instead of depending upon first line of hierarchy, Business Leaders have to take the lead in recognizing the talent & identify business grey areas and correct those areas. For this they have to unlearn and relearn and upskill/reskill their team and lead by example. Any change has to come from top. This is what is the prime requirement of HR4.0.
Here are some of the top challenges facing business leaders today and some tips to help leaders meet those demands head-on:
The need of wide-range knowledge
The need for business wisdom
The need for business insights
The demand for skilled talent
Information over-load
Change and more change to develop agility
Change Management capabilities are vital in implementing operating modules and adjusting to the continual change. The main challenge to the implementation of flexible module is neither technical nor sourcing methodology, but importantly the capability of the organization to change itself. Global business environment has direct impact that warrants reducing gap between market orientation and performance relationship.
The challenges thrown up by these changes are set against competitive environment that is rapidly and radically reshaping the business world. Competition is coming from new and unseen sources. To survive, business alignment across the supply chain, both in-house and out-house, adopting flexible supply chain & value chain modules is extremely essential to represent new organizational model.
Given this state of affairs, it indeed impels Business Leaders to look for alternative paradigms for better management practices rather than depending upon top hierarchies.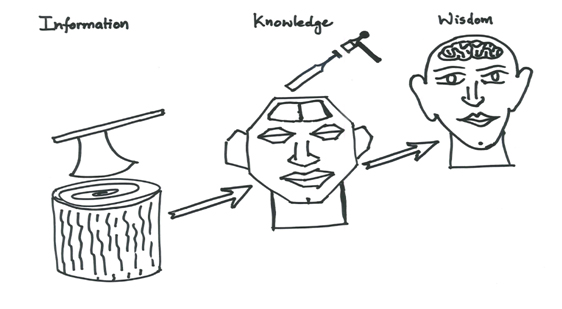 The world is moving ahead –from Knowledge Economy to Wisdom Economy. It is up to Business Leaders to drive change with wisdom economy across hierarchies – from top line to bottom line. Unless Business Leaders develop their own Wisdom Economy, they cannot drive change. Hence Business Leaders have to first learn & upskill themselves. Rest will follow suit.
"The illiterate of the 21st Century are not those who cannot read and write but those who cannot learn, unlearn and relearn." Alvin Toffler
About the Author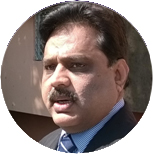 The views of Manoj Trivedi are purely based on his four decade of rich experience & unparallel leadership across diverse industries. He has been instrumental to many changes ever since globalisation of 1991. Being Founder Director of iGlobal Research and Analytics, he is now Commanding and Championing doctrine of Manufacturing and Industry 4.0, and is engaged in mentoring Business Leaders, CXOs & ROI concerns., He helps building Performance Pillar of Industry 4.0 with tools and techniques of Operational Analytics, building capabilities for economic reasoning skill either individually  on distant learning basis or in groups as the case may be to make their organization highly productive, cost-efficient & competitive. Creating new analytical role & decision scientists, his mentorship is broadly based on Operational Research & Business Economics matrices for operational analytics that help organization pre-empt & determine high cost & low productivity across resources.
For mentorship he may be reached at (91) 9051831961 / 9433013863 or [email protected]
Also read my other articles