We are happy to share with you our recently designed and developed "DSW UnifyAI" solution for enterprises across all sectors to leverage AI capabilities for building use cases across their business value chain.
UnifyAI – is a collaborative and integrated solution that helps you to build your business use cases by leveraging AI capabilities to build, deploy, manage, publish your AI models. UnifyAI helps you to improve your analytics outcome.
End-to-end solution from building the data pipeline to going live with the use case across the Insurance value chain.
UnifyAI bring an integration capabilities as services to translate and make data available in data store / data lake and providing enterprise feature store capabilities for you AI models to consume.
UnifyAI helps you bringing predictability and consistency in sourcing correct data and enabling the integration of quality data across the organization making it discoverable further to be consumed by AI models which in turn would enhance the analytics outcome for business use cases.
UnifyAI allows to integrate your data privacy, authentication, role based user access management, etc.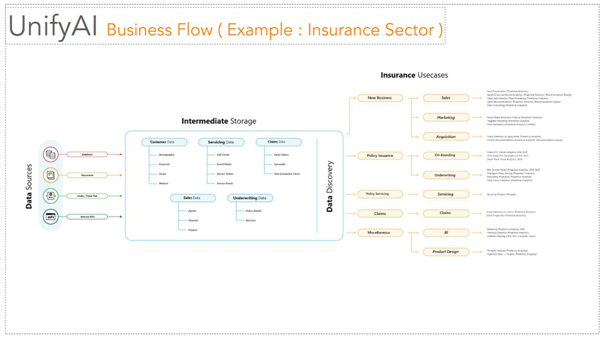 UnifyAI – Key Value Proposition :
Pipeline – UnifyAI helps to integrate and stitch all your relevant data coming from different sources having different formats into a single platform to avoid dependency on IT and DWH owners for scaling new use cases. The key component here is the "Feature Store"
Build & Integrate – It helps you to enhance your existing AI journey by integrating your existing models and new development effort into UnifyAI with minimal effort.
Model Management – DSW managed ML services help you to reduce the model development lifecycle and create a repository of all AI models endpoints to be integrated further.
UnifyAI Orchestrator – It provides modularity and flexibility to the platform with ease to integrate via On-Prem and cloud-based sources having value-added features like orchestration, model monitoring, and task monitoring.
End Point for use cases – provides predictability, scalability, choice, and flexibility to innovate as more use cases are added for the business value chain.
About the Author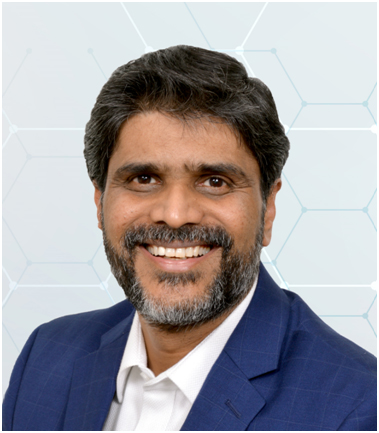 Mr. Sandeep Khuperkar (https://www.linkedin.com/in/sandeepkhuperkar/)
Entrepreneur; Open-Source Advocate.; CEOData Science Wizards. Founder, VYugma and Regional Mentor of Change, AIM, Niti Ayog (Govt. Of India). Adjunct Professor APSIT Engineering College. Isha Foundation Volunteer.
Before Founding VYugma and Data Science Wizards, Sandeep was the CTO and board member at Ashnik, where he built its India business from the ground-up and played an instrumental role in its expansion in Southeast Asia.
Sandeep brings 25 years plus of Industry experience, with 19 plus years in open source and building open source and Linux business models. He worked in various leadership capacities in IBM, RedHat to bring open source technologies to customers' businesses by providing better solutions and even better services are his core areas of expertise.
He has been active in open source technology for over 19 years. Has a proven track record of building technology businesses across India and South East Asia. On the advisory board of Engineering Colleges. He is Regional Mentor Of Change for Atal Innovation Mission by NITI Aayog, an initiative by Govt. Of India. Accomplished speaker and contributor on open source solutions and consulting across India and South East Asia. He is a member of OSI and Linux Foundation and Community Moderator Alumni at opensource.com. Also being an active Isha Foundation Volunteer, he avidly helps create mindshare for holistic wellbeing, especially among students.
Sandeep earned his Bachelor of Engineering in Electronics from Shivaji University, Kolhapur, India.
He can be contacted @
Mobile : +91 99875 36436
Email id : [email protected]
LinkedIn : https://in.linkedin.com/in/sandeepkhuperkar
Twitter : https://twitter.com/sandeeplinux
About  Data Science Wizards:
DSW is a visionary Data Science Consulting, AI Solutions & Services Company founded in 2019, head quartered in Mumbai, India, and having a presence in Bhopal, Dublin Ireland, and London.
We are a passionate team of individuals, collectively bringing extensive knowledge and experience in Enterprise Architecture, software development, data science, and open-source space with expertise across industry and technology solutions. By leveraging Artificial Intelligence, our data-driven products, platform solutions, and services enable enterprises and communities alike, making AI available for everyone.
Our goal is to empower customers with our ethical artificial intelligence-based services and solutions to help them achieve their business goals by harnessing their data. Our consultancy on data management and data engineering enables customers to make the best use of their data to boost business outcomes.
We would be glad to schedule an initial walkthrough. Please write us at [email protected] or call us at +91-9987536436

https://in.linkedin.com/company/data-science-wizards
https://www.facebook.com/datasciencewizards/