This Article is dedicated to Manufacturing Industries to reduce gap between market orientation and performance relationship under new normal of Industry 4.0 fostering business perspective of 21st Century.
(Business Leaders worldwide expect their organization to capture competitive advantage….Globalization & Digitization has pushed the organization in a direction that represents new normal of uncertainty… Survival or growth of enterprise depends on capacity to generate wealth across value chain.)
Sustainability is rapidly becoming a strategic priority for businesses. The evidence that sustainability is becoming a core consideration for successful businesses around the world grows stronger every day. Business environment is becoming more complex and fast moving than ever. Successful beacons are taking necessary corrective action to align with changing world.
The Revolution
For 20 years or more we have recognized that the way we do business has serious impacts on the world around us. Now it is increasingly clear that the state of the world around us affects the way we do business. The organizations need to understand the forces that drive their market and impact their profitability in the medium to long term. Knowing what those effects will be and how business can manage them successfully means developing a sophisticated understanding of these factors and how they work.
The difference that Indians have seen is transition through closed economy and "license raj" to open & free economy. Restricted supplies of raw material with monopolistic attitude to free sourcing pattern with huge competition and ligopoly has not paid any dividend, or, can we say we are unable to capitalise the opportunity! Influx of MNCs was deadly & scary questioning our sustainability.
The challenges thrown up by unwanted changes were set against a competitive landscape that had also rapidly and radically reshaped us but with tepid result. Competition was and has been coming from new and previously unseen sources. To survive businesses saw alignment across the supply chain, adopting flexible supply chain that became extremely essential.
The New Normal of 1991
Industries across country had witnessed tough competition after the market opened up. To survive they had to be cost-competent purported from uncompetitive practices. With no idea of operational excellence, only way to compete they found was to reduce cost through reduction in manpower. VRS across board became the new fashion of the day. Few of the functions were made redundant to reduce cost. Several unethical measures were also taken that had bearing effect over the businesses. Cost reduction was achieved to the extent of 1% or 2% of the turnover but was still short of being competitive.  Less skilled were made to lead from the front. Later by 2002 they realised the redundancies have cost them dearly through non-availability of skills. With no effort to create next line of skills, the decisions proved to be fatal. There has been acute shortage of skills across organization that leads to initiate retention schemes.  Underperformance conundrum however continues to haunt organizations adversely impacting their performance that continues even now.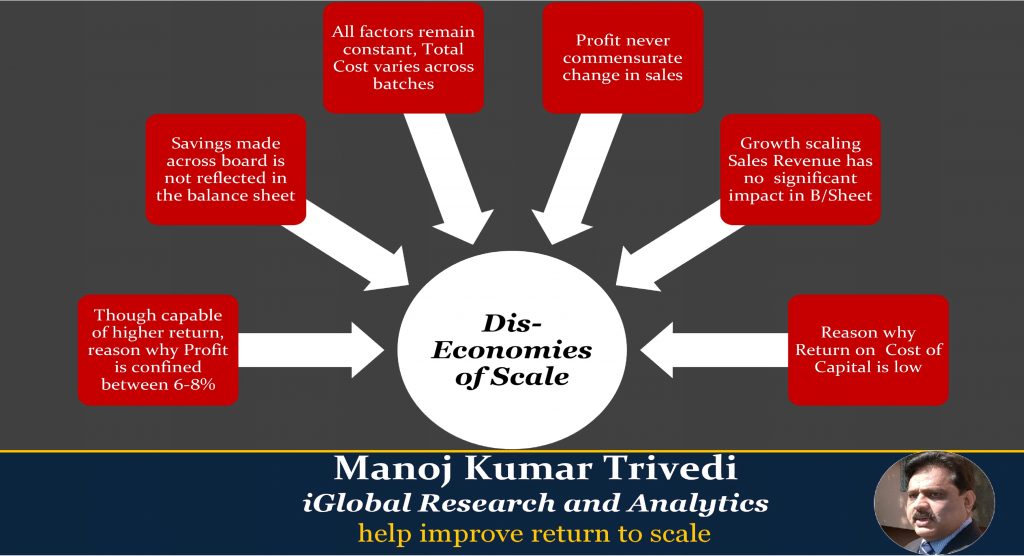 New normal of 21st Century
For established organizations, lack of short term and long term planning, Leadership failure through inability to take right decisions at the opportune time, entangling themselves through delusion of pride not admitting to their mistakes, feeling it enough to have a great product, ignoring market needs, inability to manage their resources and respond to change, inability to value the value of value and host of other factor contributes to their failure.
Changing economies, changing economics, changing business practices, changing business models & technologies, changing consumer preferences and taste, changing competition and host of many other factors have caused global iconic companies either to struggle or close down.
Once most successful global organizations like Nokia, Xerox, Yahoo, Segway, Blackberry,Blockbuste, Hitachi,Toshiba etc have faced extinction for not responding to changes. None is immune.
The rise of technology is introducing opportunities and obstacles for global and domestic companies alike. Brookings Institution estimates that five years ago, the free flow of data contributed $2.8 trillion to the global economy, a figure that could reach $11 trillion by 2025. Global digital platforms from Amazon and Facebook to Alibaba, internet connectivity and the new oil – big data – are enabling small businesses to become "micro-multinationals".
Individuals are participating in globalization directly, using digital platforms to learn, find work, showcase their talent and build personal networks. Some 900 million people have international connections on social media, and 360 million take part in cross-border e-commerce.
At the same time, this brings growing competition, and inequality continues to increase. The rates of disparity and inequality – between rural and urban areas in developed countries, between developing and developed markets and ultimately between people and machines – are on the rise. Multinational companies are increasingly seen as agents of inequality and face growing pressure and criticism from governments and consumers alike.
APCO Worldwide's recent research revealed that only 14% of business executives surveyed feel very prepared to deal with unexpected geopolitical threats, and only 18% felt they were equipped for the challenge of recruiting and retaining the talent needed for growth. The key takeaway of the study is that enterprises today need to lean into risks and have a process to embrace and adapt to them. The model that emerged from the research identifies three critical building blocks of an agile enterprise: active leadership, shared advocacy and enterprising culture.
On the other hand global market is undergoing severe slow down marked by income inequality. This is giving rise to protectionism defying rulings of WTO. New face of globalization is emerging giving rise to reverse trend. Track record of the 500 largest firms worldwide was examined by The Economist and found that in eight out of 10 sectors, multinational firms have expanded their aggregate sales more slowly than their domestic peers that signals inclusive growth for sustenance.
Peter Drucker commented, in a Harvard Business Review article: "Until a business returns a profit that is greater than its cost of capital, it operates at a loss. Never mind that it pays taxes as if it had a genuine profit. The enterprise still returns less to the economy than it devours in resources… until then it does not create wealth; it destroys it."
Businesses across globe have realised to resolve wealth creation, as is evidenced in recent Annual meet at Davos organised by World Economic Forum, that is now necessary for businesses to go on. Income inequality across globe has severe impact over the business leading to slow down. Globalization and FTAs has lead local manufacturers to shut down. Trade war between China & US is the result of challenging economic condition of USA, though being the richest economy.
Chinese occupation of business spaces across globe has become the matter of concern to many countries. India is not the exception. Input materials constitutes around 75% of spend space in India, whereas, globally it constitutes 50-55%. Given same formulation, what makes such a difference?
Add to it, even though the world was moving through gradual automation & digitization of businesses, forced disruption through complete automation & digitization creating smart factories is a purposeful act to reverse FDIs as revealed by UNIDO. This is more of political action due to economic compulsion. Western countries are more concerned of huge market and workforce being offered by China, India and other Asian countries that cause business migration. However, these Asian countries have accepted these challenging revolutions as an opportunity.
UNIDO has been very categorical to state strategies being adopted by India & China in the age of technological disruption are being watched closely. Earlier three revolutions had no Governmental support through its policies, whereas, instant revolution being termed as Industry 4.0 has the support of Govt through its digital policies. Demonetization, Smart Cities etc if viewed differently is way forward towards digital economy.
There has been lot of confusion created by global experts. Industry 4.0 is being projected to improve the productivity. On the other hand, Machines were projected to replace Human. Data Scientists were hyped to control the business spaces. Later on experts clarified-
"The world will always need Human Brilliance, Human Skill and Human ingenuity. Machine will supply us with insights & perspectives we need to reach to solutions, but, machine won't supply judgment or the ingenuity. People will". This clarified the disposition – Data Scientists, OR, Modelling Scientists & Decision Scientists.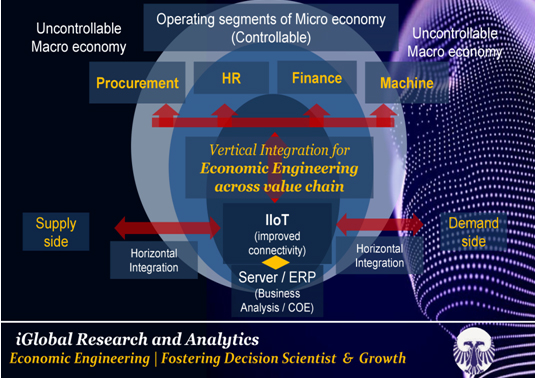 Fundamental of business which in itself is an economic entity cannot be ignored.
There exists an extraordinary connection between the economy and investment results. Business Leaders who ignore the economy set themselves to fail. Decision makers who understand the economic stress point fair the best.
Building Performance Pillar is the essence
One thing for sure. 21st Century business perspective stands changed. Mix of technology and human capabilities cannot be ignored. European Productivity Council has been very categorical to state "Productivity is an attitude of mind. It is a mentality of progress of the constant improvement of that which exists. It is certainty of being able to do better than yesterday and continuously. It is constant adoption of economic and social life to changing conditions". Machine or the technology may help in achieving production numbers limited to the machine capacity but cannot improve overall productivity of the resources and the organization.
Total Factor Productivity growth by region gives a larger picture as compiled by Deepak Mohan for The Economist in 2017. This should be the focal point for our consideration to improve upon hereinafter. This also can guide us through our competitive challenges to find why our prices are always high!
High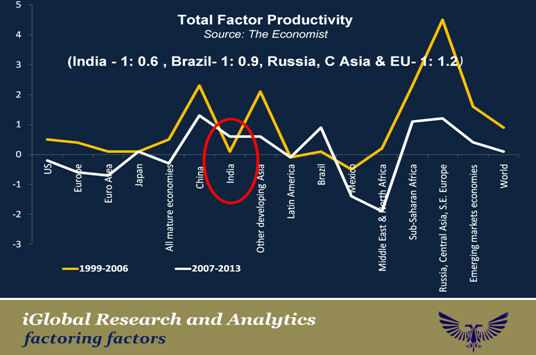 Business occupation by international forces can only be challenged through operational efficiencies & cost-efficiencies improving productivity of all the resources. Businesses have to help themselves improving return to scale. "Mere adopting tools of AI or the technology will not yield desired results unless supported by robust performance pillar…" reports PwC in its recent survey report to state "90% of CXOs have no idea of the requirement of Industry 4.0 and the risks involved therein".
With business becoming more global and complex, the ability to translate macroeconomic factors into implications at micro level of operation is crucial for being cost-efficient in VUCA world. Digitization and tools of AI integrated organization vertically too. Efficiency of productivity analysis increases with availability of data that has now been ensured. Growth is not limited through scaling sales revenue alone integrating organizations with the market.
Close look of the characteristics & modules of the industry 4.0 clarifies the position-
Modern theories of firm strategy integrating various analytics yielded little to no result. The measures of Economic Value Addition should be drilled down the organisation and calculated at divisional, process and product level and implemented at the entry level of managerial decision making process. Survival or growth of enterprise depends on capacity to generate wealth across value chain. Capgemini in its report during 2018 has said:"75% of Global organisations are shifting their focus from Customer Analytics to Operational Analytics".
Businesses cannot flourish in certain conditions. Disruption and growth is the biggest organizational dilemma. Growth is inversely proportionate to shrinking leadership ability. Organisation can come out of exile and shine only in uncertain conditions and are prepared to meet the challenges. Moving away from objective principles of management through hierarchy of command and managing the performance to subjective management for enabling performance through industrial democracy, critical thinking, creativity, innovation and overall economic value addition is only way forward.
The Economy hereinafter
Deeply impacted by supply chain disruptions due to Coronavirus has given the world to rethink their business relationship with China. The world has realised their overdependence of China that has destroyed their economy. Dumping policy of China at a low cost has destroyed many industries across globe leading to income inequality & protectionism questioning globalisation. Lessons have been learnt much late. Global world are now looking beyond China with a deep desire to re-establish their economy.
With restrictions imposed on Chinese goods across countries, much of business space has been created both at domestic and international market. It is indeed regretful to note here that countries like Bangladesh, Vietnam, Philippines etc have succeeded in occupying business space across international market, but, Indian industries are still struggling. Basic reason behind this is Indian industries are highly unproductive and uncompetitive. Their cost of production is much higher.
Industry 4.0 has leveraged an opportunity to them for being cost-efficient and competitive. Lackadaisical approach towards technological advancement, may be due to wrong disposition of various tools of AI is becoming major hindrance. To clear doubts all the tools as is being marketed may not be required by all. Choice of tools depends upon business dynamics of each industry. Adopting various tools, as may be required, should be gradual depending upon the requirement. However, for smooth transition from conventional system to new normal requires Performance Pillar creating new analytical role across functions and hierarchies. This is the prerequisite to ensure technology does not fail and for effective utilisation of investments made.
This is the opportune moment to occupy business space across both domestic & international market. Coronavirus once again represents 1991 era for business resiliency. Those who can capitalise the opportunity can ensure their sustainability goal while rest will either struggle or perish.
About the Author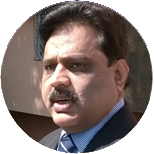 Mr. Manoj Trivedi
Author has four decade leadership across diverse industries. He is now the Director & Business Mentor at iGlobal Research & Analytics mentoring businesses. His expertise has been retained by Consortium appointed by Govt of UK & EU to develop industries with competitive advantage across ASEAN & African countries. He is also been retained by Development Commissioner, Ministry of MSME, Govt of India Kolkata Chapter. His articles have been published with University of Sheffield, UK and various chambers. He has authored three E-Books to the benefit of entrepreneurs & organizations featuring ● Building Entrepreneurship Economic Wisdom: Analogy from Mythos, Chanakya's economic wisdom & Modern time War & ● Fundamentals of Manufacturing Ecosystem in Industry 4.0 ● Understanding Chinese Economy; Learning from mistakes now available for sale at Kindle & Google Play. He can be reached at (91) 9051831961 / 9433013863 or [email protected]).
Also read my other articles