Dairy 4.0 – Application of Emerging Technologies in Diary Industry.
Demand for milk and dairy products is increasing globally, with the value projected to grow from USD 529.05 billion in 2023 to over USD 845.50 billon, by 2033. Diary industry is the highly unorganized sector responsible for environmental pollutions, significant emission of greenhouse gases, and highly susceptible for contamination. Lack of technology, high cost of labour, low-margins, inconsistent quality & quantity of milk, validating correct information, safety, and freshness of dairy products, are resulting in high wastage for dairy manufacturers.

In the era of 4th Industrial Revolution, the use of digital technologies is creating efficient and sustainable dairy farms by the integration of various technologies and resources. Embracing innovation and emerging technologies has become increasingly important to address the current global challenges, by automating and modernizing the processes.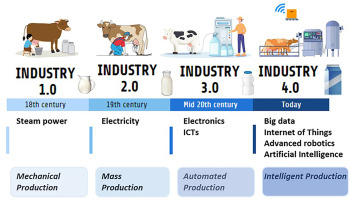 The Diary industry is also transforming through a series of technological advancements, collectively known as 'Smart Dairy Farming' (SDF) to satisfy the increasing demand for quality dairy products. Smart dairy farming uses IoT and precision farming techniques to collect data around a dairy farm and use this data to improve milk production. Dairy 4.0 is mainly enabled by Internet of Things, RFIDs, Robotics, Artificial Intelligence, Big Data, and Blockchain.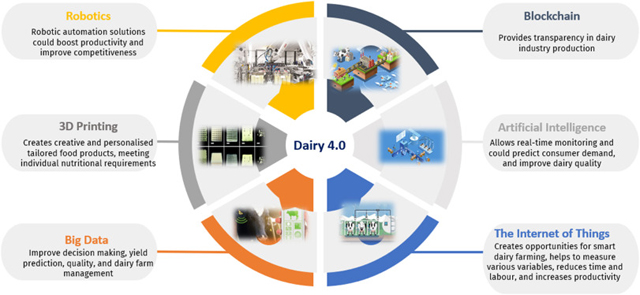 IoT technology leverages multiple sensors for collecting various data points for continuous monitoring of dairy cattle to keep a track on the health and well-being of the animals. Accelerometer sensors are being placed on the neck, ear, or leg of the animal to create motion logs in 3-D coordinate systems, to track and supervise the behavioural changes of the cattle. AI-enabled IoT sensors, Low-power wide-area networks (LPWAN) and smart sensors are transforming the Diary industry.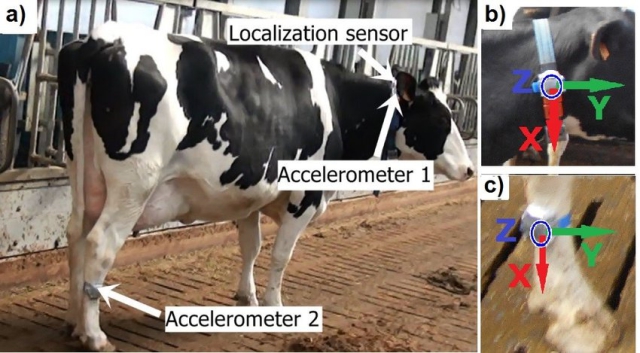 Drones are being used to monitor and manage huge livestock.As they have sensors with high-resolution infrared cameras, they can detect a sick animal and swiftly take actions.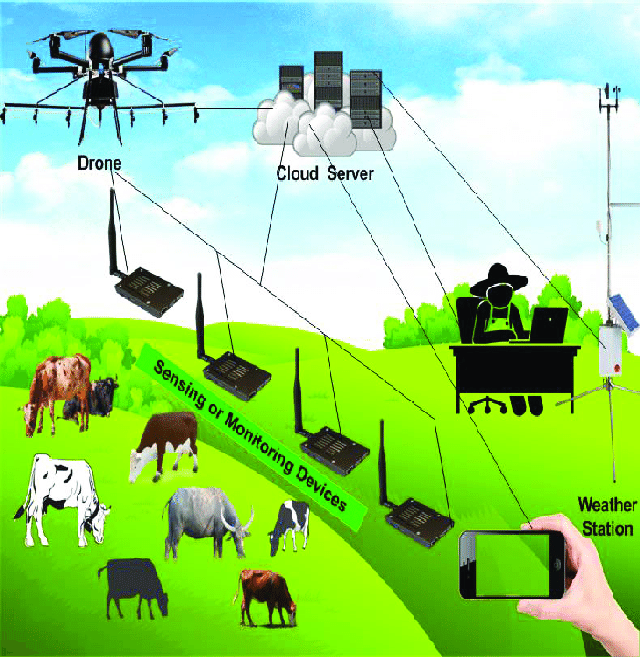 Robots are being used for cow milking which is far superior to traditional hand milking and can finish a 15 to 20 minute operation in less than 5 minutes. Automated milking machines can improve sanitation and contamination. Robotic rotating swing cow brushes can clean the cows and maintain their hygiene. The brush starts rotating when the cow touches it and stops when she leaves.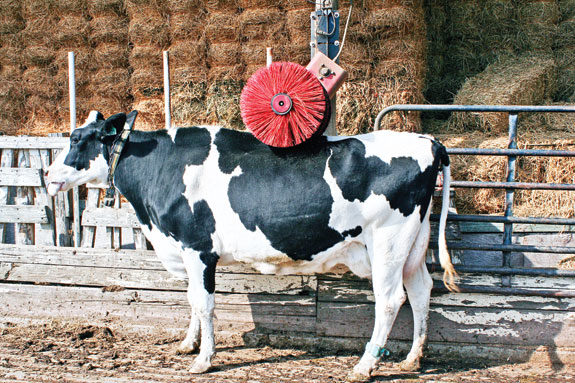 Farmers can use sensors to track and monitor the heart rate, the heat period, movement, and health of their livestock. Artificial intelligence monitoring system for Smart farms can help predict the behavioural characteristics.The small ear tags with AI, are trained to estimate and predict the behaviour from the sensor data, goes into the cloud for behavioural patterns. AI is being used to detect Mastitis disease, which is the inflammation of the mammary glands and the multiplication of bacteria, one of the major problems of the dairy-industry. Traditionally Mastitiscan be detected by examining the milk somatic cell count, which is time-consuming. Deep learning algorithms are being used to analyse the infrared thermal images and temperature information of eyes and udders to detect the signs of disease.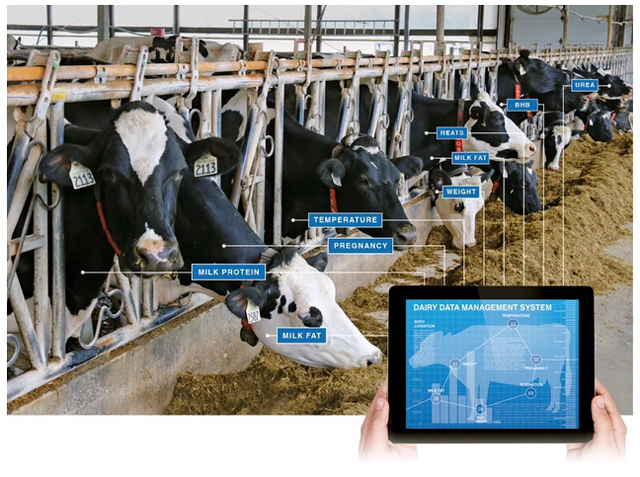 Researchers have developed milk-based products with minimal additives, filled with soft fillings of chocolate and fruit syrups, with customizable shapes and flavours, to create nutritious foods, using 3D printing.

Virtual Reality goggles are being provided to cattle to listen to relaxing music and smoothen their anxiety or visualise green pastures, to boost their mood and milk yield.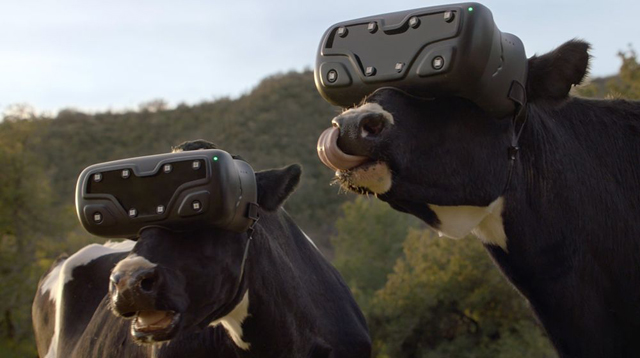 Artificial Neural Networks (ANN) are bring used to detect milk adulteration, possible whey fraud and predicting the culling reasons in cows based on first-lactation records. RFIDs are being used to detect contamination, adulteration, and counterfeit products, which is very prominent in the dairy sector.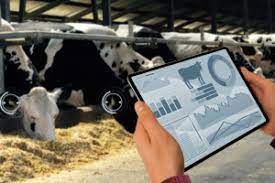 Blockchain has the potential to transform the dairy supply chain system and address the transparency, traceability, and counterfeit issues. QR code on the packaging can enable the customers to scan using their mobile devices to get information like the origin of milk, dairy breed, quality of milk, when and how it was collected, timing details, batch details, identity of collector, kind of transportation used, and cold milk-chain facilities used, etc. This makes the certification process easier for a variety of issues, including farm details, environmental footprints, animal welfare, and fair working conditions, which can be uploaded to the Blockchain network.This helps the milk product lifecycle tracking easy and can significantly, reduce the losses and wastage of perishable items.
Dairy producers can communicate more efficiently with the other participants in the dairy supply chain system using the Blockchain platform. Farmers can update information regarding their farm's location, breed, vaccinations, medications, and special treatments, among other things. Order tracking, inventory management, payments tracking, and sales growth may all be automated with real-time data and advanced analytics, allowing for a better knowledge of client purchasing habits. The producer can monitor the movement of dairy products in the market, geographical preferences, and improve food production practices, sustainability, and cattle welfare practices, resulting in a higher return on his produce and maintain the farm's goodwill. More dairy-based start-ups are entering the industry and addressing the gaps in livestock management and supply chain management.
Dairies can deploy digital technologies like automated feeders to optimize feeding practices and adjust the feed ratios in real-time, to meet the nutritional requirements of cows and decrease the amount of greenhouse gas emissions.Robotic manure scrappers are being used to collect the manure and keep the barn floor clean. This can improve the health and hygiene of dairy animals, increase milk production, and reduce the GHGs to meet the carbon neutral goal of dairy industry, by 2050.
We can improve milk production by improving cattle diets, cattle health, milk extraction using technology, suitable infrastructure, and veterinary services, all of which can have a huge impact on the rural sector.
About the Author

Ms. Veni Raparla is an Industry 4.0 enthusiast and has presented various research papers on the application of emerging technologies in various sectors. She has done her MBA and Mphil and currently pursuing her PhD in management studies.
Ms. Veni Raparla can be reached at :