Digital Manufacturing through SMAC
"The Fourth Industrial Revolution is still in its nascent state. But with the swift pace of change and disruption to business and society, the time to join in is now."
– Gary Coleman, Deloitte Consulting
Industry 4.0
Rapid Information & Communication Technology (ICT) developments and dynamic market forces have altered the industrial landscape as also fundamentally altered existing business models. ICT usage and deployment has opened the doors for companies to compete in any marketplace. ICT cutting-edge tools such as Internet of Things (IoT), Big Data Analytics (BDA), Cyber Physical Systems (CPS), cloud computing & virtualization, mobile apps, 5G, robotics, 3D printing, additive manufacturing, horizontal & vertical system integration and Virtual Reality/Augmented Reality (VR/AR) are revolutionizing manufacturing. This trend, dubbed as Industry 4.0, is fast emerging as an inflection point and is being touted as the fourth industrial revolution. This is often referred to as digital or smart manufacturing. McKinsey estimates the Industry 4.0 value creation potential to be US$ 3.7 trillion by 2025. The following examples illustrate the power of ICT:
The largest media company in the world is Facebook, but interestingly Facebook does not create any content. This content is created by its 6 billion monthly active users.
The largest retailer in the world is Alibaba, but interestingly, Alibaba does not own any stores or retail establishments but had a turnover of over US$ 70 billion in 2020.
The largest car company in the world is Uber, but interestingly Uber does not own any cars. 78 million people use Uber on a monthly basis and there are 2.6 million cars as part of the ride-sharing app Alibaba took over as largest retailer from another virtual retailer, e-bay.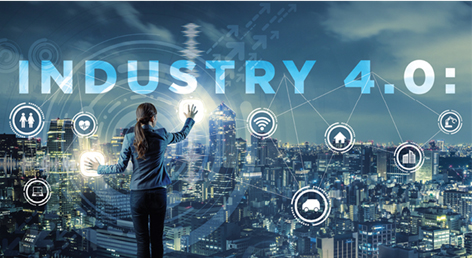 Industry 4.0 has realized the manufacturer's dream of a "digital factory", where the physical and virtual worlds are being bridged. Within these modular structured smart factories, cyber-physical systems monitor physical processes, create a virtual copy of the physical world and make decentralized decisions. Interestingly these systems are fueled not by gasoline or oil or electricity but by 'data' and the capabilities to leverage and mine this data using machine learning and artificial intelligence.
Through digital transformation, manufacturing becomes adaptive, agile, autonomous, automated, collaborative, coordinated, connected, decentralized, fast, flexible and intelligent resulting in greater operational efficiencies and lesser costs for enterprises. Over the Internet of Things (IoT), i.e. connectivity of physical assets, CPS communicate and cooperate with each other and with humans in real-time both internal & cross-organizational services are offered & utilized by participants of the value chain. If a weather delay ties up a shipment, a connected system can proactively adjust itself and modify manufacturing priorities bringing about perfect alignment between supply chain planning and execution.
SMAC Stack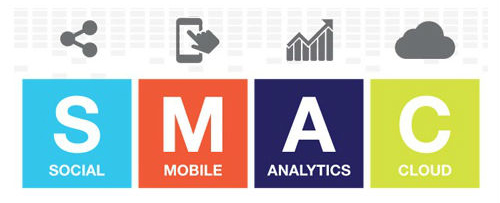 An integration of various disruptive and game-changing technologies in the form of the SMAC – Social, Mobile, Analytics and Cloud stack will push the envelope in enterprise computing. Technologies within SMAC complement each other and combined together deliver a force-multiplier effect. This would benefit enterprises across the spectrum, be it retail, healthcare, manufacturing or services. The change brought above by embracing the SMAC stack will help businesses to achieve market leadership, competitive advantage and increased profits.Each of the technologies that form the SMAC stack is widely deployed and pervasive, as seen by the statistics given below:
SOCIAL: Number of Internet users worldwide today is almost 4.7 billion; more than 60% of the total population. Of these, number of social media users worldwide today is over 3.8 billion. Facebook is the leading social network at 6 billion monthly active users, followed by YouTube (2 billion), WhatsApp (1.6 billion), FB Messenger (1.3 billion), and WeChat/Weixin (1.1 billion)
MOBILE: Number of unique mobile phone users worldwide today is 5.2 billion with majority of them using smart phones
ANALTYICS: Business analytics market worldwide is almost US $ 70 billion
CLOUD: Global cloud computing market worldwide today is nearing a whopping US $ 300 billion
Integration, intersection and interplay of the SMAC technologies have resulted in the disruptive business models of super-successful companies like Facebook, Apple&Google. One of the earliest adopter of the SMAC stack is Netflix, the entertainment company who is a leader in the video distribution space. Netflix has a subscriber base of 200 million subscribers. It is estimated that Netflix users watch billions of hours of movies, documentaries and entertainment every quarter. Netflix uses its proprietary Cinematch analytics module uses customer ratings and preferences to recommend the popular flicks.
These movies are hosted on the cloud through the provider, Amazon Web services. The movies can be easily accessed using tablets, smart phones and/or television. Customer choices and preferences with regard to the movie selection and recommendation are also in Facebook. This is a classic example of a SMAC stack building a collaborative eco-system, where technologies complement each other and derive customer value and satisfaction. The ultimate beneficiary is the consumer, who gets a personalized experience of watching movies. Amazon too works on similar principles. When we scout for books to buy on Amazon, we bump into several recommendations and reviews by book buyers. Amazon, which is fully hosted on the cloud, is available as an App on any tablet or phone.
Towards Digital Manufacturing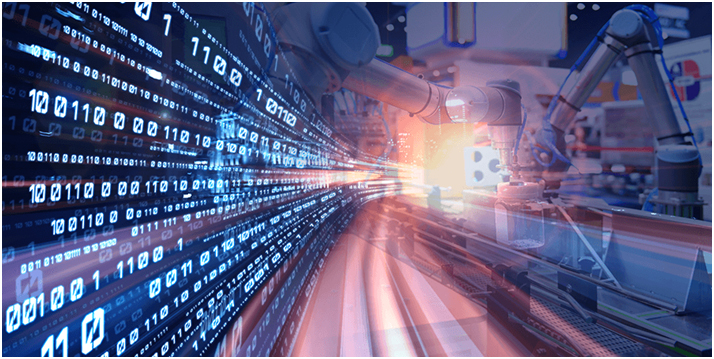 The intersection of the game-changing technologies in SMAC can dramatically improve manufacturing processes and propel production toward growth and increased efficiency as also achieve improved integration with stakeholders spread across different geographies.
This latest trend in the manufacturing industry increases customer engagement, exponential growth and scale-up opportunities, demand response and productivity. SMAC will help organizations unbundle tightly-coupled, industrial-age value chains and transform business, if not entire markets, creating boundary less ways of working. The manufacturing team is also kept abreast of the future cutting-edge manufacturing trends through the proliferation of information as a result of SMAC.
Manufacturers are achieving only 40% of their potential because they're spending too much valuable time manually updating inventory control, production reporting, and pricing reports, when their competitors with the SMAC advantage are leveraging and mining real-time big data thereby busy winning deals and planning next-generation real-time factories.
SMAC enables Manufacturing to transform into as a service and evolve to mass customization and personalization. Customers love being offered personalized service. And a satisfied customer is the best business strategy of all.
Mobility driven by the proliferation of apps is impacting the manufacturing cycle, right from raw materials procurement to logistics & supply chain, and to shipping. Mobile apps have changed the way people communicate, shop and work. Workers are syncing their PDA, tablets and smartphones to their company's network. This gives the individual more responsibility while increasing productivity, communicate production flow and solve problems in a timelier manner.
Social media has opened the door for manufacturers to connect with each other around the world as also their suppliers and partners. Social media is providing manufacturers with new ways to connect with customers. This includes exchange of information to improve a manufacturer's products and services. Various outlets for posting content include company's Facebook wall, website, blog, tweeting, texting and instant messaging. Physical meetings are being replaced by virtual communication. Digital assets of an enterprise are as important as its brick and mortar physical assets.
Analytics provide insights about how products are made to how they're received by customers. Data that could be mined include employee expertise, production techniques, product innovation and customer purchase patterns so as to address the areas which need improvement.Analytics have completely changed how customers determine whom to connect with on what topics, which products they buy or where they find the best deal. Learning how to understand customers and to communicate with them as individuals has new improved avenues for marketing and sales.The proliferation of information has and will continue to shift the balance of power from the seller to the buyer with the end-goal being competitive differentiation.
Cloud provides a company the ability to can scale up and down its capacity and computing power as needed. If operational information is restricted to a data warehouse in a manufacturer's facility or remotely, cloud technology has reduced worry about the security of its physical location. Manufacturers can now store important data wirelessly for easy retrieval for employees in an office setting or for staff members who are traveling and using their mobile devices. The cloud element of SMAC refers to the capability that a manufacturer has to store large amounts of capacity that are paid for by the minute or hour. Businesses do not need to spend millions of dollars building additional data warehouses and massive & expensive servers. The infrastructure, storage hardware or software can be simply be subscribed it from a cloud provider as a service. Using cloud also contributes towards green manufacturing and sustainability and reduces the Total Cost of Ownership (TCO) for the enterprise.
SMAC is becoming a top priority in the movement towards digital manufacturing today. The very foundation of SMAC is the broader concept of convergence of shared infrastructure, mobileaccessibility, real-time analyticsand collaborative services. This will no doubt help manufacturers stay competitive, differentiate themselves, and provide a great customer experience.
About the Author
Dr. Prashant R.Nair is an Associate Professor, Department of Computer Science & Engineering, Amrita School of Engineering, Amrita Vishwa Vidyapeetham (Deemed-to-be-University), Coimbatore.
He has 20 years of teaching, research, mentoring, training, consultancy and academic administration experience at Amrita University  ( www.amrita.edu ).
He has taught in academic programs in USA and Europe at University of California, San Diego and Sofia University, Bulgaria as an Erasmus Mundus fellow.
He holds a PhD in Industry 4.0 and MBA specializing in Information Systems from Amrita University and a BE in Electronics & Communication Engineering from Bharathiar University. He is passionate about contributing to the innovation ecosystem of the country through student initiatives and outreach.
He has been the associate site director and site coordinator of the International Collegiate Programming Contest (ICPC) for over a decade.
He has mentored student teams which have won premier international and national competitions like Smart India Hackathon, Rajasthan Hackathon, TCS Digital Twin challenge, Scilab hackathon, India International Science Festival (IISF) engineering model competition and represented India as part of the national hackathon team for Singapore-India Hackathon and felicitated by Prime Minister of India, Shri Narendra Modi.
He has been ranked as top innovation mentor in India by Atal Innovation Mission ( https://aim.gov.in/ ) of NITI Aayog ( https://www.niti.gov.in/ ) and currently coordinates  Atal Innovation Mission activities at Tamil Nadu as regional mentor of change.
He currently holds international and national leadership positions in professional bodies such as IEEE ( https://www.ieee.org/ ), IETE ( https://www.iete.org/ ), Association for Computing Machinery – ACM ( https://www.acm.org/ ) , Computer Society of India ( http://csi-india.org.in/ ) and Coimbatore Management Association ( http://coimbatoremgt.in/ ).
His Intellectual Contribution includes six books and one book chapter. He has edited two books and has published over 50+ Research Papers in reputed journals, books, magazines and conferences.
Publications that he currently edits include IEEE Asia Pacific region newsletter, CSI Journal of Computing and CSI Transactions on ICT.
He has been a CSI Distinguished speaker and is a prolific technical speaker, having keynoted over 300 technical conferences, workshops, seminars, webinars, panel discussions and events.
He is also the Current Vice-Chairman of the Internal Quality Assurance Cell (IQAC).
He can be contacted at Mobile : +91-99439 84483 or E-mail: [email protected], [email protected]
His Webpage: http://www.amrita.edu/faculty/prashant-r-nair
His Social Networking Links are :
Linkedin : https://in.linkedin.com/in/prashant-r-nair-7739611
Facebook : https://www.facebook.com/prashant.r.nair
Blogs :
https://india.acm.org/education/learning/esp/prashant-nair
https://scholar.google.co.in/citations?user=BRrpU1MAAAAJ&hl=en
https://www.siliconindia.com/profiles/prashant-r-nair-X752fGg8.html
https://thesciencepolicyforum.org/author/prashant-nair/
https://www.researchgate.net/scientific-contributions/Prashant-R-Nair-2082897667
Youtube :
https://www.youtube.com/watch?v=YwwGAq-fs4w
https://www.youtube.com/user/PrashantRNair?app=desktop
Also ready my earlier article