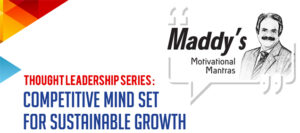 THOUGHT LEADERSHIP  SERIES – COMPETITIVE MIND SET FOR SUSTAINABLE GROWTH:
We learn from our failures & from our success. We learn from peer groups' success & their failures. Often when we make a SWOT analysis on our competitors, we emphasise and focus on their success to such a point that we treat them as a threat to our business growth. I am told that the skill one has to develop is to "learn to unlearn". In other words, prepare to accept changes. We, in our business, believe that benchmarking ourselves with best practices is good but differentiating ourselves is better. Someone said that it is better to work towards " the next practices than the best practices", there is no point in imitating your competitors; it is better to be better than them, if not be great at what you offer.
It is all about mindset & what you become in your life depends on the way your mind is structured. I had attended a workshop many years ago; I thought of doing something, but something else prevented me. This is a contradiction. Many times, we just switch off our thinking process or ignore the contradiction. We don't confront it. The key is how to confront it. Should I go with a practical mindset or a research mindset? The former evaluates the net outcome, while the latter questions the contradiction & its outcome.
We commonly use some words without the application of our mind – "It is of very good quality" or "beautiful Miss India". Practically, what is very good in quality? Quality itself qualifies goodness, does it not? What is so beautiful about Miss India? Beauty is an attribute to determine Miss India, is it not? Similarly, all said & done, what sort of people do an organisation need to be competitive & sustain organisation growth?
The founder of Federal Express, Mr. Fredric Smith, had a big idea of an express delivery model which was different from postal delivery. Carrying small & high priority packages overnight, when airports aren't congested, was a big idea. There was a disagreement between him & his professor when as a student, he submitted a paper on it. He confronted the situation; he didn't give up; it was a big gamble in his life when he started with a small investment of $ 4 million inheritance with an integrated airport ground system at Arkansas.
I am told that he had internal challenges; he was crippled by birth. His company went to red at one point in time. He had to gamble the last bit of money to come back to track! He had a mindset of not giving up. He has a list of heroes in his organisation who went above & beyond to serve their communities & customers. A selfless mindset, to learn from others. Today the company has over 700 air-crafts, including Boeing 777 &Airbus 300. All that FedEx has is an "inspired mindset", resulting in inspired leadership & employees.
To be competitive & sustain growth, all that we need is ordinary employees & leadership with an inspired mindset
About the Author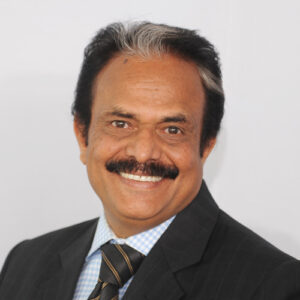 Mr. K. Madhavan
Managing Director & Co Founder,
About Peps Industries Pvt. Ltd.,

I have been building mattresses for over 30 years now. I stumbled on an opportunity to use my skills and expertise acquired over three decades of dedication to spark off a sleep revolution in India. I realized that with the fusion of India with the global economy and its talented workforce becoming a part of the world's community, the demands of a modern 24/7 life on us Indians would be immense. Because with success and opportunity also comes fatigue and burnout. Being a hardworking race, we are only too ready to sacrifice sleep at the altar of work ethic and productivity. So I took it upon myself to do a simple thing and do it really well – help ambitious, hardworking Indians sleep better and live the Peps life.
My partners, from the Rs.100 crore Ascent Group decided to take over a manufacturing unit that had landed up in hard times. The association with world's 4th largest Inner Spring Mattress company, Restonic Corporation of USA, manufacturers of Restonic since 1938, only sweetened an already mouth-watering prospect. I joined the team with an ambition far bigger than commercial goals – to transform Peps into India's leading sleep solutions company. Driven cumulatively with over 72 years of expertise in Indian Mattress industries, Peps Industries embarked on what has now become a never-ending journey of success.
Today, Peps is India's largest Inner Spring Mattress Company with a product line up that rivals the best in the world. An 11-acre state-of-the-art Inner Spring manufacturing unit in Coimbatore in Tamil Nadu with two ancillary facilities in North and Western India is the nerve centre of our mission to transform the way this country sleeps. In a market that was focused on archaic coir mattresses, Peps blazes a trail that others are still struggling to follow. Our sleep systems are crafted with 100% imported raw materials only because we truly are dedicated to craft sleep comfort products that not only meet the International standard specifications, but more importantly, cater to the ever-changing needs of wide range of consumers. This web destination offers you information, solutions and stories about sleeping great and waking up to fresher mornings. Do browse in detail, choose to sleep on a Peps mattress, and wake up ready for absolutely anything.