If India can be world-leaders in Information Technology and Call Centres, why can't India be the same in Manufacturing?

According to the most recent data available from the United Nations Statistics Division, below is the list of the Top 10 countries based on global manufacturing output in 2019:
Top 10 Manufacturing Countries in the World
1. China – 28.7% Global Manufacturing Output
2. United States – 16.8% Global Manufacturing Output
3. Japan – 7.5% Global Manufacturing Output
4. Germany – 5.3% Global Manufacturing Output
5. India – 3.1% Global Manufacturing Output
6. South Korea – 3% Global Manufacturing Output
7. Italy – 2.1% Global Manufacturing Output
8. France – 1.9% Global Manufacturing Output
9. United Kingdom – 1.8% Global Manufacturing Output
10. Indonesia – 1.6% Global Manufacturing Output
India is also the third most sought-after manufacturing destination in the world and has the potential to export goods worth US$ 1 trillion by 2030. India, with a population of 1.38 billion plus, is slated to overtake China and become the world's most populous country next year in 2023.
Let's first take a look at India's demographic dividend. As per Wikipedia, in 2022 the median age of an Indian was 28.7 years,compared to 38.4 for China and 48.6 for Japan! Also, by 2030, India's dependency ratio will be just over 0.4, where dependency ratio is defined as an age-population ratio of those typically not in the labour force and those typically in the labour force. It is used to measure the pressure on the productive population.
Let's next take a look at India's size of middle class. The share of the middle class, with an annual household income of INR 5 lakh – INR 30 lakh, more than doubled from 14% in 2004-05 to 31% in 2021, and is projected to rise to 63% by 2047, according to a survey by economic research outfit PRICE (People Research on India's Consumer Economy).
Let's now take a look at India's unemployment rate. Here there is indeed a major cause for concern! With the burgeoning size of India's young population, the Indian education system is rapidly churning out graduates in large numbers every year. More than 30 million students are enrolled in Indian higher education system with approximately 10 million graduating annually and 2 million of them are engineers, stand alone.As per World Bank data, India's unemployment rate in 1992 was 5.73%, in 2019 it was 5.27%, in 2020 it shot up to 8% (owing to COVID related shutdowns) and in 2021 it was 5.98%. Addressing unemployment is thus a major focus area for the Indian government and policy makers.
Let's also take a look at India's employment numbers sector-wise. As per a publication by Statista Research Department, dated Sep 13, 2022, below is the list:
1. Agriculture – 151.79 million
2. Non-Financial Services – 136.34 million
3. Real Estate & Construction – 53.69 million
4. Manufacturing – 27.39 million
5. Public Administrative Services – 7.91 million
6. Financial Services – 5.79 million
7. Mining – 0.88 million
It's therefore a no-brainer that there is tremendous scope for addressing India's unemployment challenges, and also increasing India's GDP and exports, with a renewed focus and push on Manufacturing.
With around 17% of the nation's GDP and almost 27.4 million workers, the manufacturing sector plays a significant role in the Indian economy. Through the implementation of different programmes and policies, the Indian government plans to have 25% of the economy's output come from manufacturing by 2025. India has potential to become a global manufacturing hub and by 2030, it can add more than US$ 500 billion annually to the global economy.
So, what's been happening on the ground? Below are some data points collated from India Brand Equity Foundation (IBEF) on the investments being made and the government policies and allocations towards India's big push to Manufacturing. These will also go a long way towards India garnering the maximum share of the China+1 strategy of the post-COVID world(for more on this one can refer the previous article by this author "Rebooted Global Supply Chain – A China Plus One Strategy").
INVESTMENTS
According to Department for Promotion of Industry and Internal Trade (DPIIT), India received a total foreign direct investment (FDI) inflow of US$ 58.77 billion in FY 2021-22.
Between April 2000-March 2022:
The automobile sector received FDI inflows of US$ 32.84 billion.
The chemical manufacturing sector (excluding fertilisers) received FDI inflows worth US$ 19.45 billion.
The drug and pharmaceutical manufacturing sector received FDI inflows worth US$ 19.41 billion.
In June 2022, the combined index of eight core industries stood at 143.4 driven by production of coal, cement, electricity, refinery products, fertilizers, steel, and natural gas.
In June 2022, outputs increased for coal by 31.1%, electricity (15.5%), refinery products (15.1%), fertilizers (8.2%), cement (19.4%), natural gas (1.2%).
In October 2021, information technology major Zoho, announced that it will invest Rs. 50–100 crore (US$ 6.7–13.4 million) and form a new company, that will focus on research and development (R&D) in the manufacturing sector.
In August 2021, Wistron Corp. collaborated with India's Optimus Electronics to manufacture products such as laptops and smartphones, giving a major boost to the 'Make in India' initiative and electronics manufacturing in the country.
In April 2021, Samsung started manufacturing mobile display panels at its Noida plant and plans to ramp up manufacturing IT display panels soon.Samsung Display Noida, which has invested Rs. 4,825 crore (US$ 650.42 million) to move its mobile and IT display manufacturing plant from China to Uttar Pradesh, has received special incentives from the state government.
In April 2021, Bharti Enterprises Ltd. and Dixon Technologies (India) Ltd., formed a joint venture to take advantage of the government's PLI scheme for the manufacturing of telecom and networking products.
As per a Reuter's report of Nov 13, 2022, Apple supplier Foxconn is planning to increase the size of its workforce in India four times over the next two years. Foxconn plans to recruit 53,000 more workers over the next two years and expand its workforce to around 70,000.
Vedanta is considering a second chip and display manufacturing facility in India, even as it announced a $20-billion (₹1.54 trillion) investment plan for its first such venture in Gujarat, in collaboration with Foxconn.
In Oct 2022, PM Modi laid the foundation stone for a plant of the Tata – Airbus consortium in Gujarat's Vadodara. At least 15,000 skilled jobs are expected to be generated with the project. This is the first aircraft manufacturing facility in the private sector in India.
GOVERNMENT INITIATIVES
In the Union Budget 2022-23:
Around 70% of the defence budget of US$ 67.66 billion has been reserved for the domestic defence manufacturing industry. Contracts worth Rs. 54,000 crore (US$ 7.1 billion) have already been signed for domestic procurement.
Rs. 2,403 crore (US$ 315 million) allocated for Promotion of Electronics and IT Hardware Manufacturing.
The Production Linked Incentive (PLI) for semiconductor manufacturing is set at Rs. 760 billion (US$ 9.71 billion).
The PLI scheme for 16 plants for key starting materials (KSMs)/drug intermediates and active pharmaceutical ingredients (APIs)would result in a total investment of Rs. 348.70 crore (US$ 47.01 million) and generation of ~3,042 jobs. The commercial development of these plants is expected to begin by April 2023.
The PLI scheme for the textiles sector (man-made fibre (MMF) apparel, MMF fabrics and 10 segments/products of technical textiles) is at an estimated outlay of Rs. 10,683 crore (US$ 1.45 billion).
In July 2021, the government launched six technology innovation platforms to develop technologies and thereby, boost the manufacturing sector in India to compete globally.
To propagate Make in India, in July 2021, the Defence Ministry issued a tender of Rs. 50,000 crore (US$ 6.7 billion) for building six conventional submarines under Project-75 India.
The PLI scheme worth Rs. 18,000 crore (US$ 2.47 billion) for production of advanced chemical cell (ACC) batteriesis expected to attract investments worth Rs. 45,000 crore (US$ 6.18 billion)
The Mega Investment Textiles Parks (MITRA) scheme to build world-class infrastructure will see seven Textile Parks being established over three years.
In May 2020, a package of Rs. 2,000,000 crore (US$ 262 billion), equivalent to 10% of India's GDP, was announced for providing policy and financial support to the MSMEs and cottage industry of India.
With the implementation of the Goods and Services Tax (GST), India has become a common market with a GDP of US$ 2.5 trillion along with a population of 1.38 billion people, which is a big draw for investors. Further, with the strong impetus on developing industrial corridors, world-class infrastructure (roads, ports, airports, etc.), industry and investment friendly policies (e.g., Gati Shakti, Atmanirbhar Bharat, etc.), green initiatives and smart cities, India is well on track to achieve its goals.
While the government is leading the way with massive public sector capital investments, as our Hon.Finance Minister of India Mrs. Nrimala Sitharaman said, it's also time for the Indian private sector to "unleash their animal spirits". Apart from the fabled Indian IT and Pharmaceutical industries and the big boys (like the Ambani's, Adani's, Tata's, etc.), now even the Indian start-up industry eco-system is coming of age. Signs are good.
Currently the entire world economy is in doldrums, with leading countries like the US, the UK and the EU facing recessionary challenges and slowdown of the mighty Chinese economy. India however is standing apart as "a beacon of hope". It's up to each one of us citizens now to do our bits to realise this great once-in-a-lifetime opportunity that India has found for itself. As the saying goes, "Make Hay While the Sun Shines" and "Let's Not Miss the Bus, again"!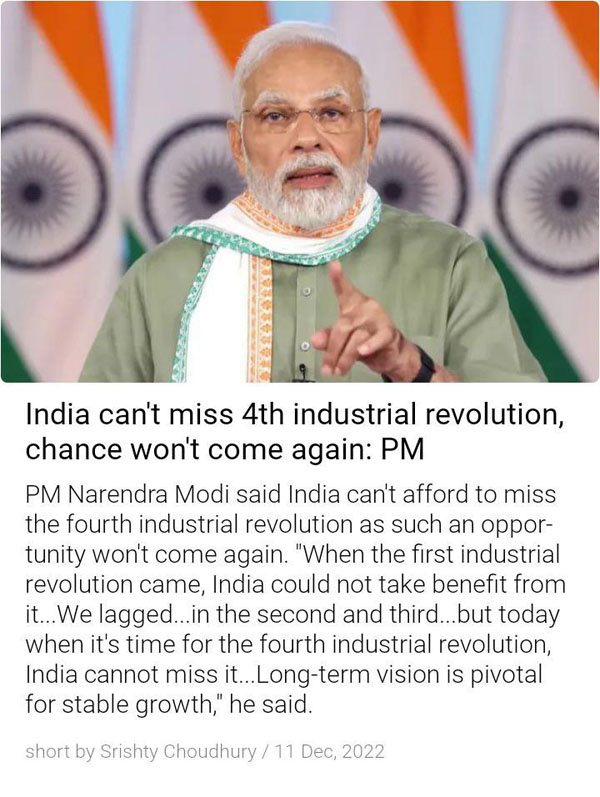 A Blog Series on Geo-Economics
Disclaimer :The contents of this article are purely compiled in an individual capacity and based on the personal opinion of the author Mr. Subham Sarkar. Data sources have been cited duly.
About the Author :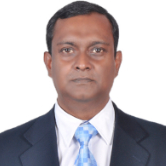 Mr. Subham Sarkar is an experienced senior management professional in  the IT services realm with a flair and good understanding of the macro  economics and dynamics of the world economy, how the ever evolving  technology landscape is opening up newer possibilities for both  enterprises and consumers, key business drivers of various industry  types – and how all these can be assimilated to conceptualise an  executable strategy for the growth of an IT services organisation, and  also incubating and executing on these with the various stakeholders and  teams.
Mr. Subham Sarkar core basic objective is to be known and respected as a professional and a good human being in his sphere of influence – one who  continuously strives for excellence, while contributing meaningfully to  his profession, to the society he live in and most importantly his  family.
Mr. Subham Sarkar is Bestowed with the following Licenses & Certifications :
https://www.linkedin.com/in/subham-sarkar-519b7114/details/certifications/
Mr. Subham Sarkar can be Contacted at :
Email : [email protected]
Mobile : +91-81476 52280
LinkedIn : https://www.linkedin.com/in/subham-sarkar-519b7114/
Also read Mr. Subham Sarkar's earlier articles: