Artificial Intelligence: A Key Enabler in Cybersecurity Attack Detection, Automation and Remediation
As soon as we hear 'AI – Artificial Intelligence', most of us will directly start relating it to Sci-fi movies, or some speaking machines (primarily robots). But AI has existed for some time now, be it programs like Google Assistant, Alexa, Siri which helps the user basis the audio commands, self-driving cars which help in maintaining speeds, or the recommendations provided by an application based on the usage by individuals and his/her likes.

I think, AI helps in making the machines smarter, especially by automating the cognitive tasks. It has tremendous capabilities to learn the specific tasks, and scan through humungous amount of data independently.
Other than AI, there has been a huge spike in the number of connected technologies being used by the enterprises. Internet services too, are being provided at affordable costs. A combination of the above, helps individuals as well as enterprises in easing some of their daily tasks whereas newer technologies like cloud and IoT promised scalability, flexibility and high-speed processing which could expand the businesses exponentially.

Evolving Threat Landscape and (pandemic-enforced) Wave of Digital Transformation
A coin has two different sides! Well, most of the enterprises have a look only towards, the benefits that they can reap out from digital transformation but miss out to enlist and close the issues that come along with adopting digital transformation.
Speaking about the cyber threat landscape, which has always been dynamic and evolving, the frequency and the complexity of the cyber-attacks have only increased. The advanced and targeted attacks like zero-day, ransomware, APTs, coin-miners, have had disastrous impacts on the organizations which were breached. One of the reports by Statista mentions 52 Mn data breaches across the globe, in Q2 2022.
COVID-19 furthermore worsened the already struggling, security readiness for the enterprises. In this pandemic bolstered digitization, most of the organizations had to adopt cloud forcefully. From a security aspect of it, most of the organizations lacked budget, while some of them tried procuring multiple cyber security products to beef up their security posture. Both didn't solve the purpose as the lack of solutions resulted in 'open gates' for the attacker, whereas the beefing up multiple technologies led to a failure in configuring, managing and correlating the outputs efficiently.
Legacy's Not-so-Legacy
Moreover, the legacy technologies have failed to protect enterprises from ransomware, zero-day and advanced cyber-attacks. All of us are aware regarding large organizations like Domino's, Air India being successfully targeted by the attackers, despite the organizations spending indefinite amounts on the cybersecurity measures. The legacy technologies have drawbacks in detecting threats efficiently, as they use the manually written correlation rules and use cases. Even if in certain cases, the incident gets detected, the enterprise response teams take time due to uncertainties. This further delays the incident response time. As per an article by ETCIO, 82% of corporate leaders anticipate raising cybersecurity budgets in 2023. This depicts the interests of enterprises in increasing budgets to procure next-gen technologies for better detection, automation, and response capabilities.
Leveraging Artificial Intelligence based Technologies for Advanced Enterprise Security
Cyber security in not new to using Artificial Intelligence (AI). Attackers too, have known to use AI to get a better effectiveness from their cyber-attacks.
Much of the cyber technology advancement over the past decade is on the back of increasing AI usage in product development. AI solves multiple problems around completing redundant tasks automatically and analyzing wider range of data at higher speeds. It also helps address the time deficit and skills shortage problems by automating processes, self-analyzing for new attack patterns & reducing the false positive rates (due to a higher detection efficiency). It is only apt that AI takes the center stage in creating a safer and cyber secure work and personal digital spaces.
Today, AI in cyber security is used in all areas ranging from – vulnerability identification, threat detection, attack prevention, attack prevention, user behavior analytics, entity analytics, security analytics, proactive security, risk and governance, identity management and other areas.
How can Artificial Intelligence help in addressing Cybersecurity related issues?
Processing of data (literally in seconds): Given the amount of data generated by security devices, it will require investments in a large team with appropriate skillset to process, analyze or correlate the data points. AI can help in independently scanning large amounts of data, at much faster speeds.
Efficiently identifying the threats of tomorrow: Humans/Analysts may miss out advanced, targeted / unknown threats, due to the volume/unavailability of a correlation rule/ or a human error. The AI algorithms can be trained to collate incidents, self-analyze attack patterns, detect and thwart advanced threats like zero-day, and ransomware attacks through an automated mechanism.
Eliminate the false positives: ML makes decisions basis the data points, and the patterns of that it observes. AI adds a further layer to it, by helping machines decide whether the data points depict any new malicious attack pattern that the ML is unaware of. This capability can help in eliminating the false positive incidents, and thereby save time for the enterprise IT teams (as they can now focus on the core actionable).
Incident Prioritization & Remediation: AI algorithms can help in prioritizing the incidents that require urgent attention, basis the business risks and the probable impact to the enterprises. This could help in resolving the high impact incidents, at the earliest and then moving towards the low impact – low risk incidents.
Accurate Detection and Fast Response Times: AI algorithms can detect patterns in a real-time basis and respond in an automated manner using technologies like SOAR. The automated closure of incident tickets not only stops the threats, but also significantly saves time for IT teams. Imagine a scenario where IT teams need to hire extra man hours to close basic incident tickets like blocking an IP where you don't communicate with! AI can easily do the job independently.
Challenges around gathering information and feeding it to the AI engines
Leveraging AI in Cybersecurity necessarily requires rich datasets, to train the algorithms up on. Organizations needs to ensure that the training datasets involves real life attack scenarios procured by the domain experts, be pre-processed, and engineered, for better efficacies. Security and availability of data is a major challenge for most of the companies leveraging AI as the AI projects needs to be ensured by availing authentication, access controls and regular backups.
What to look out for in 2023 specifically in the areas of Artificial Intelligence and Cybersecurity?
We may more often see the attackers using AI to increase effectives and success of their attacks, and launching different attack types like Supply Chain and Attacks on Critical Infrastructure
COVID has favored a lot to the Healthcare industries, and they have been doing well for long. They certainly seem to be one of the target industries for the attackers. Companies that are part of the value chain, like hospitals, pharmacies, pharma companies, vaccine manufacturers, etc., have already seen a disproportionately high number of attacks in the past 2 years, and will continue to suffer, along-side targeted industries like manufacturing, and BFSI. The recent data breaches at AIIMS, Safdarjung Hospital, ICMR, Tirpur Hospitals are a testament to the same
It is over 2-3 years now that the AI and Deep Learning based technologies are being leveraged by the technology providers. The access to better quality of the datapoints, cost effective computing, and stabilized AI algorithms will help building the trust in these technologies, for both efficient threat detection and timely incident response. The use of AI will only increase, across the security layers
AI: Shifting from 'Nice-to-have' to a 'Must-have' cutting-edge technology
As there is an increase in enterprises adopting and integrating the AI-based technologies in a security-meshed architecture like EDR, XDR, ITDR and SOAR, the enterprises will benefit by receiving overall security visibility, real-time alerts/incidents on thousands of customized use cases, automated SOAR based integrated incident response (based on business risks) leading to reduced Total Cost of Ownership (TCO).
The most interesting benefits from AI, will be real-time detection, comprehensive protection, and automated remediation. The fact that AI can proactively detect a threat and alert the security teams regarding the novel attacks that are yet to be registered on the global threat intelligence portal.
The future of enterprise cybersecurity looks to be incomplete without AI.
About the author :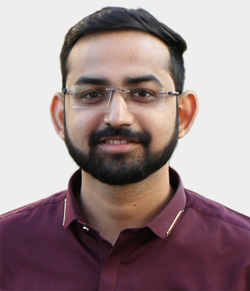 Mr. Sanket Wagh
Manager – Marketing
SEQURETEK

Mr. Sanket Wagh is a young & dynamic marketing professional with 4 years of experience in the technology and cybersecurity industry. Sanket has a Bachelor's degree in Electronics and a M.B.A in Marketing & Finance from Symbiois International University.
Mr. Sanket Wagh is passionate about cutting-edge technologies (like AI, ML, Industry4.0, Blockchain, Cybersecurity and more). As a Marketing Manager, Sanket looks after the marketing initiatives which includes branding, product positioning, digital campaigns & PR. Sanket is also an analyst.
Mr. Sanket Wagh is Bestowed with the following Licenses & Certifications :
https://www.linkedin.com/in/imsanketwagh/details/certifications/
Mr. Sanket Wagh can be contacted at :
Mobile: +91 72767 97635, E-mail : [email protected]
SEQURETEK can be contacted at :

Email | LinkedIn | Twitter | FaceBook | Instagram | YouTube