A cobot (short for collaborative robot) is a robot intended for direct human-robot interaction within a shared space. Traditionally industrial robots have been completely isolated from human interaction.

The idea of cobots was invented in 1996 by J. Edward Colgate and Michael Peshkin, professors at Northwestern University. The idea of collaboration between human and machine opens the doors for many new ways of increasing productivity and quality.
Cobots offer the most value in situations where a human needs to be in close proximity to the robots, including:
• Pick and place
• Material handling (especially between different process stages)
• Process tasks requiring tools
• Quality Inspection
• 'learn to follow' applications (where the Cobot is taught to move along a predefined motion path)
The International Federation of Robotics defines four levels of collaboration between industrial robots and human workers:
Level 0 (Fenced robot cell) : Humans and the robots are fully separated in space; there is no collaboration
Level 1 (Coexistence) : Human and robot work alongside each other without a fence, but with no shared workspace.
Level 2 (Sequential Collaboration): Human and robot are active in shared workspace but their motions are sequential; they do not work on a part at the same time.
Level 3 (Cooperation) : Robot and human work on the same part at the same time, with both in motion.
Level 4 (Responsive Collaboration) : The robot responds in real-time to movement of the human worker.
The collaborative robotics (cobots) market is predicted to exceed $24 billion by 2030. (Source: ABI Research)
In 2015, the collaborative robotics market was valued at just $95 million. By the end of 2019, it was worth a little over $1 billion. Reports predict an increase with a CAGR of 28.6% till 2030. (Source: ABI Research)
Are you taking advantage of Cobots yet?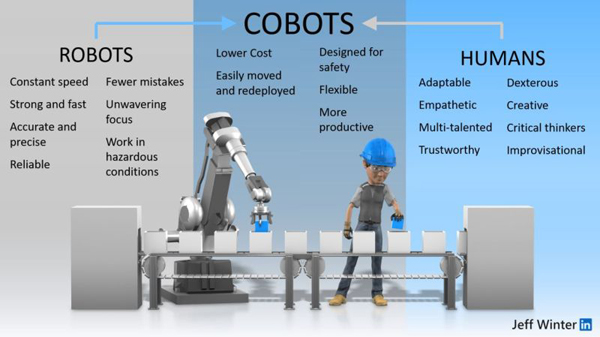 About the Author :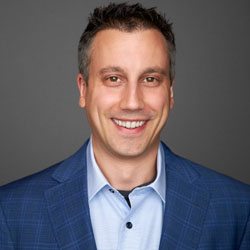 Mr. Jeff Winter
Industry Executive, Manufacturing

Jeff Winter is an Industry 4.0 & Digital Transformation Enthusiast | Business Strategist | Avid Storyteller | Tech Geek | Public Speaker
Jeff Winter is an Industry Executive for Manufacturing with Microsoft where he acts as an industry advisor helping manufacturers across the US digitally transform at scale. With over 15 years of experience working for different industrial automation product and solution providers, Jeff has a unique ability to simplify and communicate complex concepts to a wide range of audiences, educating and inspiring people from the shop floor up to the executive board room.  As part of his experience, Jeff is also very active in the community of Industry 4.0. 
Jeff is a part of the International Board of Directors for MESA (Manufacturing Enterprise Solutions Association), he is in the leadership committee for the Smart Manufacturing & IIoT Division of ISA (International Society of Automation), he is a U.S. registered expert for IEC (International Electrotechnical Commission) as a member of TC 65, and also part of Purdue University's Smart Manufacturing Advisory Board.
Jeff Winter is Bestowed with the following Licenses & Certifications :
https://www.linkedin.com/in/jeffreyrwinter/details/certifications/
Jeff is Voluenering in the following International Industry Associations & Institutions :
https://www.linkedin.com/in/jeffreyrwinter/details/volunteering-experiences/
He can be contacted at :
Email : [email protected]
LinkedIn : https://www.linkedin.com/in/jeffreyrwinter/