Reimagine High Value Sales – This Book encapsulates my professional journey in marketing and sales space from the period of 1990 to 2010, when Indian markets were going through the transformations in the form of liberalization,i.e. post- 1991 era. This book shares the practical use of various strategies put in action in the ever-changing business landscaped post-liberalization which worked during the global meltdown in 2008 (Lehman brothers) and other events which left fortuitous impacts on our economy and people. This book talks about my journey and experiences in the last two decades while dealing with diverse people and the organizations in India as well as abroad. This journey is relevant to sales and marketing professional of all developing nations in the world.
This, being my debut writing work as a book and starts with a desire, to make meaning rather than to make money. Sharing my experiences to change the world of B2B selling by democratizing B2B selling education with simple and clear understanding. This is so critical for our nation-building and meeting our ambition of making Indian economy a 5 Trillion $ economy by 2025. A majority of exports arein  B2B sales either of core items like steel, cement, textiles,  agricultural products & services, including software sales  in an enterprise environment. By 2021 India will be the world's most significant construction and infrastructure  market with a market size of $600 billion and the majority  being B2B. For GDP growth, another big driver is start- up companies, which can grow fast in B2B, as few large  companies still rule the segment. Market is looking for  innovation and the same can be done by innovative startups  & finally, today ecosystem exists thanks to technology &  platforms available now to interact with influencers and  marketers which could help profit for B2B startup.
Market Metamorphosis, which is seen through my career, is presented in small stories; serves as food for thought for all people in related fields. This book will help all generations, i.e. baby boomers (born between 1946 and 1964) can relate with stories captured during there working life, Gen X ( born from 1965 to 1979) will be part of this journey and also Gen Y( Millennials, were born between 1980 and 1994.), who are people who can understand how transition is taking place and this will help them better align and evolve with the fast-changing uncertain and ambiguous world now called the VUCA (Volatile, Uncertain, Complex, Ambiguous) world.
Gen Z (born between 1995 to 2019) are heavy users of mobile, who was born with internet access, will see this book as history. This should empower and make readers more creative, enhance skills & increase Productivity. This  legacy is created and will move forward in a journey with  an aspiration of making India – Global Leader and Vishwa  guru.
The underline message for all is Mr Stephen Hawking my guru's Quote "Intelligence is the ability to adapt to  change" Intelligence is not experienced, and experience is learning over a period of time, which once shared is knowledge.
The book covers in detail the science and art of selling. Highlights what is unique in B2B selling, challenges in complex sales environment. The challenges for complex sales environment are covered deep with solution sales process and a scientific wining tool called Go-Get Analysis.
The book also helps salespeople to grow from Teller/Seller mode to being a Hunter and a farmer whereby they position the brand and help in margin growth along with top Line for the organizations.
The chapter 6 of the book is very apt as we all come out of pandemic. This chapter talks about Opportunities in adversities with real life examples which are implemented in face of 2008 Crisis both (globally Lehman & 26/11 in India).
The last chapter is Technology- Industry 4.0 enabler or disruptor which resonates with current challenges.
Happy reading and helping Bharat transform and looking forward to nation attaining the days of glory "Sone ki Chideya"- Golden era with Bharat being a Vishwa Guru and Economic Super Power.
About the Author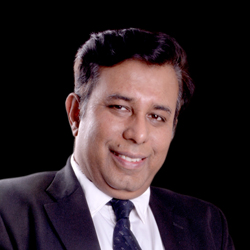 Mr. Shakti Leekha has over two decades of leadership experience in starting &growing operations with various global fortune 500 companies like Philips, Johnson Controls, ABB, UTC & Bajaj Group (BEL).  He is now associated with Tiemmers Cooling solutions & VAMS Global as VP& CMO, and Independent director Indos world exim. Created many Award-Winning successful businesses, in his leadership. An expert in subject of Illumination with thought leadership in Smart & Sustainable Infra with various Innovative Smart Lighting Solutions developed under his leadership & has a Paper Publication. A thought leader, whose expertise is frequently published in leading publications. He is a mentor and advisor to early-stage entrepreneurs throughout the nation and speaks at events to promote innovation, entrepreneurship and intrapreneurship is part of various Think-Tank forums and on Jury Panels for Sales, Marketing & Business Leadership across Asia.  He is a Certified mentor, Coach and Qualified independent director. A board member who possesses financial, strategic, relational ,cultural& ESG understanding to deliver value as independent director.
He is an author of Amazon's Best Seller Book "Reimagine High Value Sales". He is associated with various Education Institutes, as Member Board of Studies and an Honorary Member of National Council for Green and Eco-friendly Movement (CGEM) at ASSOCHAM. He has been further selected as a 'Mentor of Change' for the Government of India's flagship program of Atal Tinkering Labs (ATLs), established by the Atal Innovation Mission, NITI Aayog. He is an Industry Expert, Sales Coach & Mentor for Upgrad for Business a global digital education platform for Lifelong learning & Skilling.
He Can be contacted @
Mobile : +91 99303 09499
E-mail : [email protected]
http://shaktileekha.com
https://www.linkedin.com/in/shaktileekha/
https://www.shaktileekha.com/
https://twitter.com/shaktileekha
https://www.facebook.com/shaktikumar.leekha
https://youtu.be/glHhUinrt1A