What is RISE with SAP?
RISE with SAP is an offering with single contract and single vendor concept for both your Infrastructure and SAP Solutions (S/4HANA & BW/4HANA PCE editions), that provides our clients a journey with multiple patterns to move towards the Intelligent Enterprise, irrespective of where the client is at within their journey.

RISE with SAP provides one responsible vendor for pre-defined service-level agreements, along with operations and support processes established. The move will support the clients truly transform their business, going beyond a technical migration to the cloud to enable continual transformation by being able to leverage the features of business process analysis, custom code analysis for keeping the digital core clean along with being able to leverage 2200+ APIs readily made available for clients.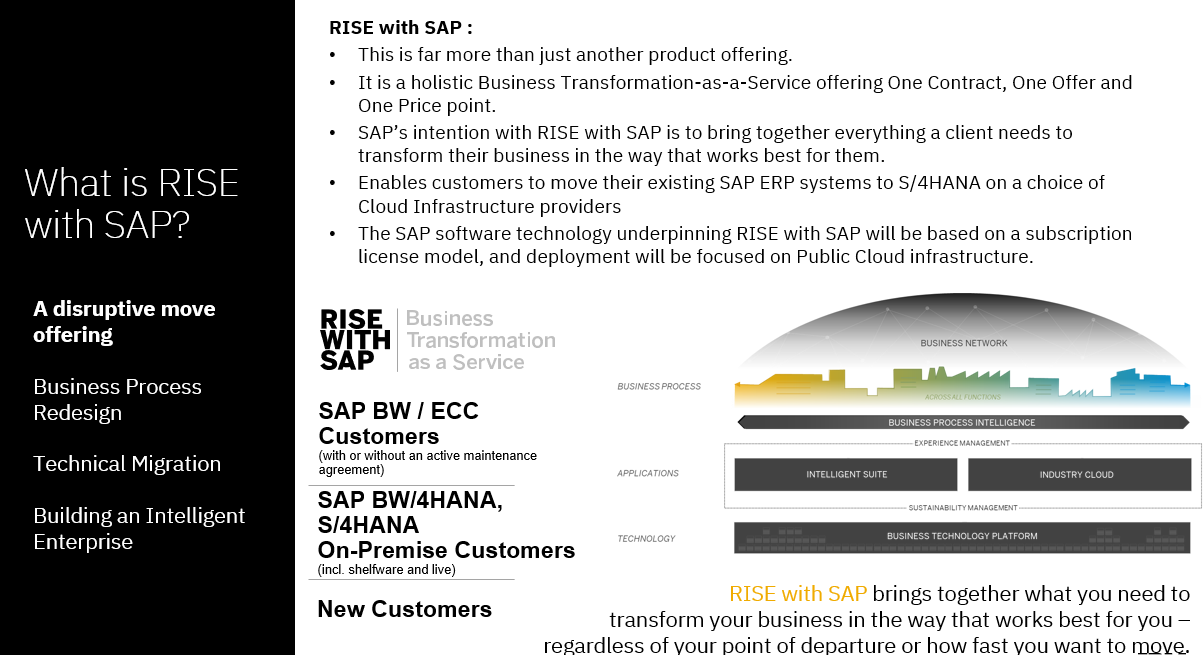 As shown above, let's go through each of the points mentioned above around Business Process Redesign, Technical Migration and how we can leverage RISE with SAP for helping clients with building an Intelligent Enterprise:
Business Process Redesign:
For every client, the decision factor of moving to cloud typically is more than just technical and would need to have a strong re-assessment of their existing business processes and an opportunity to simplify the complex scenarios they have built within the organization either due to urgency or due to no strong Design Authority in place to govern the central template. The Business Process Intelligence as part of RISE with SAP is built on SAP's business centric data model along with the expertise from multiple global implementations across 400,000 customers and 25 different industries. We can help clients with products such as Celonis / Signavios (depending on which licensing options the client has) by continuously analyzing how their business processes perform, benchmark them against industry standards and easily adapt them to new requirements and business demands. Based on the analysis performed, we can help clients leverage embedded intelligence within the business processes by leveraging SAP's workflow, robotic process automation (RPA) and other artificial intelligence (AI) business services.
Technical migration:
o  SAP over a period of team to assist with the migration has come up with multiple tools along with service offerings to assist the journey to cloud with RISE with SAP with fast time to value.
o  Clients can choose from their preferred choice of hyperscaler to benefit from infrastructure and platform as a service model.
o  It also provides an opportunity to merge the systems apart from moving As-Is onto the cloud as in some cases client(s) might have multiple instances within the landscape.
Building an intelligent enterprise:
o  SAP Business Technology Platform delivers one semantic layer across the  enterprise enabling the clients with their move towards Intelligent Enterprise. This helps keep the digital core clean and for simplified consumption:
o Access more than 2,200 APIs to support the integration to on-premise, cloud and non-SAP systems.
o Support client's journey with the augmented functionality around Robotic Process Automation solution along with SAP Workflows to support the end to end business processes.
At the foundation, SAP Business Technology Platform (SAP BTP) is same as the old SAP NetWeaver platform with enhanced SAP Cloud Platform functionality. SAP BTP is more modern, but many of the perceived benefits are the same – such as tighter integration through centralized access to more than 2,200 application programming interfaces (APIs) as well as common data models to facilitate data sharing and management.
What is in the box?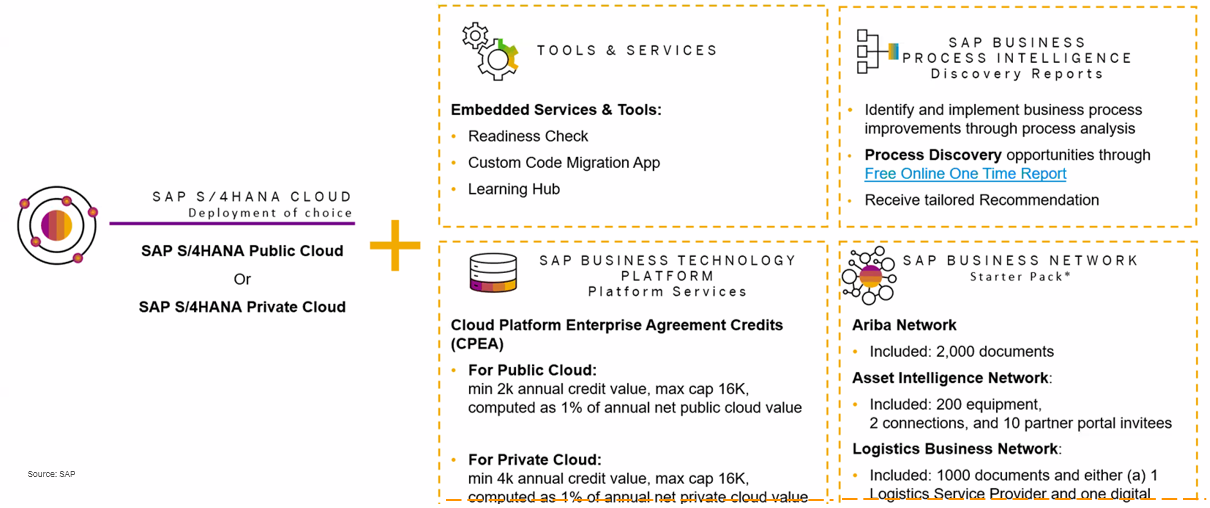 1. S/4HANA along with BW/4HANA PCE:
SAP S/4HANA along with BW/4HANA are SAP's flagship enterprise resource planning and analytics suite-based solution adoption rather than trying to avoid running these solutions on-premise. The solution(s) runs on SAP HANA, which provides real-time business statistics and analytics. Later on, in the read you will see what is included for each of the solutions within Private Edition compared to other options available for the clients.
System Hosting Options : Since SAP S/4HANA, BW/4HANA within RISE with SAP are cloud based, clients need to choose a hyperscaler. While SAP offers customers the chance to run the solution on SAP Servers, a number of hyperscalers also offer the ability to host an SAP S/4HANA Cloud solution. Historically these include Amazon Web Services (AWS), Microsoft Azure, Google Cloud and Alibaba Cloud.
What do you consider when choosing a hyperscaler option?
First up review the scope for S/4HANA along with what to expect from RISE with SAP: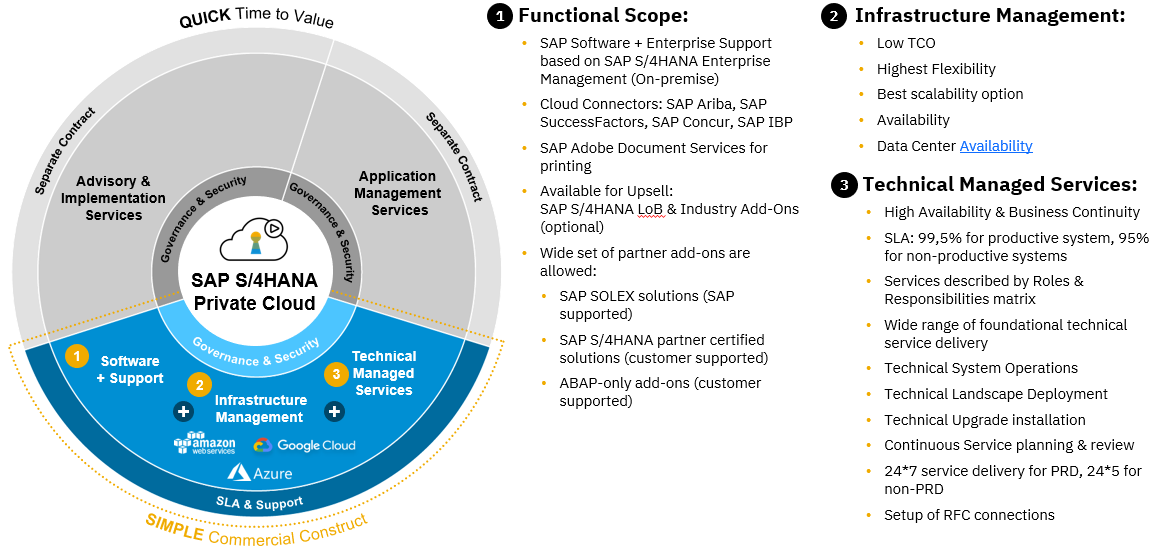 Source : SAP

Source : SAP
Source : SAP

Source : SAP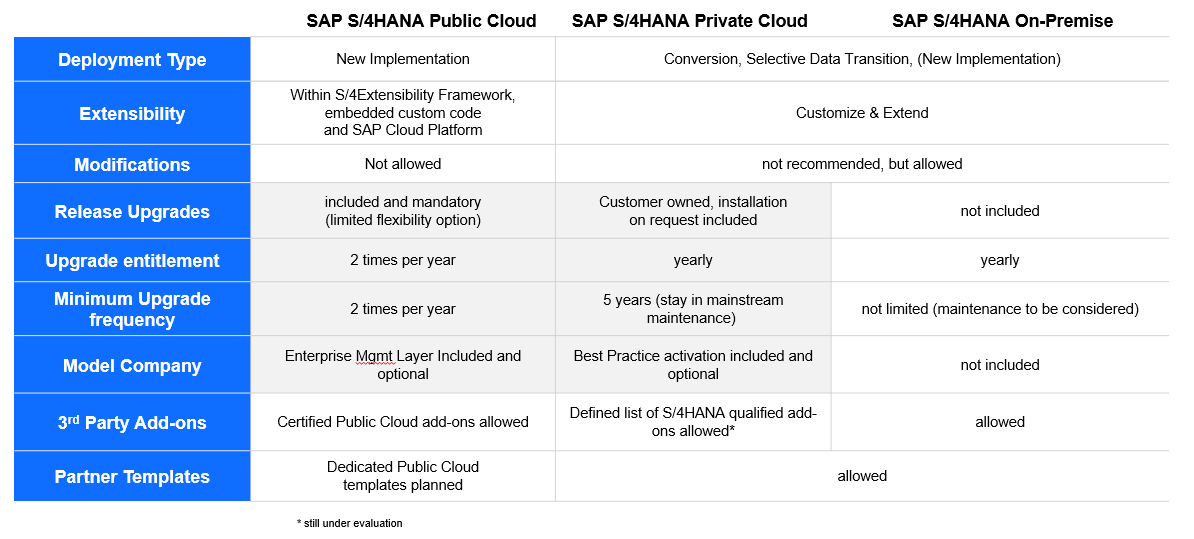 Source : SAP
Let's review the scope for BW/4HANA along with what to expect from RISE with SAP:
Source : SAP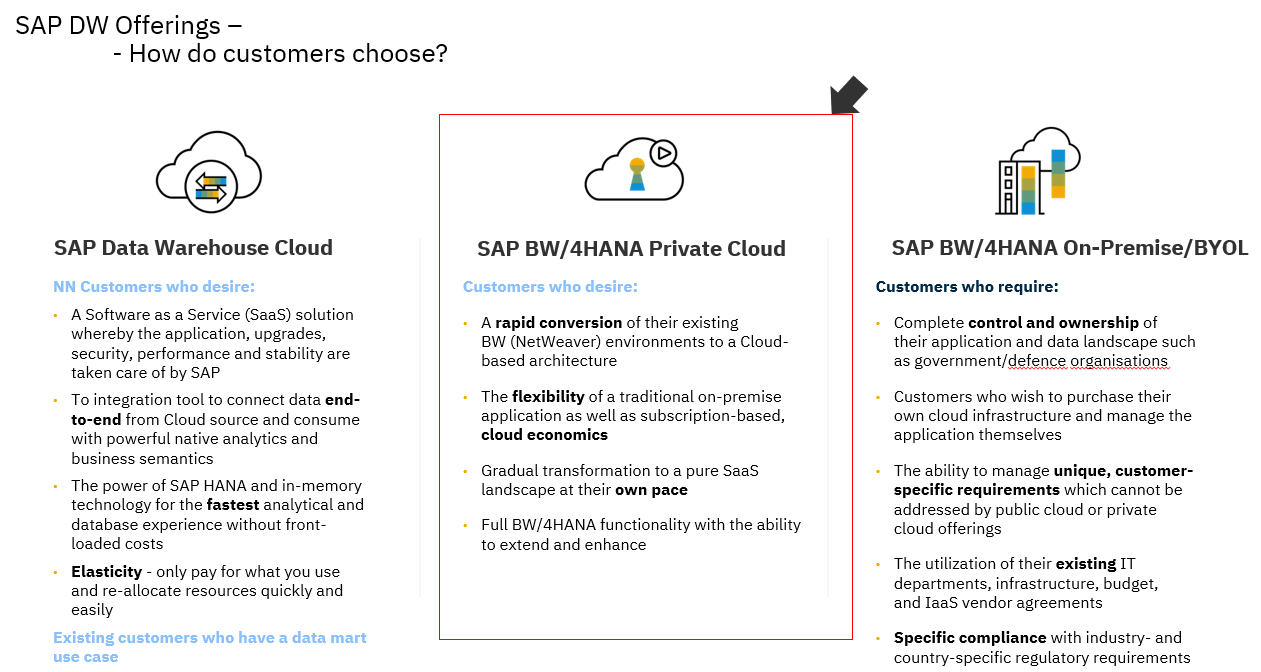 Source : SAP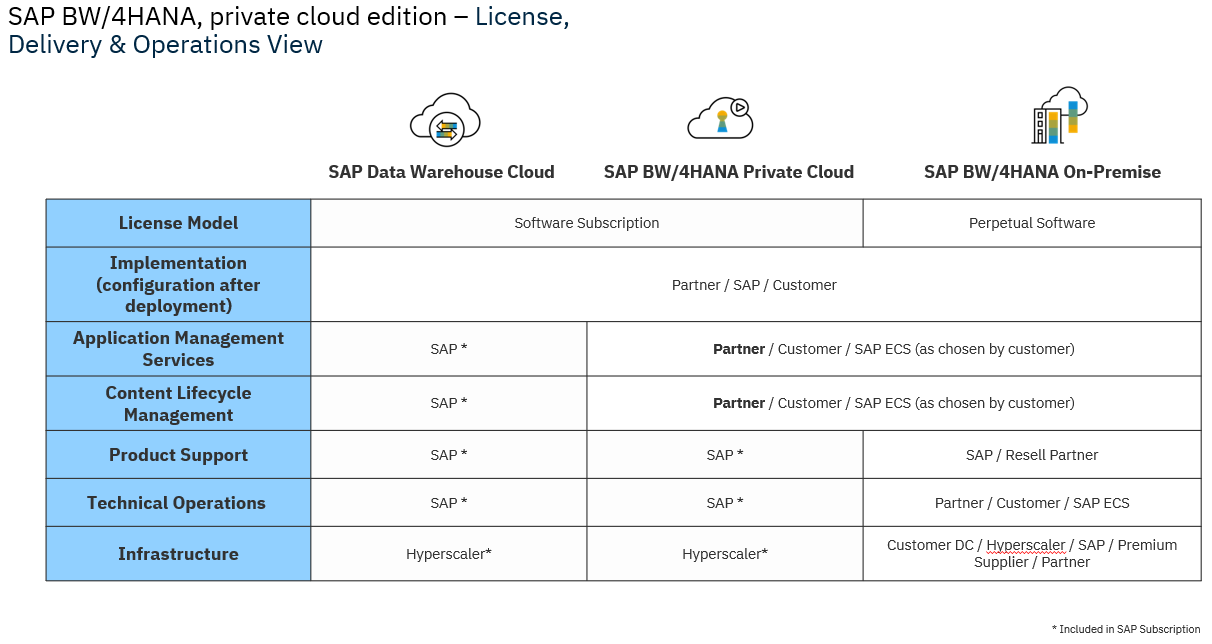 Source : SAP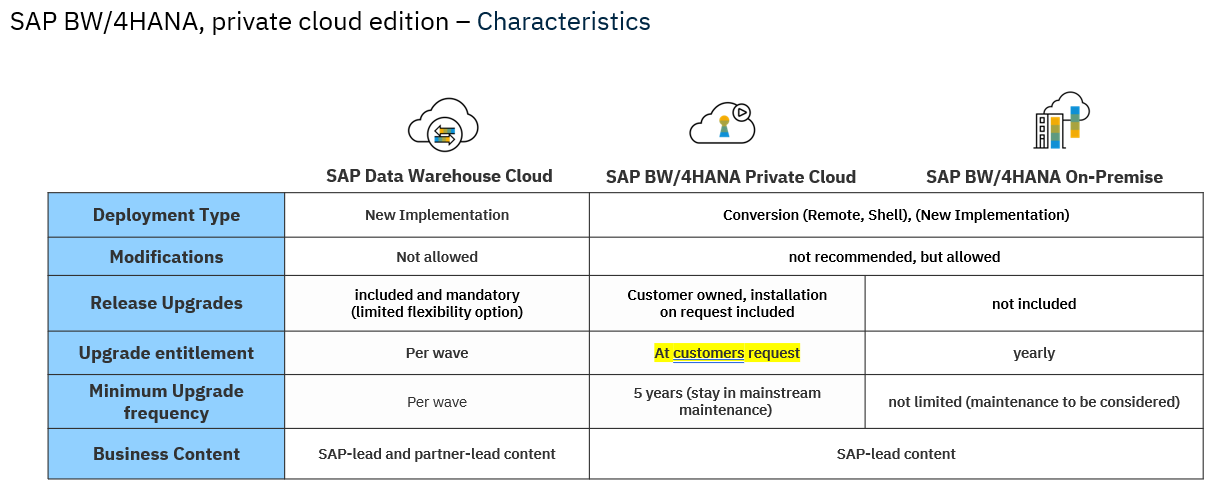 Source : SAP
2. Business Process Intelligence:
As mentioned above, Business Process Intelligence can help your organization continuously understand, evaluate, benchmark, innovate and transform processes. As part of the RISE with SAP offering, you can access the Process Discovery tool within Business Process Intelligence as a first step to transform your operations and gain insights into your end-to-end performance with process analytics along with usage of tools such as Celonis and Signavio depending on the tools deployed within the client landscape for process discovery.
a. Analyze your processes, get to look at conformance vs multiple variants involved within business functions and being able to benchmark them against what other peers have been performing towards.
b. Receive inputs and suggested use cases around how we will be able to optimize the day to day activities across process areas within S/4HANA by leveraging the features such as automation and workflows along with the embedded AI/ML scenarios which are readily available for consumption by the business processes.
3. Technology Cloud Credits:
Being able to seamlessly Integrate with other solution(s) within the landscape above & beyond the core S/4HANA is a reality with RISE with SAP and allows you to use the existing model along with services available on SAP Business Technology Platform (BTP) to bring it all together. The architecture and possible services within SAP BTP are shown later in the blog. As part of RISE with SAP offering, you can drive your innovation faster with SAP BTP CEPA credits made available.
a.  Access thousands (2200+) of prebuilt integrations to SAP and third-party applications unlocking your data and services securely with API management
b.  Automate SAP S/4HANA processes with prebuilt bots to accelerate automation, dramatically streamline operations, reducing costs and freeing people from mundane tasks to focus on higher-value work
c. Combine data from SAP S/4HANA and third-party sources to deliver real-time, actionable insights
d. Use cloud data management, advanced analytics, enterprise planning and business intelligence tools to enable data-driven decisions
Source: https://www.sap.com/india/products/rise.html#tools
4. SAP Business Network Starter Pack:
SAP Business Network Starter Pack allows you to move quickly in creating dynamic, digital connections with your trading partners and assets. As part of the RISE with SAP offering, you can apply network wide intelligence to guide decisions with real time data and visibility.
a. Connect vendors to increase reliability, and being able to respond to disruptions quickly with streamlined freight collaboration and instant access to a global network of carriers and improve visibility by extending your reach into third party networks
b. Collaborate seamlessly with suppliers to manage inventory better, confirm availability of supply, and avoid disruptions by dynamically sharing information between your business and suppliers
c. Connect and share asset usage information to increase customer support and satisfaction by enabling real-time condition monitoring and predictive, collaborative maintenance through centralized data and shared performance analytics
d. Optimize asset performance by merging asset management and maintenance process and data
Source: https://www.sap.com/india/products/rise.html#tools
Business Network Starter pack: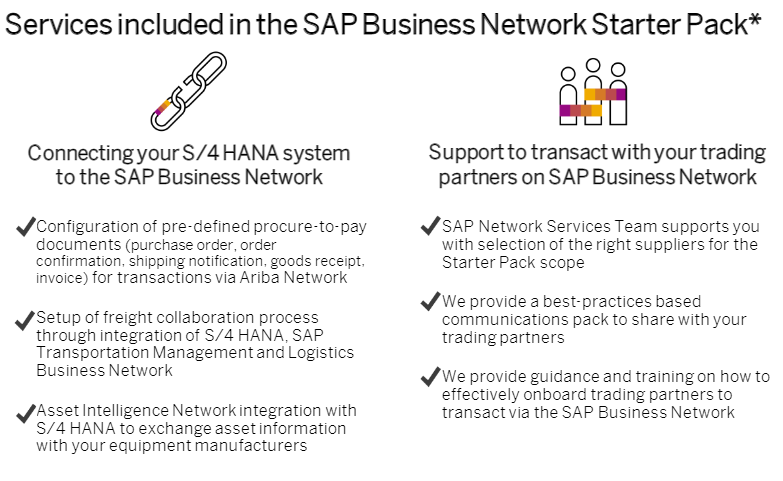 Source : SAP
https://www.sap.com/india/documents/2021/04/b0bb48a2-da7d-0010-87a3-c30de2ffd8ff.html
5. Embedded Tools and Services: SAP over a period of time has come up with multiple services and tools to be included in the offering. Some of the major ones include custom code migration app, which performs checks on your custom code that needs to be migrated from your existing ERP system to SAP S/4HANA based on usage, comparison to simplification list published along with if any potential mapping to standard content exists given the customization would have been done over a period of time.
Note: While the tool focusses on custom code analysis, it is important you consider the performance and ongoing usage of these custom code bits as well given it is an opportunity to do more than just moving onto Cloud.
RISE with SAP includes the technical tools and services needed for your smooth transformation to S/4HANA.
a. Collect usage data during your system conversion project to SAP S/4HANA to simplify and clean up your custom code
b. Use the Custom Code Migration app to assess custom code impact and reinforce the Clean Core principle during SAP S/4HANA conversions and migration to SAP Business Technology Platform
The architecture is built around SAP BTP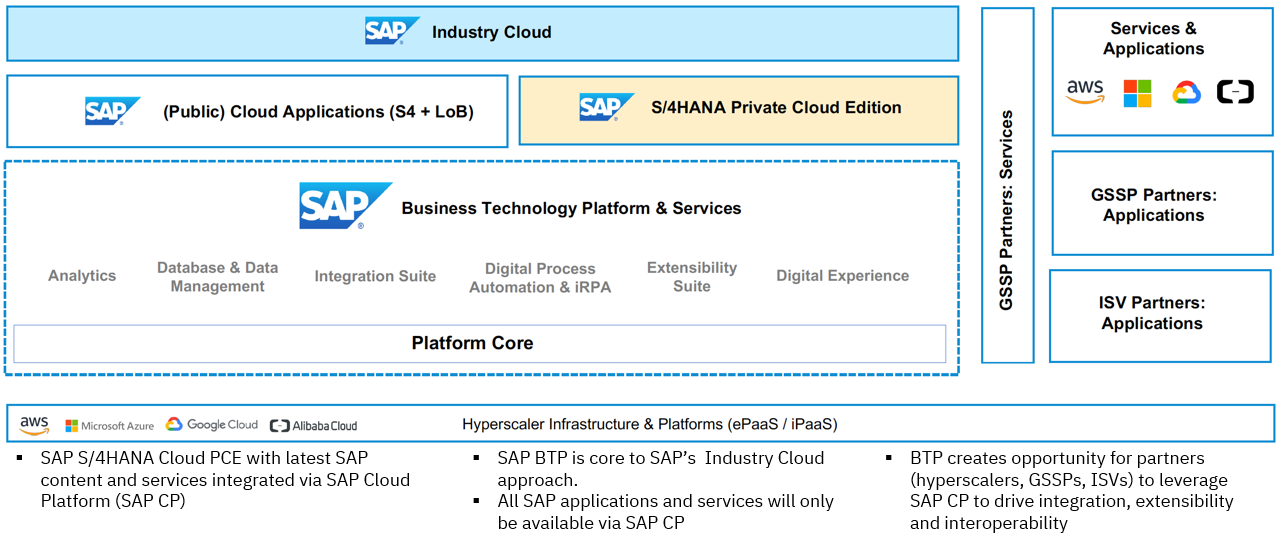 Source : SAP
Key services on BTP

Source : SAP
What is the SPLIT of R&R?
Private Cloud and Extended Edition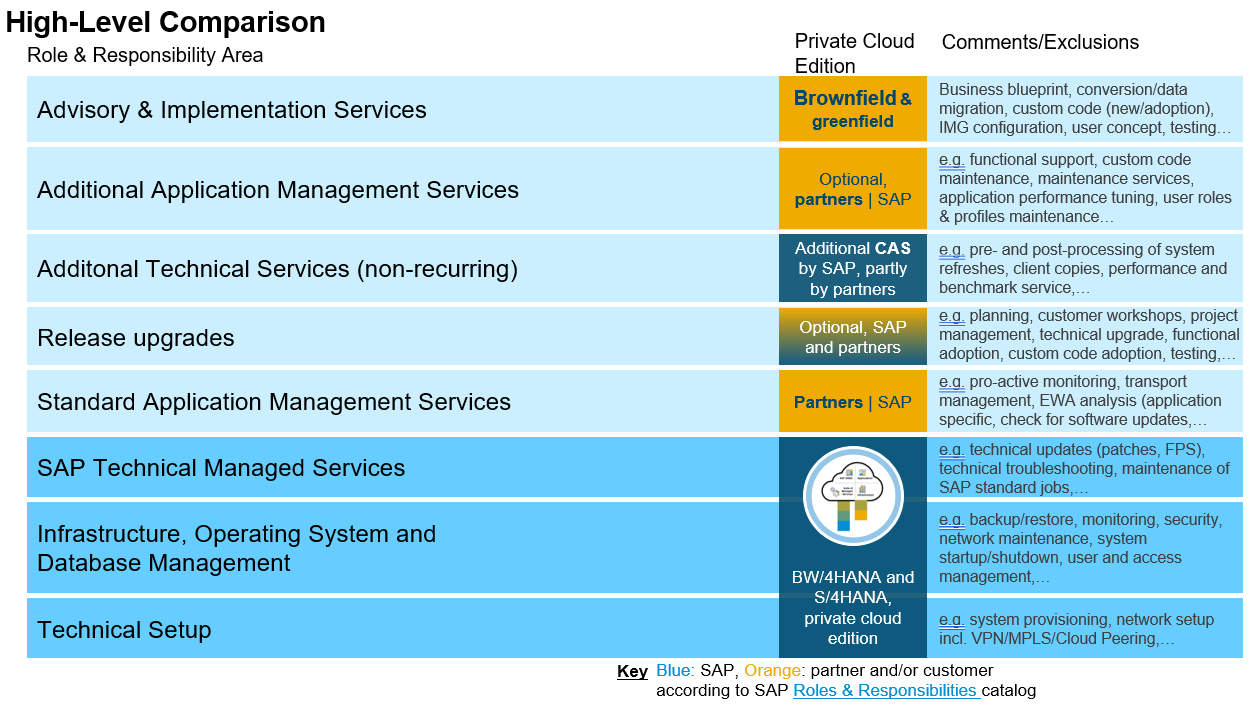 Source : SAP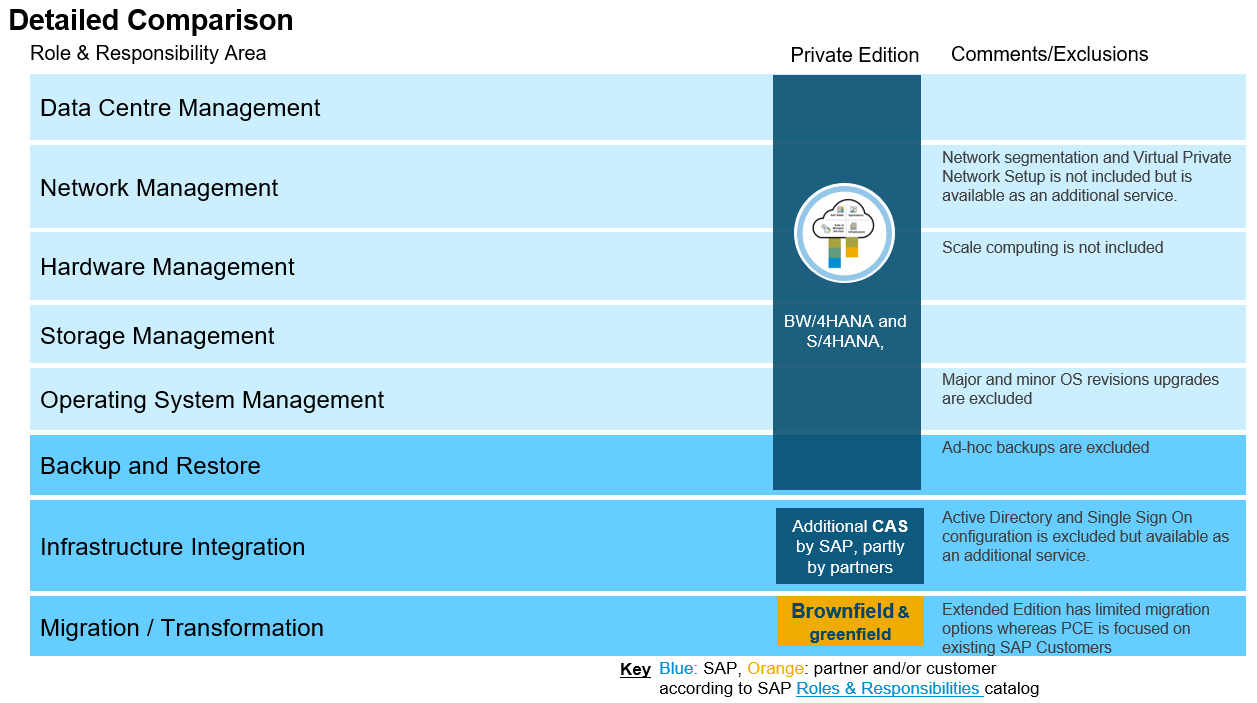 Source : SAP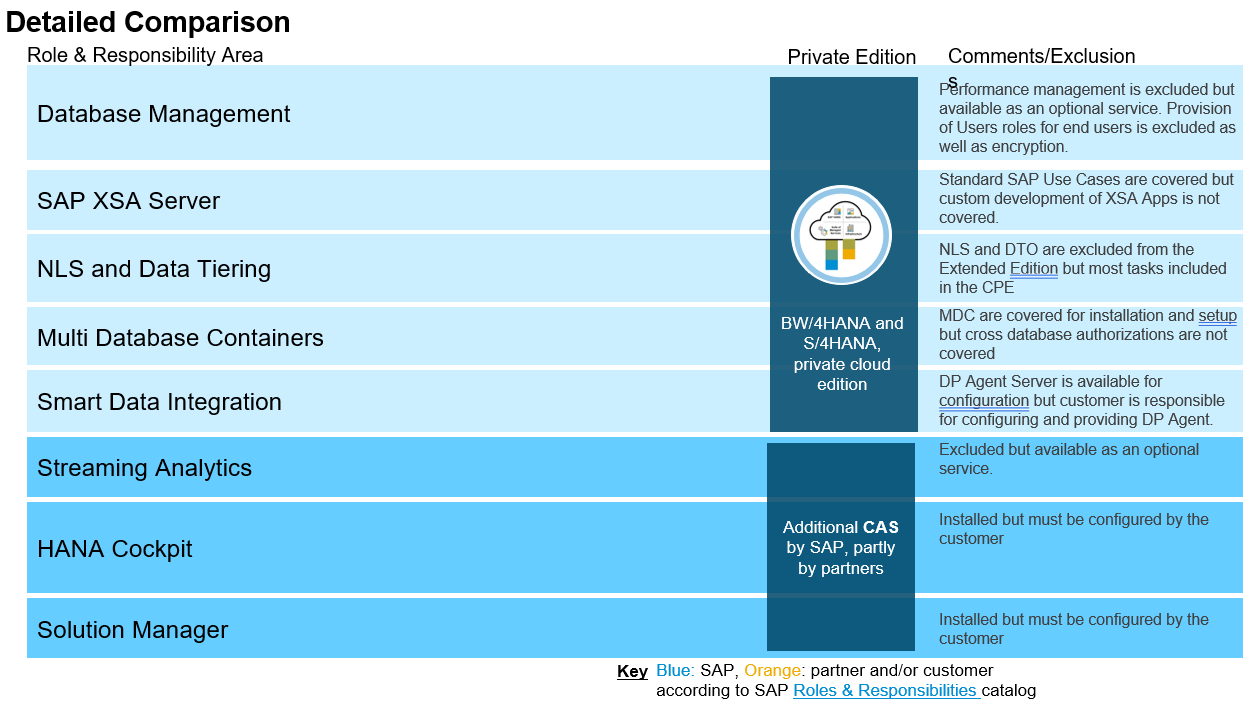 Source : SAP
Detailed version can be found with the link below:
https://www.linkedin.com/posts/dharma_rise-with-sap-s4hana-cloud-private-edition-activity-6806940604556288000-A5o7
Points to be considered:
It is important to understand the stage at which you are to evaluate if RISE with SAP is the way forward and at some point eventually while you would merge with the adoption, it is critical to understand what to expect.
For instance, every client journey can be categorized into
– Optimize the Core
– Unlock legacy
–  Unleash Digital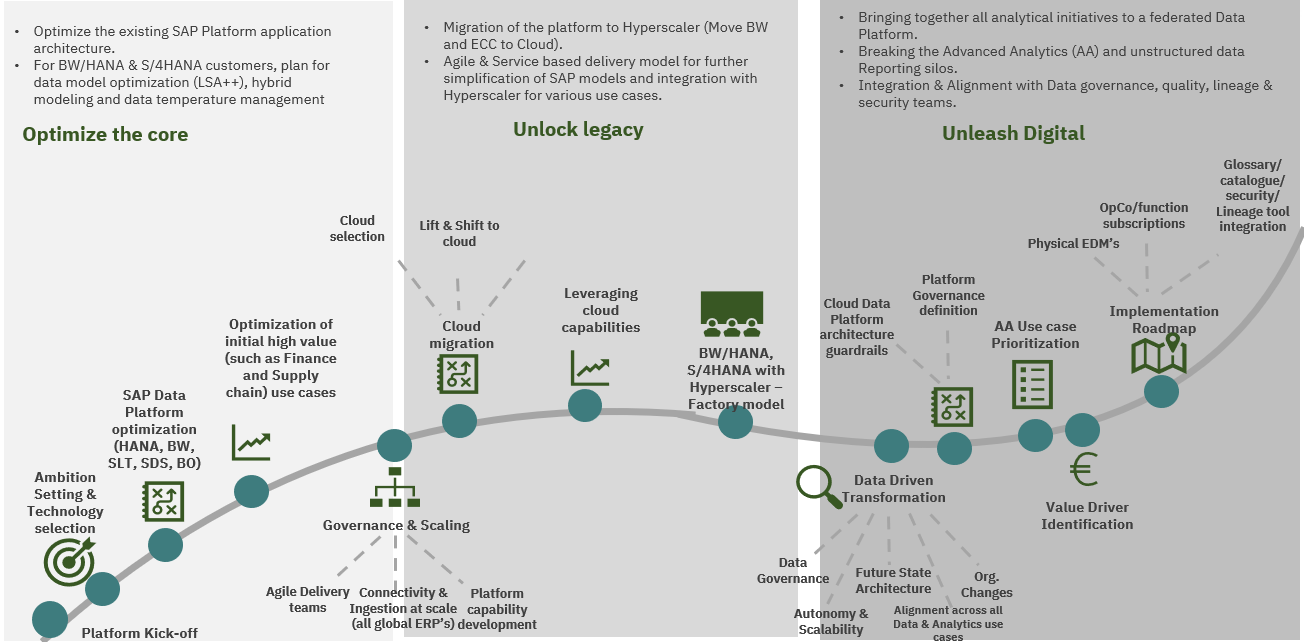 The clients who are already at the stage of "Unleash Digital", might not immediately move onto RISE with SAP as they already are using one of the hyperscaler based solutions optimized for their business processes along with the likes of Intelligent Robotic Process Automation bots, Business process mining with the likes of Celonis, Signavio along with embedded AI/ML use cases for process optimization leveraging the likes of AI Business Services where appropriate. These clients would like for either the next contract refresh or new storage models or new data fabric models at which point "RISE with SAP" addresses their requirements.
Those clients either at the stage of "Optimizing the core" or "Unlocking legacy" to adopt new solutions and scenarios are more prone towards moving towards adoption of RISE with SAP along with one of their choice of hyperscalers to take advantage of best of both world's in terms of the hyperscaler functionality (moving onto Cloud) along with the single vendor to handle rather than moving around different suppliers to design the architecture when it comes to cloud deployment.
Note: Moving to RISE with SAP is not the answer for everything and hence while it is the best to have "Single Contract", "Single Vendor" related scenario, you would still need to plan out the rest of the components depending on where you are on the journey to cover all the possible patterns similar to the journey shown above.
Key points to look out for:
Think about your functional and non-functional requirements upfront in order to make sure the design put forward by SAP has these addressed such as HA, DR, frequency of updates and so forth
Networking along with the Site to Site VPN vs other connectivity is still client responsibility
Sizing is client responsibility
SSO along with Charm and other key components would need to be managed by the client / service integrator
Any OS level activity cannot be performed by client and needs to have dependency on SAP to perform the same
Be aware of all other optional requests and have a calendar scheduling in place to make sure you request for the same spread with proper planning as the collaboration, technical ownership along with testing still is the clients responsibility including the same for upgrade activities
Source system connectivity post the VPN or other connectivity configuration has been addressed by the client / SI should be handled by client / SI itself
What benefits does RISE with SAP offer?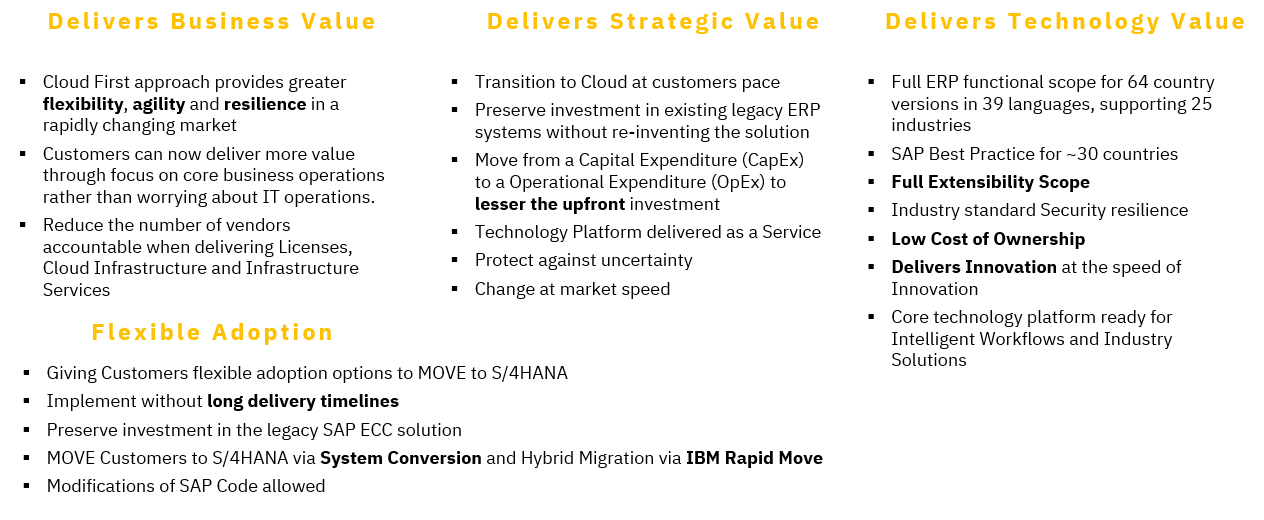 Conclusion / Summary
RISE with SAP supports multiple customers expedite their cloud journey when it comes to moving their BW or BW/4HANA or ECC or S/4HANA based landscapes onto cloud with one contract and one partner-based engagement model.
Do look out for different patterns as mentioned above prior to deciding on RISE with SAP and there could be different decision points than just functionality and future proofing when it comes to why RISE with SAP?
How to get to know more about RISE with SAP,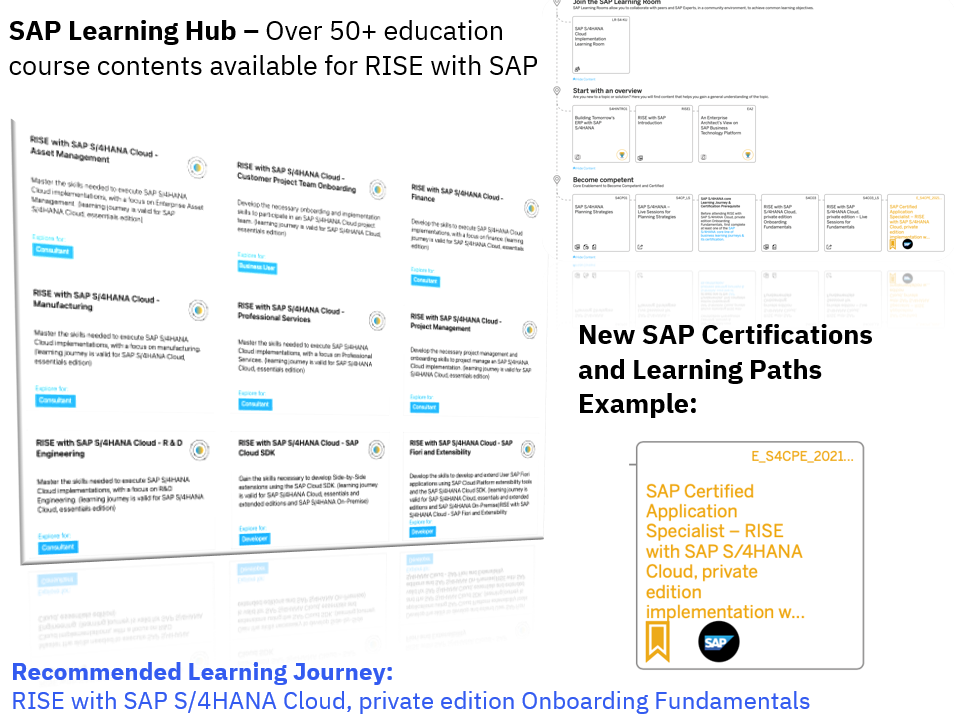 In the later articles, I will discuss about onboarding, support and other lessons learned.
About the Author :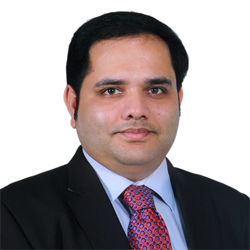 Mr. Dharma Teja Atluri is an Associate Partner, Executive Architect, Inventor and artificial intelligence/machine learning evangelist at IBM. He has more than 19 years of experience working in advanced analytics with both SAP and non-SAP product lines. He has provided strategic direction to clients globally regarding the adoption of SAP and non-SAP advanced analytics products for artificial intelligence/machine learning operationalization, data management, information management, and analytics. He has also carried out multiple platform comparison initiatives for reporting, ETL, data warehousing, and data science products across IBM, Microsoft Azure, Google, Amazon Web Services, and SAP. He has led the SAP analytics (reporting and enterprise information management) portfolio for IBM India, and designed client architectures for analytics with SAP and IBM capabilities. Dharma is an IBM master certified data scientist, architect, and technical specialist, and also an IBM thought leader certified consultant. His most recent SAP Data Intelligence sprint was featured for global consumption by clients and nominated for SAP Innovation Awards.
Mr. Dharma Teja Atluri is currently leading the RISE with SAP as a Chief Architect enabling Technical Managed Services on IBM Cloud along with Other Hyperscalers to  support the clients on their journey towards Hybrid Cloud with  Automation, Data and Intelligent Workflows driven by Artificial Intelligence (AI).
Mr. Dharma Teja Atluri is the Chapter Lead & Co-Chair of TEC India & Member of IBM Academy of Technology.
He is bestowed with the following License & Certifications :
https://www.linkedin.com/in/dharma/details/certifications/
He has received following Honors & Awards :
https://www.linkedin.com/in/dharma/details/honors/
https://www.credly.com/users/dharma-teja-atluri/badges
He can be Contacted at :
Email : [email protected]
LinkedIn : https://www.linkedin.com/in/dharma/
Twitter : https://twitter.com/darmateja
Skype : darma.teja
Also read his earlier article:
https://www.sap-press.com/sap-data-intelligence_5369/