During the 10th edition of CEOs Conclave titled "GMCV 2030" – Global Manufacturing Cluster Vision 2030, which was organised by CODISSIA, Texas Ventures &  INTEC 2022, the editorial team at INDUSTRY 4.0 spoke to various stake holders to assess how MSME's were positioning themselves for the economic upturn. The next couple of features on INDUSTRY 4.0 will be upon those critical conversations that MSME's need to be part off, or else they may get left behind.  The old school of putting it all on a white board all the ideas that came in and then using available data along with economic indicator will form the basis of our upcoming features. Our primary focus was to identify what will work and what will not. Ideas, from around the world and executable hyper local solution is what we needed to find.
Remember we are in this together. As Always!

Facts first : Climate Change is a reality! And MSME's can lead the change to fight climate change!
Climate change and MSME's may be referred to as a classic oxymoron. Looking at the mainstream media coverage of climate change it has always presented the manufacturing sector of the economy as one of the fiercest enemies of climate action in the country. This sector, which is also usually painted as one of the biggest sources of carbon pollution in the country, is actually vital to the process of building a low-carbon economy and may be a fossil free future. Remaking old systems such as the electricity grid will require new clean energy products, and the development of new sectors will be fuelled by technological innovation. For much advanced economies that have much advanced manufacturing systems such as the United States, Britain, Germany – it becomes increasingly clear that manufacturing and innovation go hand in hand, and emerging sectors, including renewable energy, restoration and resilience, and low-carbon transportation, will depend on a strong and vibrant domestic manufacturing sector.
In short we are expecting the manufacturing sector or MSME's to have a wholesome impact. The term that is used is "The Net Positive, company." A net positive company is defined as a business approach in which a company puts back more into society, the environment and the global economy than it takes out." It does call for a collaboration of different organisations united by their aim to have a positive impact and a commitment to increasing the number of companies making these ambitious and magnanimous pledges.
Can manufacturing or conglomerate's be Net Positive and increase social impact, thinking beyond profits? 
"These ideas are not beyond business. Thinking of business beyond just profits is not anti business. This is an outdated view" says Ms. Sonali Kulkarni, President & CEO, FANUC India Pvt. Ltd.  She further states, "Economy will not thrive unless the people and the planet thrive. Corporate leaders can no longer sit on the sidelines and treat planet issues as someone else's problem. We need to move towards a way of conducting business where you are very successful and you leave the place better. That should be the future of work".
When talking about examples that we could borrow ideas from, Ms. Sonali Kulkarni states that there are many examples from India itself. She quoted the great JRD Tata, whose philosophy was stake-holder capitalism and not share-holder capitalism. He was responsible for drafting labour laws much earlier. Tata's invest in communities and put a lot of thrust in Nation Building, all the while building next generation cars, software, steel and more. Their success can be derived from their work culture which is a possible theory attributed to their flourish in EV, as they now have more than 80 % market share.  There is a clear governance premium at Tata's. Another good example was of Infosys who were the first IT major to start sharing wealth and gave stock options to its employee's way back in the 90's.  They are pioneers and early adopters to the principle of Net Positive.
It's been noticed that Organisations that take a Net Positive approach share an ambition to grow their brand, have strong financial performance and attract the brightest talent.  There are about 12 principles that characterise the Net Positive approach.  They include Evidence, Innovation, Transparency, Material Impact, Best Practice, Partnership, The Big Shift, No Trade- off, Influence, Throughput, Inclusive and Restorative.
Is there a roadmap for MSME or manufacturing in general to be Net Positive?
Ms. Sonali Kulkarni, President and CEO at FANUC India, at GMCV 2030 spoke about her chance meeting with Dutchman – Paul Polman. The former CEO of Unilever who is also the author of the book – Net Positive: How Courageous Companies Thrive by Giving More Than They Take.  Now when at Unilever, Paul Polman from 2009 to 2019, he set an ambitious vision to fully decouple business growth from its overall environmental footprint and increase the company's positive social impact through the Unilever Sustainable Living Plan. During Polman's tenure, he provided a return vastly superior to rivals and more than double in certain cases.  As a result of his work championing causes around climate change, inequality, and sustainability, Polman has today become a prominent global figure in the push for more responsible business. What was significant is that he made Unilever, a company that decodes the theory of consumerism, sets a certain stereo types, was taken on a journey of going Net Positive.
What the book chooses to answer are very serious fundamentals and massive dual challenges, where MSME's are actually facing existential crisis.  The answers the book largely point out are towards reimaging our economies and companies on an urgent basis. The book also showcases about how many in the business community—from large corporations to microenterprises – are helping to solve our most profound challenges by deploying long-term, purpose-led business models that put people and planet first. By taking this path they are profiting with new tools, AI and data-driven transparency, and radical improvements in the economics of clean technologies.
The key question now has flipped from – Why would you do sustainability to Why wouldn't you?
The model is an advocate for sustainable capitalism and explains how it's done. The model help leaders by pass the last gasps of denial to show how purpose and profits are inextricably linked and how collective action can deliver the scale of change and transformation the world needs. The model advocates in leading others and unlocking the company's potential, while setting and delivering big and aggressive goals, and taking responsibility for all the company's impacts. The Net Positive impact, showcases the secrets to partnering with others, including your competition and critics, to drive transformative change from which your company will find prosperity.
Net Positive also outlines the principles and practices for surviving and thriving; this is based on the experiences of world-leading companies and other groundbreaking global organizations. For a company to turn Net Positive, the governance of the company will need to have the conviction and will to make that change.
About the author :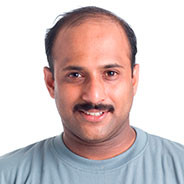 Mr. Solomon Porres
Associate Editor,