Workflow, as defined in Wikipedia, may be considered as a view or representation of real work. The flow being described may refer to a document, service, request, or product that is being transferred from one step to another.
Workflow automation is an approach to create series of automated work performed independently by various stakeholders in a process. The steps in the workflow are performed based on predefined rules one after another or in parallel. When workflow automation is implemented rightly, the automation will be a simplified way of executing work on a day-to-day basis.
How to decide if a workflow can be automated? 
It is a repetitive work
Errors occur when performed by human 
It's a series of simple actions which needs to be performed based on the preceding action leading to an outcome
Workflow automation will help organizations to streamlining their daily tasks and identify new opportunities for automating other areas of work. Workflow automation can be as simple as a Leave/Petty Cash Approval process to as complex as Procurement Management. 
Importance of workflow automation
You need to automate your workflows whenever possible for various reasons, including faster Turn Around Time(TAT) resulting in saving time. It also increases the efficiency and accuracy of the work. The other advantages of workflow automation are:
It allows the employees to use the time saved from automated workflows to work on other tasks which are nonautomated
As the productivity of employees goes up with more work getting done, you will have cost savings
Workflow Mapping, a method to diagram an entire process with different symbols to document one process step and actions, when implemented paves organizations the way for a more visible and transparent top-down view of their workflows
Workflow automation addresses communication improvements among your team. Once a visible workflow is automated, employees know what needs to be done next and by who accurately
It also allows your employees to collaborate in completing work collectively
Visible workflows let you identify unnecessary tasks easily and eliminate the redundant tasks from your process
Digital workflow platforms enable you to easily review organizations business operations
Benefits of workflow automation
Some of the benefits of workflow automation are:
helps you with optimized workflow cycles
saves man-hours by automating repetitive and redundant tasks
eliminate manual intervention involved in completing a work
improved visibility to the process
helps you identify bottlenecks in the process and eliminate it
improves employee satisfaction, and work-life balance 
Dashboards and Analytics Tools gives you complete visibility to Key Performance Indicators (KPI) and improvement areas 
improved internal and external communication
it offers flexibility to modify the process to the changing business need with easy to use no-code platforms 
with the ability to integrate with your email, calendars, and other applications, it offers efficient ways of task management
Uses of workflow automation
Workflow automation can be implemented from admin to finance and IT to marketing. Here are some of the departments in your company which can benefit from workflow automation:
Human resources
Reduce paperwork
With automated approvals, Sourcing to recruiting of candidates is made faster
Process Compliance 
Enhanced employee onboarding/offboarding experience
Finance
Document management 
Faster approvals
Auto-payments of recurring invoices
Setup a simpler Payroll management system
Seamlessly transfer data to other accounting software for better management
Marketing
Delegate repetitive to the system
Collaborate with teams in multiple locations
Ensure content gets approved by the right authorized individuals
Some of the key features to look for in Workflow Automation Software:
Online forms
Individual and Team assignment
Scheduling
Progress tracking
Communication tools
Customizable notifications
Reporting
Document management
Integration capabilities
Prebuilt Templates
Conclusion:
Streamlining your processes with a highly visible, intuitive workflow management tool, will help you improve team efficiency and reduce room for error. There are many tools like monday.com, Kissflow, asana, cflow in the market. Each of these platforms has its advantages. Carefully evaluate a solution that suits your organization's needs or contact a certified implementation partner like Scalerater for a seamless transition. 
About the Author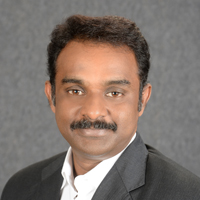 Mr. Vijayanand S.
CEO, Scalerater LLP
Scalerater, a Start-up based out of Coimbatore, is focused on releasing bottlenecks to Scale & Accelerate Business. Our Partnerships are chosen carefully to aid End Users. They allow Business Owners complete Flexibility & Control in managing and growing their business. Scalerater is an authorized reseller & implementation partner for leading CRM, BPM, Customer Experience, Productivity and Mobile Device Management Tools.
Linkedin Profile: https://www.linkedin.com/in/vjanands/
He can be contacted at Mobile : +91 90940 43330 or e-mail : [email protected]
Also read my earlier Article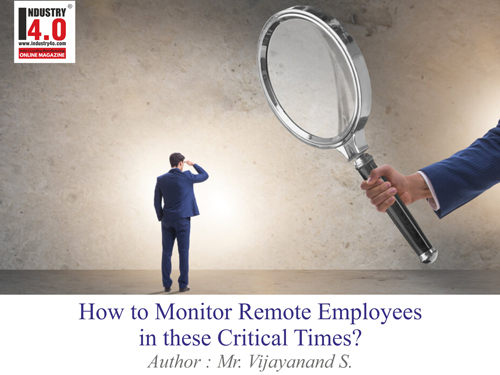 How to Monitor Remote Employees in these Critical Times?