Internet of Drones –  IoT enabling new use cases
In recent years, both drones and IoT (Internet of Things) have gained significant attention in the technology industry. As IoT continues to evolve and become more widely adopted, it's clear that the technology has the potential to significantly impact the capabilities of drones. This article will explore the ways in which IoT can impact drones, including improving their accuracy and control, enhancing their communication capabilities, and increasing their overall efficiency.

One of the main benefits of IoT for drones is the ability to improve their accuracy and control. By using sensors and other IoT devices, drones can collect data in real-time and use it to make more informed decisions about their movements and actions. For example, IoT sensors can help drones detect obstacles and adjust their flight paths accordingly, making them safer and more efficient.
Secondly,  IoT can impact drones is by enhancing their communication capabilities. With the help of IoT devices, drones can communicate with other drones, as well as with ground-based operators, in real-time. This can be particularly useful in situations where multiple drones are being used for a specific task, such as search and rescue missions or surveillance operations As both IoT and drone technology continue to evolve, it will be interesting to see how they continue to intersect and impact each other. The Internet of Things (IoT) has the potential to revolutionize the way drones are used and operated, bringing a range of new capabilities and applications to the field.
Here are some ways in which IoT can impact drones:
Enhanced Connectivity:
IoT can enable drones to be connected to a variety of devices and systems, including sensors, cameras, GPS, and other drones. This enhanced connectivity can enable drones to work together more effectively, share data and communicate in real-time.
Real-time Data Analytics:
IoT can provide real-time data analytics capabilities to drones, enabling them to quickly analyze data from sensors and cameras, and make more informed decisions. This can lead to better performance, increased safety, and improved efficiency.
Autonomous Operations:
IoT can enable drones to operate autonomously, without the need for human intervention. This can be particularly useful in scenarios where it is difficult or dangerous for humans to operate, such as in disaster response or search and rescue operations.
Precision Agriculture:
IoT can enable drones to gather data on crop health and growth, and make more precise and informed decisions about where and how to apply fertilizers, pesticides, and other treatments. This can lead to increased crop yields and improved sustainability.
Remote Monitoring and Inspection:
IoT can enable drones to perform remote monitoring and inspection of infrastructure, such as pipelines, power lines, and bridges. This can help to identify potential issues before they become major problems, and improve safety .
IoT can hence  increase the overall efficiency of drones by enabling them to collect and analyze data more quickly and accurately. By using IoT devices to collect data on weather conditions, wind speeds, and other environmental factors, drones can adjust their flight paths and operations to optimize their performance. This can help drones operate more efficiently and effectively, ultimately improving their overall performance. 5G will play a big part that can  enable drone technologies across various industries including last mile delivery,  supply chain & logistics, retail, agriculture, and Healthcare . Beyond Enterprise and consumer use cases and applications, drones are being leveraged in many other ways by Government Departments of different countries  and Emergency Services.
The Global drone market is poised to become a US$ 54 billion market by 2025 as per some reports.  The Drone manufacturing potential in India could be worth US$ 4.2 Billion by 2025, growing to US$ 23 billion by 2030 and thus will play a major enabler in ensuring India hits its target of a $ 1 trillion Digital Economy by 2026. The Government's 'Aatmanirbhar Bharat'  is going all out to support domestic enterprises by fine-tuning policies and regulations so that more and more products are manufactured within India . As the Government  shows its clear intent to make India a global hub for the manufacturing of drones by 2030 by building a conducive regulatory and legal framework  , the growth of the Drone  sector is immensely strong.
The Drone Shakti initiative was rolled out during Budget 2022, with the objective  to promote and facilitate drones as a service through start-ups. This initiative, along with the government's Production-Linked Incentive (PLI) scheme for drones, is  expected to increase domestic manufacturing and create employment. Given its potential, the support of the government for manufacturing of drones has comee at the right time, in sync with a comprehensive push at regulation.
The Drone Rules (September 2021), which superseded the Unmanned Aircraft System (UAS) rules of March 2021, were specifically  meant to simplify and ease the process of the Drones adoption. In line with the intent, the Drone Rules dispensed with the requirements of geo-fencing, no permission no take-off, and real-time tracking. These requirements might be incorporated in the future, once drone manufacturing in India stabilizes. Last December the Union minister for Youth Affairs and Sports, and Information and Broadcasting, Anurag Singh Thakur, inaugurated India's first Drone Skilling and Training Virtual E-Learning Platform. One lakh drone pilots are likely to be required by 2023. In the year  2022, many private players including many startups, encouraged by the government's focus on  the drone industry, offered a vast array of services, including food delivery, logistics, medicine and diagnostic delivery, and more. Garuda Aerospace launched  'Drone Yatra 2.0', aiming to cover all 775 districts in 75 days.
In conclusion, both the Enterprise segment  and the Government are realizing the economic and social opportunities and sustainability that UAVs  like Drone Technology (unmanned aerial vehicles) can offer. The faster adoption of UAVs is therefore critical to realise the potential of this technology and the use of IOT powered by high speed 5G networks is bound to give a significant fillip to the Industry creating massive Business and Societal impact.
About the Author :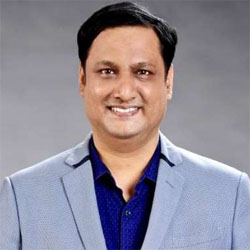 Mr. Sunil David
Digital Technology Consultant
Ex – Regional Director – IOT , AT&T India.
Mr. Sunil David, a well known IOT Industry Thought leader in India has 28 years of experience in the IT and Telecom industry of which close to 20 years was with AT&T, one of the top Communication Service Providers of the World and one of the top 20 companies in the Fortune 500 list 2021. Until recently, Sunil was the Regional Director ( IOT ) India and ASEAN for AT&T India where he was responsible for building the IOT strategy, Sales, Business Development and also worked on building a robust IOT partner ecosystem. He was also actively involved in a number of Marketing initiatives to help enhance the AT&T brand in the IOT space. In his new phase of life, Sunil will be Advising and Consulting AI and IOT Startups that are aspiring for the next level of growth.
Mr. Sunil David has been a recipient of a number of Awards and Recognitions including 6 awards in 2021 and 3 this year from various Industry bodies and media conglomerates in recognition for his work in Digital Technology advocacy, Digital Skilling initiatives, contributing his inputs towards IoT policy creation for India and for his contribution to National Inst of Electronics and Info Tech, an Autonomous Scientific Society of MeITY, Ministry of Electronics and IT, Govt of India for contributing his inputs on the syllabus and specific courses in the Emerging tech space ( IOT, Cloud, AI ) that needs to be incorporated into the Curriculum of State and Central Govt Universities. NASSCOM Foundation and IBM India have also planted tree saplings in Sunil's name for his contribution to the Tech Industry.
Mr. Sunil David is affiliated to several Industry Bodies : – Empaneled as IoT Tech Guru for NASSCOM Women Wizards Rule Tech Program, Telecom Working group Council Member of IET Future Tech Panel, Chair of the Working group of the AI – Networking and Community Enablement Working group constituted by CII, Elite Member and Mentor for CII Institute of Logistics, Member of the National IOT Committee constituted by Internet and Mobile Association of India. ( IAMAI ) etc.
Mr. Sunil David has spoken on a wide and diverse range of topics – Industry 4.0, IOT, AI, Supply Chain Digitalization , Metaverse, Cyber Security, Digital Marketing, Digital Transformation, Future of
Work etc., at more than 150 Industry forums in India and abroad as well as done workshops on IOT for a number of India's leading Educational institutions including IIM Shillong, IIM Sirmaur, IIM Jammu, IIM Kharagpur, IIT Delhi, ISB Hyderabad, IIT Madras, SITM Pune, Amity University Delhi etc.
Mr. Sunil David has also written a number of articles in the past for various B2B publications, IEEE and Online Media Content providers on topics related to Use of IOT in Shipping industry, Supply Chain Digitalization Industry 4.0, Digital Transformation, Disruptive Technologies, 5G, IOT Platforms and Security etc.
Mr. Sunil David is Bestowed with the following Licenses & Certifications :
https://www.linkedin.com/in/sunil-david-8165971/details/certifications/
He can be contacted at:
Also read Mr. Sunil David earlier article :