Manufacturing with data driven intelligence: from
hindsight to foresight
Manufacturing in 1990…
Manually analysing paper-based reports is no longer enough to compete in the manufacturing industry. While this reactive method, based on 'hindsight', may have worked in the 1990s, times have moved on now.

Decisions from manual, paper-based analysis was based on a mix of factors: limited data samples, questionable authenticity of manually recorded data, limitations of analytical capabilities, and the reliance on guesswork and wisdom of the person making decisions. These variables are too inconsistent to rely on for accurate outcomes every time.
These factors significantly reduced the chances of making accurate planning decisions. It would take multiple production cycles and analysis iterations before the desired level of planning accuracy and decision maturity would kick in.
Put simply, manual analytics and decision-making takes days or weeks, preventing agility and quick responses to unexpected events, yet less accurate and more of guesswork.
Change the frame and we are in to the 21st century!
This immature style of decision making is no longer sustainable in today's VUCA world. Today, manufacturers need to show agility and right-time-right-decision capabilities with quicker turnaround times to action. The challenge gets even bigger when decisions need to be fail-proof, and all this has to happen without much operational overheads (competitive costs).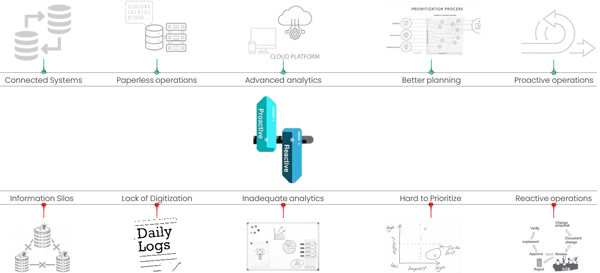 Predictive intelligence
What if the decision makers across hierarchy could predict future events, and develop a robust response strategy to proactively minimise their negative impact?
This is called 'decision intelligence' and it comes with 'Data' and Advanced analytical capabilities, which promise to analyse large set of historical data, do pattern recognition, anomaly detections and behavioural analysis of the process or assets to uncover hidden 'insights'. The technologies of AI and ML would then learn from past data and insights to run predictive modelling and generate 'foresight'.
Where does the data come from?
The quality and effectiveness of the decisions is directly proportional to the authenticity and quality of the data being processed. Hence the focus now shifts on the 'data veracity' and 'data quality', which highlights the importance of 'data digitisation' and 'data automation' to eliminate error-prone manual efforts totally out of the equation. This is where the technologies of IoT/IIoT and RPA bring the promise.
Smart factory
Combining these technologies together as 'IoT analytics' helps businesses turn from being reactive to be more proactive, by unearthing the hidden potential of operations data. The improved planning and decision-making accuracy results in extracting faster value out of the digital technology investments.
This framework of,
Data Acquisition à Data digitisation à Data Contextualisation à Data Monetisation
is the foundation of Industry 4.0 transformation, and the factory operating on these principles is the 'Smart factory'.
Where do you think you are on the industry 4.0 transformation journey?
When it comes to digital transformation, navigating your options, understanding technical issues, and preparing an industry 4.0 roadmap to achieve your business goals is a complex task.
Our team of I4.0 experts carve out a customised I4.0 roadmap for each customer aligned to their business vision and IT strategy. We prioritise systematic, incremental investment, allowing customers to walk on the road to digital excellence with ROI at every stage.
Let's collaborate and digitally transform your operations together.
About the Author: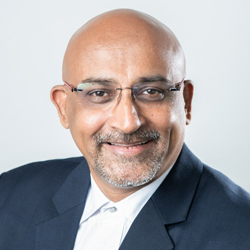 Mr. Hemant Patil
Head of IoT – Kagool, UK.


Mr. Hemant is a Subject Matter Expert for Smart Factory and is an evangelist for Industry 4.0 solutions for the manufacturing industry He carries 30 years of rich experience of design and deployment of Plant floor applications and IT systems using varied technologies. During his professional career, Hemant has served many manufacturing giants and have delivered complex IT programs and projects globally for Auto, Aero, IHM, Steel, Refineries and Process industry. Hemant has a passion of working as a catalyst for the organisations to embrace digital transformation leveraging Industry 4.0 principles and framework, and he loves to mentor teams on this journey. Hemant finds time to write technical articles and travel blogs on leading industrial magazines like Automation World, EFY and the digital platform of LinkedIn.
Mr. Hemant has been associated with premier organizations such as GE and TATA throughout his career and has served reputed logos globally.
Mr. Hemant currently heads the IoT business at Kagool, UK.
Mr. Hemant is a B.E. Computer Engineer from Pune university and has completed his graduation from a pioneer institute, Pune Institute of Computer Technology, in the year 1991.
Mr. Hemant Patil can be contacted at :
LinkedIn : https://www.linkedin.com/in/hemantjpatil/
E-mail : [email protected]
Also read Mr. Hemant Patil's earlier article: