Don't Set Goals… Achieve Them! – A Synopsis
Brief summary
"A shocking truth is that nine out of ten times we set goals, we fail to achieve them. Early goal-setting researchers were surprised to find that setting a goal often hurt people's performance more than it helped"

With my Best-Selling Book titled 'Don't Set Goals … Achieve Them!' you will learn how to disrupt ineffective thought patterns, discover the power of visualization and momentum, and gain clarity in your purpose and direction. The book is full of valuable insight, practical exercises, and real-world examples, this book will help you develop effective habits and integrate them seamlessly into your day-to-day life
Overview
Overtime, I have come to understand that what happens between making the plan and arriving at the outcome is best described by the iceberg analogy – achieving a goal is just the tip of the iceberg. I struggled for some time with my perception of success as well as my interpretation of what winning meant. I came from a background where 'beginning with the end in mind' – one of the tenets of the seven habits – was a way of life and part of an overwhelming focus on achievement. With this approach, everything was about the results (the what) with less emphasis on the journey (the how).
As a team leader with several years of management and leadership experience under my belt, I have learned first-hand that these things make the most difference for success. These principles have worked for me and now I want to share them with people who have walked in the same shoes and help them raise the bar on what they can do.
In writing this book, I break the method down into simple, practical steps that are an easy-to-follow blueprint for success. This approach cuts across all age brackets and these simple principles have been applied by many phenomenal individuals to drive them to win in the game of life. I have tested these systems and methods with over a hundred people who have had similar struggles to my own. These volunteers gave valuable feedback which I have incorporated into the frameworks you will see.
With these tools, you will be able to disrupt your existing methods as you establish complementary building blocks to amplify your efforts toward your goals
This book is for you if you want to…

Self Help Journey
I am an Amazon International Best-Selling Author in UK and US of the award-winning book "Don't Set Goals…Achieve Them". I also deliver coaching sessions to people across the globe via my website https://imomazin.com/
In addition, I share insights to young budding professionals up to middle level managers on his 'PLUG' series on You Tube via https://youtu.be/2Z2CAc1-ynM where I de-mystify strategies critical to delivering optimum Productivity, Life hack Skills, Unlearning & Relearning as well as Goal Achievement Formula Cards
My Book 'Don't Set Goals…Achieve Them has received notable applause from Global Authorities like Brian Tracy. Please see below: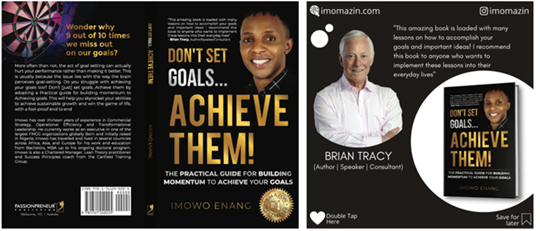 You can also connect with the Imowo Enang on
LinkedIn | YouTube |  Twitter | Instagram | Facebook
About the Author: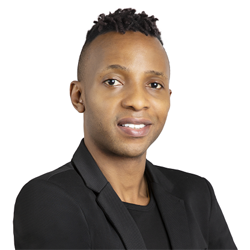 Amazon Nr1 International Best Selling Author | NLP Coach
Imowo is a broad skilled business executive with >15 years of working experience across FMCG, Consulting, Banking, and Academia attaining leadership roles
Holding multiple citizenships, Imo has enjoyed the unique opportunity to study, work and live in different countries across Europe, Asia, and Africa enabling him to appreciate different cultures and working preferences
Imowo is passionate about inspiring young budding professionals to middle-level managers on how to achieve their goals and is an International Best-Selling Author of the book 'Don't Set Goals…Achieve Them!'  The book clearly articulates how one can disrupt ineffective thought patterns, discover the power of visualization and momentum, and gain clarity in your purpose and direction.
Imowo has been invited to share expert thoughts on key self-help/motivation topics across several national & regional platforms like Brainz magazine [regional], Business ConneXions [UK], Dubai Eye 103.8 [Middle East] as well as multiple Podcasts [US]
Imowo can be contacted at:
Email:   [email protected] ; [email protected]
Web : https://imomazin.com/
LinkedIn: https://www.linkedin.com/in/imowo-enang