USHERING THE NEXT WAVE OF MANUFACTURING
Global manufacturing landscape has changed from the time businesses began adopting new age technologies. Digital manufacturing has been in the forefront to usher this big wave that every industry sector is relying on it for quicker and sustainable changes.
The world aligned itself to digital manufacturing when it had to work remotely due to numerous disruptions. Startups, MSMEs and large industries got new avenues by reconfiguring their manufacturing flows and management. It was pleasing to see industries working closely with each other and find solutions to this new norm in the manufacturing realm.

Origins and Development of Digital Manufacturing
Digital manufacturing is synonymous with Industry 4.0 and additive manufacturing / 3D printing. The concept first came to light at Hannover Messe in 2011 and has since then been spawning a revolution in the way products are manufactured by setting up "smart factories".
Humans, machines and processes are all linked together on a network and with the world. With real-time and dynamic communication, data is captured, analysed and converted into quality information using which industries can enhance their productivity.
Transforming Role of Digital Manufacturing
Digital manufacturing will have a transforming role to play especially with India aiming to increase manufacturing sector's contribution to GDP from around 15% to around 25% in the coming years.
Industries in developed countries have already incorporated digital and automation concepts for overcoming labour issues and developing competency. Industries in India are also doing so in a calibrated manner.
Industry4.0 product and solution providers need to focus on easily deployable, packaged products – building blocks for implementation by MSMEs, preferably of open source and adoptable to legacy systems.
Indian machine tool industry has significant presence of MSMEs. These MSMEs need to be strengthened through R&D, investments as well as favourable policy decisions. Adoption of technologies by MSMEs will ensure growth although some hand-holding would be required.
Adopting Technologies gains momentum
The initial apprehensions regarding adoption of digital manufacturing by business entities is gradually changing, especially after the onset of the global pandemic. Industries are determinedly implementing software solutions in manufacturing ecosystem for generating MIS for decision making. Computer aided engineering (CAE) is being used for engineering products, shopfloor automation is gaining ground, industrial robot for sealing, pick and place, and welding applications are largely accepted and implemented in stages by Tier 2 and Tier 3 MSMEs.
Part / asset tracking and partial automation for energy management and part count is happening. Supply chain management and operations management is taking place moderately in phases as industries see it as easy to implement and beneficial.
Sensurising machine tools, shopfloor data collection and display of manufacturing information is democratising manufacturing and enhancing overall performance.
Human Resource Development
Industries need to train and equip their workforce in these new age technologies like artificial intelligence, machine learning, IoT, cloud computing, data analytics, robotics, cobots, etc. Seen from this perspective, upskilling and reskilling of labour force is extremely important.
Indian Machine Tool Manufacturers' Association (IMTMA) through its technology centres in Bengaluru, Pune and Gurugram besides online training programmes and eLearn initiatives has been upgrading knowledge and enhancing skill-sets of engineers in digital technologies.
Government of India Initiatives for Digital Manufacturing
Union Government through the Ministry of Heavy Industries' SAMARTH Udyog Bharat 4.0 aims to bring Industry 4.0 implementation. India introduced the National Strategy for Additive Manufacturing to postulate the tenets of Make in India and AatmaNirbhar Bharat Abhiyan.
The government envisages to position India as a global hub for additive manufacturing development and deployment. This will also help increase sectoral share of manufacturing in GDP, as envisaged in the National Manufacturing Policy.
Various state governments are also coming up with their own policies for adoption of digital manufacturing as part of their industrial policies. This would further enable MSMEs in the country to quickly understand the need and implement digital manufacturing at shopfloors.
Advanced Machine Tool Development Centre (AMTDC) at IIT-Madras recently launched the Smart Manufacturing Digital Transformation Centre (SMDTC) creating IIoT, database and manufacturing intelligence software platform for Indian MSMEs.
As an industry body, Indian Machine Tool Manufacturers' Association (IMTMA) is associated with AMTDC initiative and proposing to work closely with SMDTC in training and industry adoption of Industry 4.0.
Digital Manufacturing Concurrent with IMTEX 2023
IMTMA has created a separate pavilion within IMTEX, one of the leading machine tool and manufacturing technology exhibitions in the world, which focuses on all the new age technologies which are a part of the digital manufacturing exhibition. IMTEX 2023 will be held from 19 – 25 January 2023 at BIEC, Bengaluru.
Machine tool manufacturers from across various countries will showcase these evolving concepts on digital manufacturing and offer customer specific solutions for user industries. This will help companies maximize the value of their products and processes by providing end-to-end visibility and control of production processes.
IMTEX 2023 & Tooltech 2023 will be held in an exhibition space of around 77,000 square metres. The exhibition will also feature an International Seminar, i2 Academia Pavilion, an Aatmanirbhar Bharat pavilion, international buyer-seller meet, etc.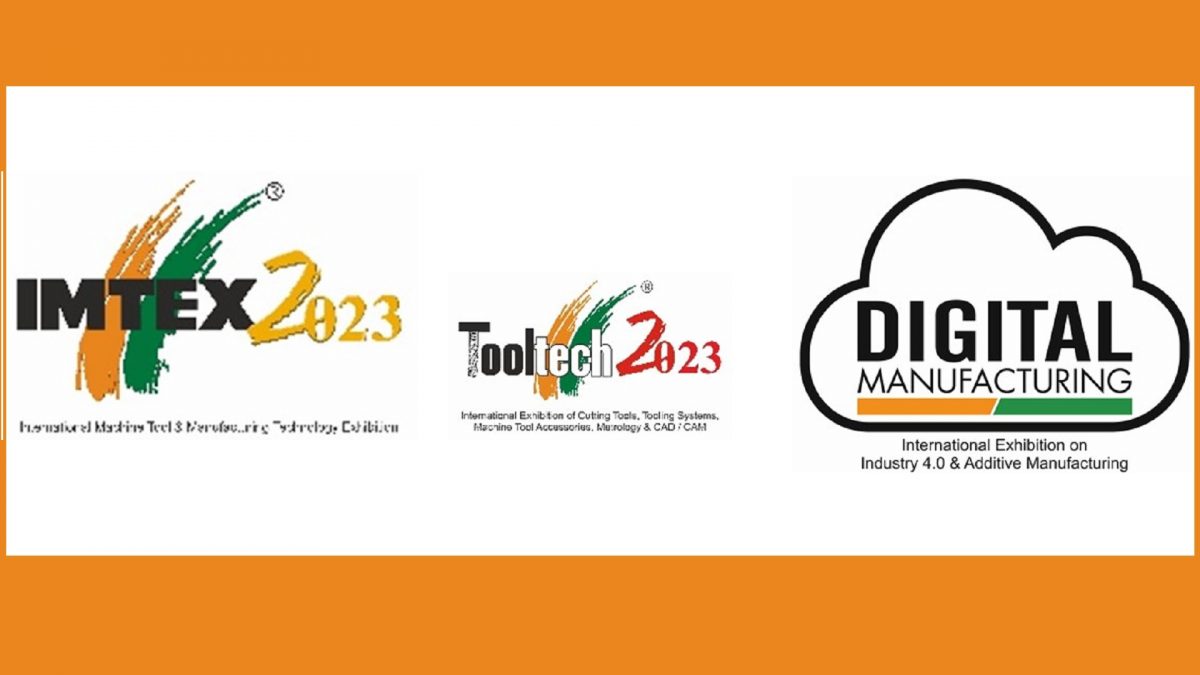 IMTEX Social Media Links :
LinkedIn : https://www.linkedin.com/company/imtex/about/
Twitter : https://twitter.com/IMTEX
Instagram : https://www.instagram.com/indianmachinetoolexhibition/
Youtube : https://www.youtube.com/channel/UCJB6LLkXhfC_Ux-0VlrVvtA/videos
FaceBook : https://www.facebook.com/Machine.Tool.Manufacturing.Technology.Exhibition
IMTMA Social Media Links :
LinkedIn : https://www.linkedin.com/company/indian-machine-tools-manufacturers-association/
Twitter : https://twitter.com/imtmassn
FaceBook : https://www.facebook.com/IndianMachineToolManufacturersAssociation/
IMTMA App:
Google Play Store : https://play.google.com/store/apps/details?id=com.imtma.imtma&hl=en
Apple App Store : https://apps.apple.com/in/app/imtma/id1193293055