Technology Start-up that touches your heart – Giving Livelihood for People with lower limb Locomotor disabilities – Neomotion
Overall, the last couple of years, there has been a significant increase in the number of Start-ups in India. Between 2014 to 2021, around 57,000 start-up's have been launched in India. Between them, they have raised funding in excess of $110 billion.  Nearly 50% of these start-ups are in Enterprise tech, E-commerce, Fintech and Consumer Services space. This is a great beginning. But sadly, around 70% of these start-ups are struggling – Most of these start-ups were not making money and when the funding tap stopped, they ran into difficult times.  There is a need for a clear differentiator, strong Go to market strategy and a clear path to profitability in addition to fundamental requirement of a strong value system by the founders.

I see the next wave of Start-ups in the field of Engineering coming out of India – Close collaboration between Industry and Educational institutions supported by a strong Start-up Eco system, time will not be far when Indian Start-ups will rule the Engineering world – right from Concept – Design – Manufacturing – Sales – And if these Start-ups are able to address a Social cause, then Great.
One such start-up is NeoMotion Assistive Solutions.
NeoMotion is an IIT Madras incubated start-up and creates life transformative products for the physically challenged and the elderly. The entire design, development was done in house at IIT Madras under the guidance of Prof. Sujatha Srinivasan by Mr. Swostik Sourav Dash (Co- Founder & CEO of NeoMotion Assistive Solutions )  also an Institute of Technology Madras  (IIT-M) Alumni. He is supported by Co- Founder Mr. Ashish Mohan Sharma and Lead – Sales & Outreach Mr. Siddarth Daga. More importantly, the company has built this as a platform where by with minor modifications, Neomotion will be able to address the needs of people with Locomotor disabilities.
NeoFly and NeoBolt are its initial products.
NeoFly is a personalized wheelchair designed for good health, energy efficiency, compactness, and style.
NeoBolt is an add-on to convert NeoFly into a safe roadworthy vehicle to enable wheelchair users to go out, explore life, get educated, and employed!
NeoFly – Customized Wheelchairs for Balance, Speed, Comfort
NeoFly will be personalized to the user's body measurements.


NeoFly provides a wide variety of options for Rear Wheels, Castors, Frame Colours, etc which can be customized to improve performance, speed, and team spirit.


NeoFly will be efficient to push. Players will be able to cover at least 3-4 times more distance per push.


NeoFly is rugged and offers smooth and safe ride for all terrains – indoors and outdoors.


NeoFly is stylish and can be customized to match your team colours.


NeoFly comes with a cushion to enhance skincare, stability, ease of transfer.


NeoFly is compact and narrow places will be accessible.


NeoMotion offers after sales service which include alteration of wheelchair settings, availability of spares, training on wheelchair usage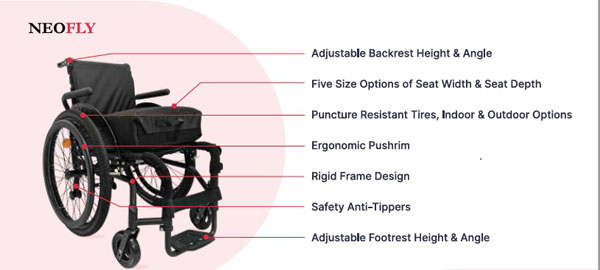 Highlights of NeoBolt
NeoBolt is designed for independent transfer for outdoor mobility.


NeoBolt has a maximum speed of 25km/hr.


The battery can be charged in 4 hours.


It can cover 25-30kms per full charge.


It is made for all-terrain use – On roads, standard flyover inclination.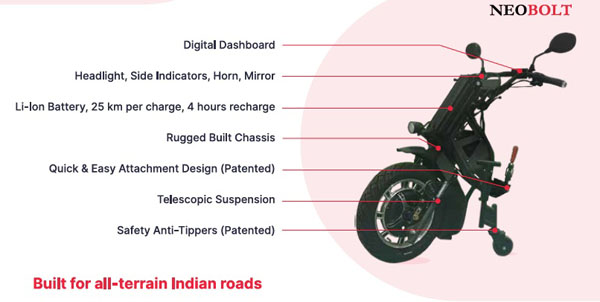 NeoMotion is now present in 31 states across India touching the lives of more than 1300 + users. The customized wheel chair – Neofly costs 42,900 INR – compared to a regular wheel chair, for a single rotation, the vehicle is able to cover 3 to 4 times more distance – this is thanks to the engineering precision.  With the Neobolt attachment, the vehicle can be used on the roads similar to a two-wheelerby a handicapped person – this is a customized one and gives more confidence to the user as the person will be more stable in the vehicle.  The top speed of the vehicle is 25 Kms (no driving license is required) and is powered by a electric battery which in a single charge can travel around 30 Kms in city roads. No special charging points are needed for the battery charging – a regular laptop charging point is sufficient for charging these batteries and for full charge it takes around 4 hours.  Cost of the Neobolt add on is 57,000 INR.
Individual buyers who can buy these vehicles are one set of users. Then the Government disability department, injured para military support departments purchase these vehicles on behalf of the beneficiaries and hand them over. In addition, for the marginalized sections of the society, Neomotion works closely with NGO's who help with identifying the right set of beneficiaries. The NGO team and Neomotion team work together in submitting proposals to corporates for sponsoring these vehicles under their Corporate Social responsibility programs. The team has been successful in getting funding from corporates like SBI Cards, L&T Technology Services, Renault Nissan and other marque companies. In addition, Tamil Nadu Government through its Disability department has started procuring these vehicles to be handed over to the right beneficiaries.
How have these vehicles helped change the life of the beneficiaries?
Helped the disabled person become independent.


From being a burden for their family, these vehicles have enabled the person to earn a livelihood for themselves and add to the income of their family.


Need for shifting to an unstable modified two-wheeler is now removed – can use the NeoFly for indoor mobility and with NeoBolt can confidently travel outdoors.


Injured Para military and police personnel have seen their life's change after using these vehicles.


Opened up opportunities for Para sports personnel.


In addition to spinal cord injured, these vehicles are seen as a big value add for Old age personnel who have Arthritis and other related challenges
The Neomotion innovation ticks multiple CSR boxes :
| | |
| --- | --- |
| Attribute | Remarks |
| Solution for the physically disabled | One of its kind solution for spinal cord injured |
| Gives confidence to spinal cord injured | Independently spinal cord injured can do most of their activities |
| Employment opportunities for under privileged | Opens up employment opportunities – Self employed / join companies |
| Rehabilitation for Defence / law enforcement injured in conflicts | Help these personnel get back on their feet |
| Works well in most of the terrains | Tested across different terrains |
| Livelihood for the person | With Neobolt add on, livelihood for person is secured |
| Aged / Destitute care | Aged and destitute can lead a dignified life using Neomotion chairs |
| Electric battery operated | Environment friendly – Green |
| Upskilling and employment opportunities | Lower strata / deserving spinal cord challenged people can be upskilled and get employed (loyalty factor of such people very high) |
| Companies need to give employment opportunity to 5% with physical disabilities | This can be achieved as well |
Neomotion is working with corporates to sponsor these vehicles under their CSR program – They already have received multiple request letters from NGO / users for these wheel chairs. Reach out to Neomotion at www.neomotion.in
Conclusion :
This Engineering marvel is a Made in India product – Made for the World.  India imports more than 70% of the wheel chairs – And nearly all high-end wheel chairs are imported.  Now, we have an indigenously designed, developed product on par with the best in class across the world. As of now, the focus of this company is Indian markets and the mission is to impact 1 lakh users by 2025.  The team is also working on the necessary certifications for export to other countries – After all, the need for such ergonomically well-designed wheel chairs with this excellent bike like attachment has a market across the globe.
Welcome to the new age of Socially relevant Engineering marvels coming from the Indian Start-up Industry.
User Speaks – https://www.youtube.com/watch?v=18DWeFYHVNI
NeoMotion Address :

NeoMotion Assistive Solutions Private Limited,
IITM Incubation Cell,
IIT Madras Research Park, Chennai,
Tamil Nadu, India. PIN – 600113.
Ph: +91 97909 51730
NeoMotion Social Media Links :
LinkedIn : neomotionlife/people/
Twitter : neomotionlife
FaceBook : neomotionlife
YouTube : https://www.youtube.com/channel/UCoglHGhG5XIgohFnmsuZQZw
Instagram : https://www.instagram.com/neomotionlife/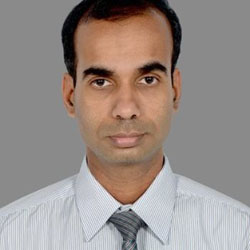 Content by Mr. A. Raghunath
Social Impact Champion – NeoMotion. 

---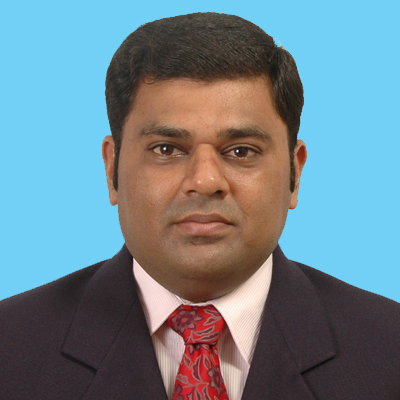 Compiled by Mr. D.K. Karthikeyan – Editorial Director, Industry4o.com.
He can be contacted @ [email protected] / [email protected]
Mobile : +91 98430 24566 / +91 97860 12122