Overview
In the Series #1, we have gone through what is RISE with SAP and how does it differentiate from your standard HEC managed service along with insight into what can you expect from the scope w.r.to both various BTP based services and also the roles and responsibilities of what you need to be aware of. You can get more details about the same in the link below
https://industry4o.com/2022/06/23/rise-with-sap-series-1/
In this article, which is the 2nd of the 3 series, I will be walking you through the details of what you need to think through before considering RISE with SAP along with what information do you need to plan out for in order to complete the onboarding into RISE with SAP.

Later in the final article, I will walk you through the lessons learned during some of the initial engagements along with the various value-added services which IBM can offer with "Breakthrough with IBM" on RISE with SAP in order to support the clients with a value added adoption of RISE with SAP.
What to think about when considering RISE with SAP?
Prior to onboarding onto RISE with SAP, it is very important to think through the various points such as choice of cloud provider vs HA/DR requirement from a business continuity point of view vs backup frequency and its retention time along with what all services would you need over the period of time in order to address both regulatory and the internal cloud security validation to ensure the final deployment is in alignment with both your current and future needs of the IT landscape for global reach especially with the cloud adoption.
Let's get started with each of the points and walking you through the details to be considered
A. Decision tree of Cloud adoption:
Before we talk about the choice of cloud providers, more often than not, you would still want to decide when would be the right time to get on with the cloud adoption more than which cloud do you consider to establish as a baseline for your IT landscape. Below image provides you with multiple factors which you need to consider on when cloud adoption might be a potential decision to be made (Note: The decision sometimes could be purely not based on any of the points below but more based on the fact of SAP program implementation or migration)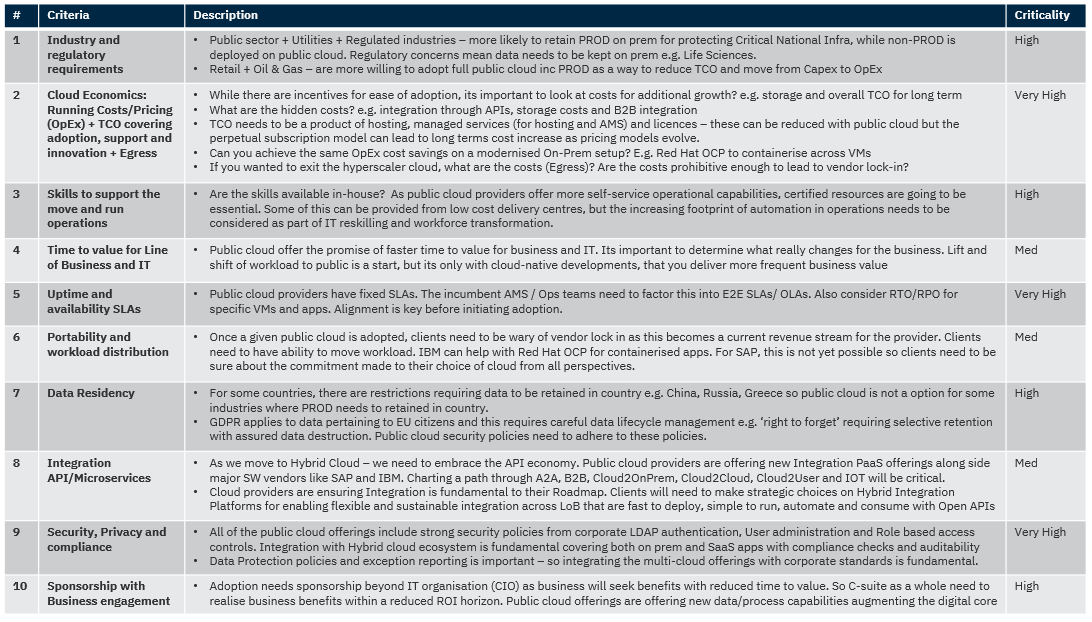 B. Selection of Cloud Provider:
Various factors need to be taken into consideration such as existing cloud solution in place within the landscape vs what the other business solutions in roadmap are aligned with to ensure you have a consistent cloud adoption roadmap and not end up with too many providers without having the right multi cloud provider strategy as the costs can easily overrun the initial budget set out.
C.  Scope to be finalized:
Given RISE with SAP offers multiple systems which can be set up in terms of S/4HANA, BW/4HANA and BI landscape itself in PCE edition (w.r.to what is covered in each version refer to the Part 1 of the blog series), it is important to have a clear decision on if it is Greenfield vs Brownfield vs Bluefield. You also need to have a clear view of what your inflow and outflow based interfaces would be along with the other SAP and Non-SAP SaaS or On-Premise products would be in order to have a clear understanding of different connectivity options along with the ingress and egress you need to plan out for. What is also critical is to have a clear view of what your landscape model would be in terms of 2 tier vs 3 tier vs 4 tier as RISE with SAP has limited set of landscape options as per the solution.
D.  Non-Functional requirements:
Post selecting the hyperscaler of choice to get the RISE with SAP set up, you need to be upfront clear on what are the regulatory and other cloud security points which your organization needs to be in alignment with to ensure the same are given as input for the scoping when it comes to RISE with SAP estimation process on what would be your price point for onboarding into RISE with SAP. Consider points such as pairing (Region deployment as primary and secondary data center), HA solution (SLA commitment varies from 99.7 to 99.95 depending on the type of solution you would pick), DR solution (Short term vs Long term), Bring your own IPs, Network connectivity (Site to Site VPN / Direct Link and what the backup connectivity should be) and last but not the least the ingress vs egress limits and what you as organization would you need in order to plan out the landscape.
Note: The actual backend architecture of deployment put into effect by the hyperscaler would not be readily made available as the commitment is to the SLAs and not for the architecture design by your organization. Hence, having a clear view of the scope and any organization wide non-functional requirements is a key to ensure there are no surprises at a later point in time.
E. Functional requirements: You also have an option to ask for the "Best Practice" package available from SAP to be activated post the basic installation in order for you to get going with the system usage. SI providers have their own packages which can be added onto the basic version to get you jumpstarted on the S/4HANA adoption for your organization (As far as what IBM offers, will cover the details in the next blog coming up along with other value added services which are provided to you as part of the journey with what we call as "Breakthrough with IBM".
F.  Effort beyond RISE with SAP covered scope (baseline): RISE with SAP has a very well defined 1300+ lines of Roles and Responsibilities which mostly are split into "Standard Services", "Optional Services" and "Additional Services". There are few other services under CAS or not included clearly called out which means you would need to work closely with the SI partner on the journey to get that scope included if needed in your landscape. Coming to what the standard vs optional vs additional are:
a. Standard Services:
These are part of your monthly recurring cost which you would end up paying for having the solution as part of RISE with SAP and has a list of 178+ items within the overall Standard Services which are to be planned ahead of time and raised as "Service Requests" in order for the SAP team to address the same
b. Optional Services:
These services are add-on to your initial set of baseline services in the form of Standard Services and the cost would be added on to your monthly recurring costs to be considered.
c.  Additional Services:
These services are one-time services which can be requested from SAP to be performed in the landscape and doesn't get added on as monthly recurring cost for your arrangement with SAP as part of RISE with SAP.
Few of the key items from the above you need to consider would be (not included by default in RISE with SAP)
– Source system connectivity configuration
– Setup of additional housekeeping jobs
– SSO Configuration and set up
– ChaRM set up
–  Job management tool set up & job scheduling
– Application level security design and set up
– Functional Configuration
– Technical & Functional testing in any of the patches or upgrades or for any implementation
– Project management effort to coordinate within your organization and to act as a liaison between SAP and other stakeholders
Now that you have a clear understanding of what is needed to be though through before getting into RISE with SAP from a scope perspective, let's now move on to the Onboarding process of what is needed in order to provide the required inputs to SAP in order for the system provisioning and the landscape configuration to be set up.
Onboarding process:
Once, the design is finalized and the requirements are agreed upon, you need to provide the below information
–  S User detail provided by SAP once the agreement is in place
Provide the SID details for the systems and the other relevant components in the landscape along with the planned downtime windows for SAP to plan the required updates through the lifecycle as shown in the image below

For different components to be thought through, you can use the image below as a reference point (Note: the list can change depending on what your scope is along with which components have been agreed upon)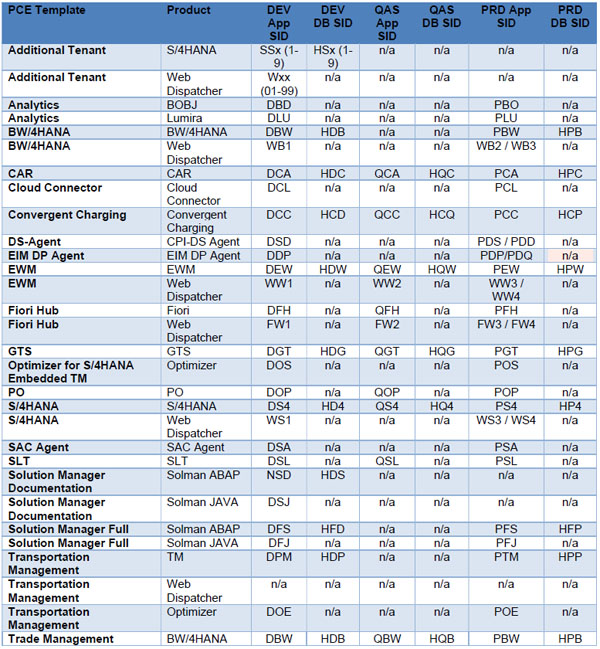 – Provide the language(s) to be configured
– Highlight if any Best practices need to be installed and provided when setting up the landscape from the packages made available by SAP
– Similar to best practices, RISE with SAP also has SAP Business Network Starter Pack which extends transformation beyond the core S/4HANA implementation, by allowing creation of dynamic, digital connections with suppliers, carriers and assets. You can share data and orchestrate workflows, while applying network-wide intelligence to guide decisions, adapt quickly and keep improving (Scope of enabling these for the S/4HANA needs to be evaluated as per the agreed effort along with the overall design to be adopted in the landscape)
–  Other information to be provided is around Data Center IP range for Primary and for DR Center IP range in case of DR included.
–  Need to provide VPN / Direct link related questionnaire information along with IP ranges for DNS configuration
–  Finally need to provide the contact information at various skills to have them included or reached out for the onboarding process
Below are the screenshots for the additional information to be provided as listed above



Business dependencies:
Below is the list of dependencies to be thought through
Existing system connectivity and what system is used for which purpose
Owner of the system(s) and data
Network design of existing system connectivity in place in terms of ports opened, firewall(s) in place
Process to create/update the firewall(s)
Key points to look out for:
Have a clear understanding of what Standard services vs Optional services vs Additional services offer for your landscape and plan out accordingly
Think about your cloud security and other regulatory requirements beforehand
Sizing is your responsibility
SSO along with Charm and other key components would need to be managed by the client / service integrator
Any OS level activity cannot be performed by client and needs to have dependency on SAP to perform the same
Be aware of all other optional requests and have a calendar scheduling in place to make sure you request for the same spread with proper planning as the collaboration, technical ownership along with testing still is the clients responsibility including the same for upgrade activities
Source system connectivity post the VPN or other connectivity configuration has been addressed by the client / SI should be handled by client / SI itself
Conclusion / Summary :

RISE with SAP has exciting BTP and other foundation services for you to pick from but it is very critical to understand and plan for what you need to avoid any surprises at a later point in time when you consider about global expansion along with your regulations and other points of architecture expectations which you as a team might be having.
In the final blog to come up, I will discuss about lessons learned from the client engagements along with what IBM offers with "Breakthrough with IBM" offering built around RISE with SAP.
About the Author :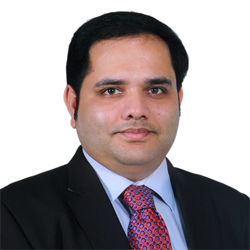 Mr. Dharma Teja Atluri is an Associate Partner, Executive Architect, Inventor and artificial intelligence/machine learning evangelist at IBM. He has more than 19 years of experience working in advanced analytics with both SAP and non-SAP product lines. He has provided strategic direction to clients globally regarding the adoption of SAP and non-SAP advanced analytics products for artificial intelligence/machine learning operationalization, data management, information management, and analytics. He has also carried out multiple platform comparison initiatives for reporting, ETL, data warehousing, and data science products across IBM, Microsoft Azure, Google, Amazon Web Services, and SAP. He has led the SAP analytics (reporting and enterprise information management) portfolio for IBM India, and designed client architectures for analytics with SAP and IBM capabilities. Dharma is an IBM master certified data scientist, architect, and technical specialist, and also an IBM thought leader certified consultant. His most recent SAP Data Intelligence sprint was featured for global consumption by clients and nominated for SAP Innovation Awards.
Mr. Dharma Teja Atluri is currently leading the RISE with SAP as a Chief Architect enabling Technical Managed Services on IBM Cloud along with Other Hyperscalers to  support the clients on their journey towards Hybrid Cloud with  Automation, Data and Intelligent Workflows driven by Artificial Intelligence (AI).
Mr. Dharma Teja Atluri is the Chapter Lead & Co-Chair of TEC India & Member of IBM Academy of Technology.
He is bestowed with the following License & Certifications :
https://www.linkedin.com/in/dharma/details/certifications/
He has received following Honors & Awards :
https://www.linkedin.com/in/dharma/details/honors/
https://www.credly.com/users/dharma-teja-atluri/badges
He can be Contacted at :
Email : [email protected]
LinkedIn : https://www.linkedin.com/in/dharma/
Twitter : https://twitter.com/darmateja
Skype : darma.teja
Also read his earlier article: