Automotive AI – Innovations and Challenges
Artificial Intelligence (AI) contributes a lot in bringing the vision of smart vehicles into reality. From using robots at production facilities to intelligent vehicles, AI has transformed the automotive industry in various ways. AI is being used in ADAS, autonomous driving , improving customer experience and a lot more in automotive.

📌 ADAS is the technology that assists drivers with features such as collision avoidance, pedestrian detection/avoidance, blind spot detection, lane keeping assist, adaptive cruise control, traffic sign recognition, parking assistance etc.
Generative AI is a type of artificial intelligence technology that can produce various types of content, including text, imagery, audio and synthetic data.
ADAS technologies combine generative AI with camera, radar, and lidar sensor systems for object detection and identification for safer and more efficient driving. Sensors and advanced processing from camera, radar, sonar, thermal imaging, infrared sensors, and lidar systems help provide accurate event detection, driver alerts, and semi-autonomous intervention for ADAS. Camera monitoring of driver and vehicle interior aids in warning driver to keep eyes on road. Such systems even help in identifying the comfort level of drivers.
📌 Autonomous driving envisages cars to drive by itself. Amongst SAE self-driving levels only Level 5(Full automation) is not yet officially available to public. The rest from Level0 (No automation) to Level4 (High automation) is available from various makers like Tesla, Ford, GM, Waymo etc.
📌 Predictive maintenance is the data-driven approach to predicting the failure of operational equipment and implementing preventative maintenance to avoid unplanned downtime. It leverages a wealth of data gathered from in-vehicle sensors, past service records, and machine learning techniques to analyze various equipment conditions that could potentially lead to a potential system/equipment failure. AI system then notifies the user and the automobile manufacturer/maintainer that a certain component or system requires maintenance or replacement.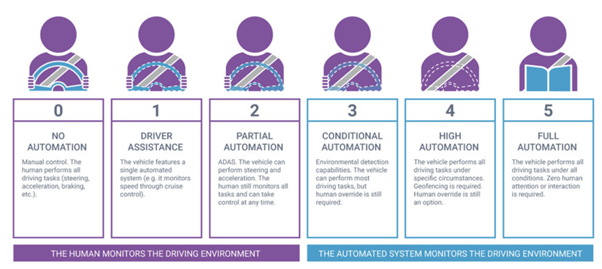 📌 Generative AI provide real-time, personalized navigation suggestions based on user preference and traffic conditions. Machine learning algorithms can analyze a driver's music preferences and follow voice commands allowing hands-free operation. Once user touches door handle and the camera system identify the person amongst authorized users, vehicle shall be unlocked, and it can create a cockpit environment according to previously saved personalized settings. The Fingerprint Authorization System allows the vehicle to be started without a key.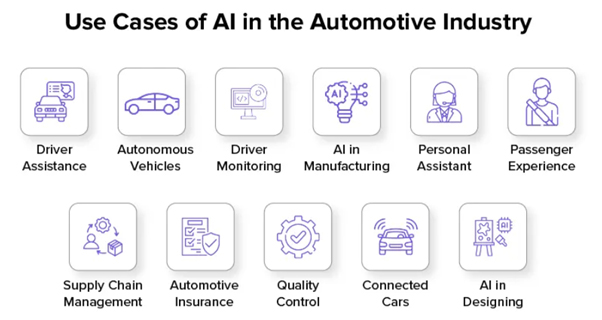 Some issues explored nowadays related to AI in automotive are:

💡 Security
Increased connectivity leveraged by recent automobiles for features like V2X opens door for hacking underlying vulnerabilities. Hackers can compromise AI systems with actions like making vehicle misinterpret a stop sign which may disrupt safety-critical functions. The architecture and products should be evaluated deeply with the help of established standards like ISO 21434 along with provisions like firewalls, intrusion detection systems. Steps to be taken to make the AI models used in vehicle robust against AI attacks.
💡 Data privacy
AI requires personal/sensitive data to train models, for instance location,route data and destination with additional information needed to personalize and enhance navigation features. Hackers can access a driver or passenger's personal information, leading to identity theft and misuse of personal information. Minimal collection and retention of data as mandatory for operation to be ensured and data shall be used only as informed to user. Before using data for training generative AI, personal information should be deidentified to ensure individuals cannot be identified from generated outputs. Individuals should have granular control over what data they share and generate. If individuals wish to opt out of sharing their personal data through an AI system, it should be easy for them to manage their data.
💡 Biometric privacy
Technologies such as fingerprint readers, facial scanners, iris scans, and voice recognition collect and use biometric data to improve a driver's in-vehicle experience. Companies that collect this data must comply with privacy and data protection regulations to keep data private and secure.
💡 Regulations, litigations and ethical considerations
The vehicles should comply to the identified regulations like for eg: NHTSA in US. This topics like lack of 'human like decision making' in autonomous systems, ethical and judgmental dilemmas are discussed for long.
Autonomous vehicles are not "programmed" by humans to mimic human decision-making. Instead, they learn from large datasets to perform tasks like "traffic sign recognition" using complex algorithms distilled from data.
The "Trolley" problem is a typical ethical dilemma where an onlooker can save five lives from a rogue trolley by diverting it to kill just one person. This illustrates why making decisions about who lives and dies are inherently moral judgments but with generative AI – are we now relegating these moral judgments to artificial intelligence that doesn't have human feeling? AI and human perceptions differ resulting in different kinds of mistakes. As in the pedestrian death caused by a self-driving Uber car, AI can misidentify hazards. How will an autonomous vehicle rationally choose a behavior model in an inevitable collision?
The role of AI will only increase as manufacturers continue working toward their goal of producing a fully autonomous Level 5 vehicle. Ensuring safety in driving is a matter of life and death.  Automotive companies need to ensure the AI tools they utilize in their vehicles comply with safety, data, and privacy regulations. Technologies like self-driving or AI are promising in many aspects and has a lot to offer and they are here to stay, as we all see…
Add on to the list of innovations and pitfalls you see in Automotive AI in comments section.
About the Author :
Ms. Shalini. K
Senior Technical Specialist,
Elektrobit India

Ms. Shalini.K is an Automotive and Embedded enthusiast.
Ms. Shalini.K completed Masters in VLSI and embedded systems and have profound experience in Autosar. Love to harness technical excellence and learn more!
Going with Da Vinci, Learning is the only thing the mind never exhausts, never fears, and never regrets.
Ms. Shalini.K can be contacted at :