The Process of Digital Data Management
Going back to First Principles to increase the success of Digital Transformation
"As you start to walk on the way, the way appears"
Rumi
Prologue
We are at the cross roads of Industrial Revolution 4.0 and Society 5.0 where the only choice available is to grow. The evolution of understanding and relating to sustainability and societal preservation is forcing industries to take a more responsive approach to transforming life fueled by digital technologies.
When you look at the above illustration, it shows a very different landscape of digital technologies that was not prevalent in the Information Technology times. This is an Intelligence driven one
and demands different Capabilities, Infrastructure and Resources. It would be foolish to ignore this reality and not respond to it appropriately.
"In the next decade, we will experience more
progress than in the past 100 years"
Peter Diamandis
Co-Founder of Singularity University
Understanding Artificial Intelligence
By 2024, more than 50% of the user touches will be augmented by AI driven Speech, Written Word, or Computer Vision(CV) algorithms; predicts a recent McKinsey research. And therein lies the conundrum that drives the rhetorical question; To do / accomplish what?
Human intelligence relies on what was called "Insight" where despite all the data and information available through the senses, the mind reaches deep within to Inquire, Explore and Discover a new meaning computed for a given context. Artificial Intelligence is the ability to compute exponentially faster higher and deeper quantities neurally accessing / computing / processing Networks,
Languages, Formats and Forms of data through the exact same process. Serving a higher data quality moving from a mere memory based data to an active Predication based data as the following illustration details. We are poised at this threshold of technology capability today where intelligence is uniquely personalized for each role in a process; with every single transaction that delivers and Engagement & Experience.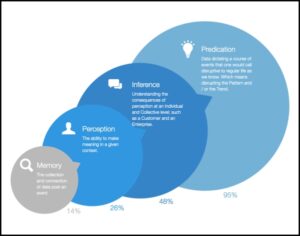 Understanding the triage of Process, Roles & Data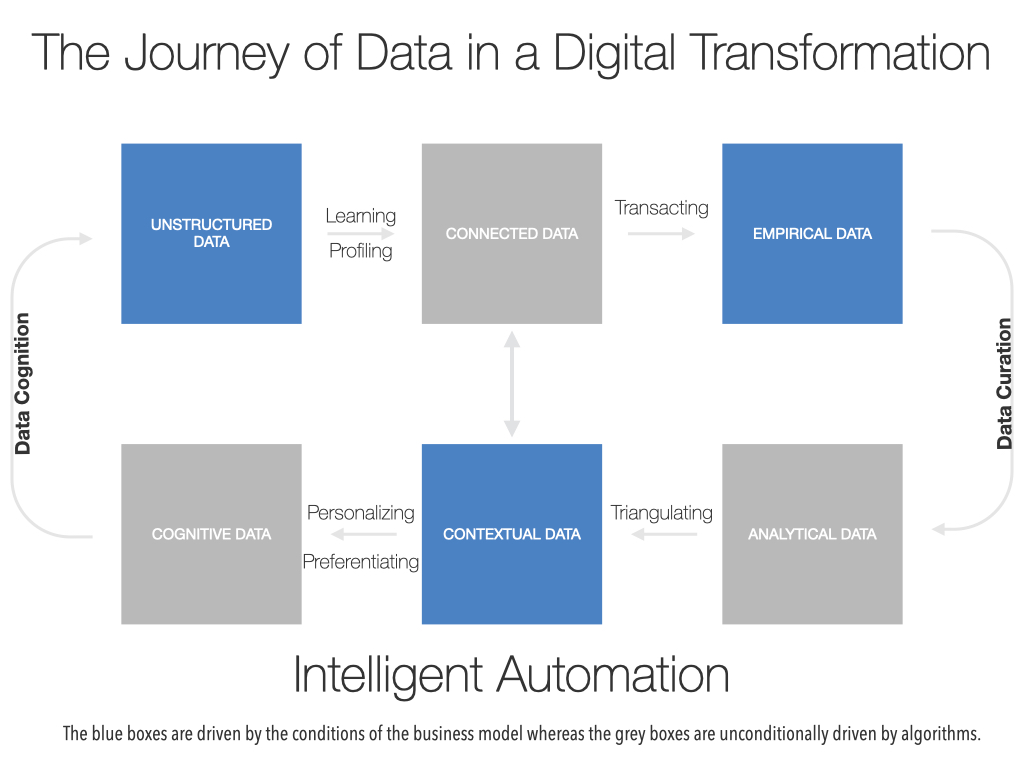 Data is essentially a derivative of Process. A Process is described as a series of connected activities for a Customer Outcome. One cannot simply patch the existing systems with new technologies that are structured for Processing and expect them to compute for even provide inputs for Intelligence. While analytics is juicing transactional data that ensues data processing, the computing of data demands Cognition (New Signals) that create new patterns in a live environment leading to Intelligence.
The first step in digital transformation therefore is envisioning the connected enterprise processes in the context of its Customer and Industry Ecosystem. It is another matter how a business chooses to strategically implement the demands of the enterprise ecosystem.
Simply implementing IPA / RPA and AI Technologies without establishing a stage-gated approach of moving Models to Engineering, Solutions to Industrialization and Application for Commercialization would be a huge strategic risk to the business and its operations.
It is critical to make a distinction between an Enterprise and a Business. The former is a Concept while the latter is an Operation. They cannot be used interchangeably.
Digital is really Data Transformation
While we keep parroting digital it is really about data transformation. This requires a methodical approach to:
Structure: What Roles Connect across a Dynamic Enterprise Process driving the Functionality to impact the Tasks and Transactions.
2. Synergies: The Data the roles generate participating in the process which is Securitized and Privatized with the right level of Governance, Risk & Compliance (GRC) aligned to the Values, Goals & Objectives of the Enterprise / Business.
3. Systems: The Technology that needs to connect with the right service levels in terms of Time and Space to accomplish the design of the intended Applications that serve the targets of growth and sustenance.
There needs to be a right level of abstraction from the conceptual to a conceived model of Solution and Application. This requires preparedness as the following illustration suggests. This will allow an enterprise and its businesses to economically draw valuable resources and address the most important Key Performance Indicator (KPI) which is Return On Assets Deployed (R.O.A.D.).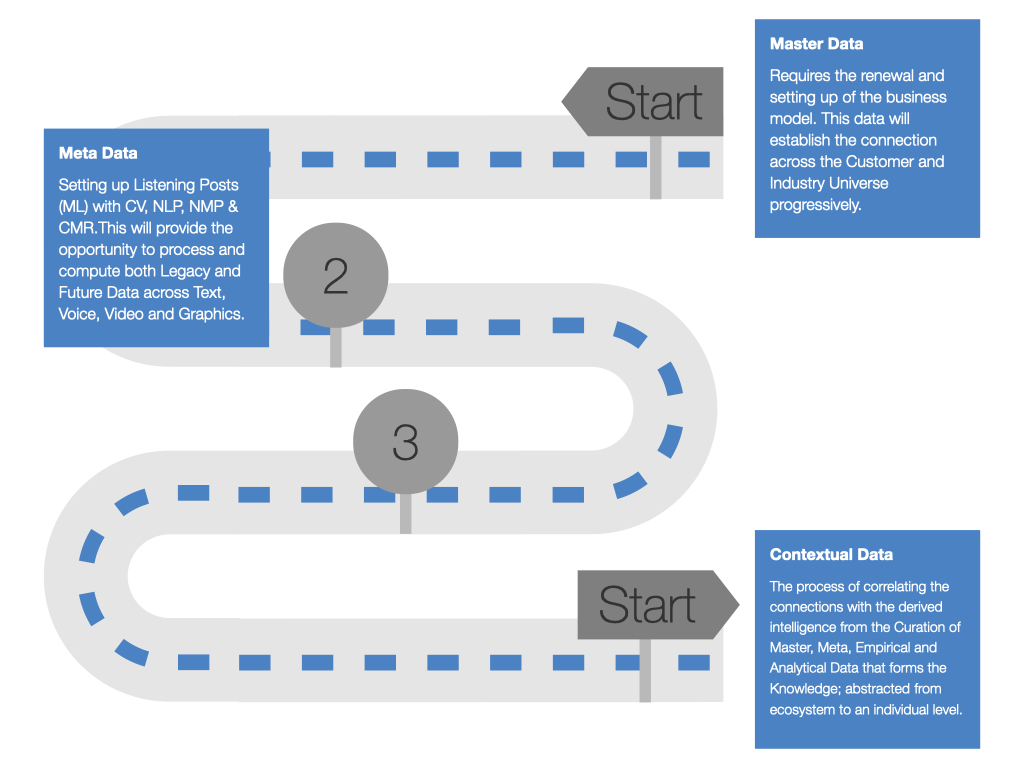 "The digital transformation is not a goal in and of itself, and it is so much more than technology. We are transforming our business: We are exploring potential
new offers to customers, new ways to bring our offers
to customers, and new ways to operate our business.
And in order to be successful, digital needs to be
embedded in every aspect of IKEA. Digital is a way of
working, making decisions, and managing the company."
Barbara Martin Coppola, Chief Digital Officer (CDO),
Ingka Group
The Promise of Digital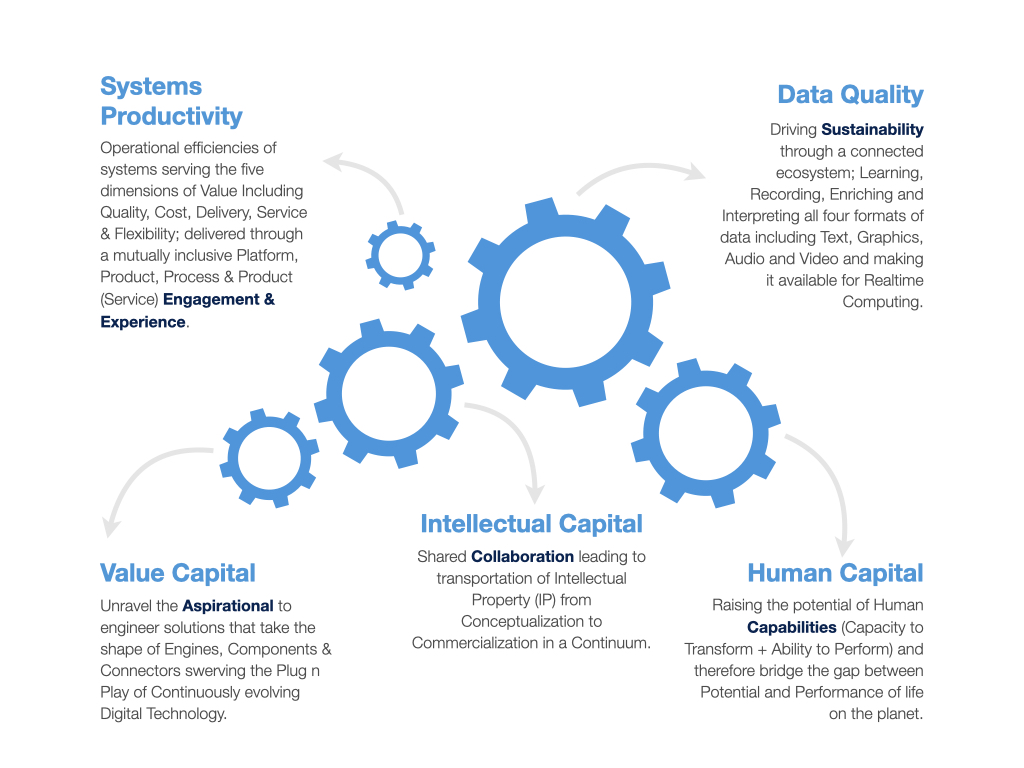 Digital is not an appendage to the existing information system. It is a new way of addressing Solutions & Applications to life; creating Sustainable Value. The past decades relied on a pipeline of customers to serve the shareholders profitability. When data and systems become democratic such an approach will need to be transformed. Products cannot just be made and sold. They have to be immersively developed with Customer Involvement right from the Conceptualization stage. Because the time and space cycles are getting shorter and the potential for new sustainable value to be developed and deployed has become a reality.
The above illustration shows how the engines of growth and sustainability need to co-exist in the context of an enterprise and its businesses. Both incumbent and startup organizations must find a way to leverage this duality effectively through the lens of a Data Centric digital transformation.
Aspirational Concepts must be engineered to Engines, Components and Connectors that are Collaboratively engineered for Customer / Consumer Value where the Product Development Life Cycle intersect the Customer Life Cycle. This is a fundamental construct and a digital transformation journey does not even start without an explicit understanding of this construct for any enterprise of any size and shape anywhere in the world.
About the Author
Subbu is the CEO, Chief Architect & Designer at Hreemm Inc. He is Strategic Business & Technology Leader capable
of creating growth through Revenue and Intellectual Property (IP) through the QUAD of Design Thinking, Digital Transformation, Design & Innovation.
Pioneering Software Engineering through breakthrough Digital Transformation Frameworks with cutting edge solutions developed for Industrial, Commercial & Societal applications fusing technologies using Digital Identity Microservices Orchestration, Streaming (Data & Content), Recursive Cognitive Intelligence (ML/AI/NLM/NNM/AR/VR) and Intelligent Process Automation.
He Can be contacted at
M : +91 97413 64524
tel :+1 415 513 4501
P : +1 8328465850
E : [email protected], [email protected]
W : www.hreemm.io
https://twitter.com/subbuiyer
https://www.linkedin.com/in/subbuiyer/
https://www.facebook.com/hreemm.io/
http://subbuiyer.wordpress.com/
© Subbu Iyer
This version of the article is written for publishing in the Industry 4.0 magazine.