With the world rapidly switching to sustainable technology, terms like renewable energy, tail-pipe emissions and carbon footprint have become commonplace. Recently, India has also seen a sudden increase in the presence of Electric Vehicles (EVs) in its market, ranging from electric buses, autos, cars and two-wheelers. Rising fuel prices and the emergence of stringent policies surrounding conventional diesel and petrol-powered vehicles have primed the Indian market for the adoption of EV Technology.
Though we are seeing an increasing number of EVs on our roads, there is still one very significant sector that is yet to be offered a viable electric option for its day-to-day operational needs – the Farming sector.
It is no news that the Farming industry is a significant contributor to the Indian economy, employing nearly 60% of the population and contributing to nearly 20% of the country's GDP. In the fiscal year 2018, the sector added a real gross value of over 20 trillion rupees and 2020 has seen the sector produce its highest yield yet.
There is, however, a negative impact to agricultural prowess is the immense carbon emissions that the industry produces especially where mechanization is replacing manual labor.
The Indian agriculture industry produces upwards of 400 million tonnes of Carbon Dioxide emissions per year constituting nearly 20% of all of India's C02 emissions. This is partly because the equipment that the industry relies on still runs on conventional combustion engines primarily powered by diesel and kerosene. These include harvesters, tillers, trucks and tractors, amongst others, that do not have operationally practical, sustainable alternatives in the market. So, in 2018, my co-promoters and I set out to change this in a bid to offer our farmers the opportunity to join the EV Revolution.
Fast-forward to 2019 and our company Cellestial E-Mobility launched India's First Electric Tractor to change the way agricultural equipment is made and used.
Today, we are proud to say that we manufacture state-of-the-art "smart tractors" that are not only considerably more affordable to buy than conventional diesel tractors, but also significantly more economical in terms of operation and maintenance. By employing the cutting-edge EPEA (Elimination of Physical Elements in Automotives) framework we have managed to reduce the weight of the tractor considerably, which results in an 80% reduction in maintenance costs and enables us to implement a wide range of smart functionality such as a game-changing zero-lag operation, battery swap, regenerative braking & power inversion.
Leveraging on our collective expertise, our two decades of experience in Engineering Design and Manufacturing, and over 19 years of experience in delivering smart and robust battery-integration technology, my co-founders and I aim to start a new Green Revolution by building clean, lean and reliable smart machines that are both farmer and environment-friendly. One year on, we are happy to say that we have already carved out a space for ourselves in the crowded agricultural equipment market where we hope to make a lasting impact and deliver true value to our customers.
Cellestial E-Mobility's affordable EV Tractor boasts operational costs that are 90% less than a diesel tractors, requires zero oiling and minimal maintenance as it runs on an entirely electric motor. It is whisper quiet and extremely efficient with a range of 75 kms on a single charge, and though it is compact and lightweight, it can work small and large areas of land with equal ease. Its massive 150 Ah battery takes a mere 6 hours to fully charge from a domestic power outlet and this comes down to an astounding 2 hours with Fast-Charging. It has a ground clearance of 420 mm, a maximum speed of 20 Kmph, a tiny turning radius of 2.25 meters and a pulling capacity of 1.2 tonnes. As you can see, we have put in a lot of thought and effort into creating a product that is versatile, practical and robust, and we are glad that our customers recognize this which is proven by the fact that we have received over 1700 orders in the first two months of product launch.
With the Indian tractor market projected to grow by a CAGR of 4.5% over the next 5 years, we are already beginning to realise the immense scope for our products, which is being supported by globally changing energy trends and encouraging domestic policy adaptations, and so are our investors. We have successfully raised $500,000 at a valuation of $35 million recently in a pre-Series-A fundraise from UpCapital Investments, a Canadian venture capital firm that specialises in early-stage companies, and a few other Canadian high-net-worth-individuals (HNIs). With a sizable pre-Series-A funding secured, we now intend to aggressively scale our operations in the months to come and position ourselves for a future Series-A round. We also have its crosshairs set on the export market, estimating sales upwards of 70,000 units globally by 2022.
On the policy front, the stars seem to be especially aligning for the EV Agritech market with the Indian Government recently reducing the GST on EVs from 12% to 5% and from 18% to 5% on charging infrastructure. Several states including Gujarat and Delhi have launched dedicated EV policies and benefits to encourage the mass adoption of EVs. In addition to this, the Government has also waived registration fees and road tax on EVs. Cellestial's green EV Tractor's affordable starting price of just Rs. 5 Lakhs and its extremely low operational cost coupled with the tax benefits and electricity subsidies makes this deal virtually a no-brainer for any farmer.
EV technology can truly revolutionize the agricultural industry in any country it is introduced into by changing the very value proposition. It allows farmers to significantly bring down operational costs, which increases their profits, and if adopted and implemented widely, it could even potentially help reduce food inflation by bringing down the price of agricultural produce for the end-consumer.
We at Cellestial E-Mobility are currently inviting distributors and dealers to join our ecosystem. We endeavour to offer uninterrupted supply, excellent margins, unparalleled support and rapid growth for our partners. In addition to making financial sense, what we offer is the opportunity to be a part of what is very likely going to be the next Green Revolution, only this time, it is going to be greener, cleaner and leaner. EV Tractors have arrived and it very much looks like they are here to stay. The agriculture industry is never going to be the same again and we for one are incredibly excited to see what the future has in store for us as well as for our customers as we continue to bring forth many more industry-first innovations.
About the Author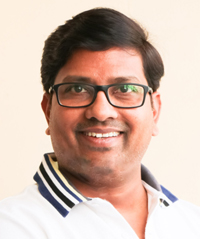 Mr. Siddhartha Durairajan,
CEO of Cellestial E-Mobility.
Siddhartha Durairajan is a seasoned entrepreneur with 25 years of Industry experience. Besides Cellestial E-Mobility, he also co-founded an engineering design company, Invilogic Software ; which is a global leader in Knowledge based systems. With more than 20 years of experience in the mechanical design space, he brings the best design practices to Cellestial.
He can be contacted @ Mobile : +91 98661 81246 or Email : [email protected]