We are not in the new normal yet. The fourth Industrial Revolution has just begun, and the changes we see around us today is only the beginning. 37% of workers are worried about losing their jobs due to automation[1]. This Covid-19 pandemic has merely acted as a catalyst to trigger what has been waiting to happen for long. Both the traditional and modern businesses are now starting to understand the new opportunities and threats that lie ahead. This topic will help you to How to start your digital transformation journey.

Context:
Certain things about your business will never change, and the digital era will disrupt everything else. In this article, we attempt to offer a blueprint for your digital transformation journey. For this, we have to declutter and understand the deeper meaning behind overused buzzwords in this space like Digital Transformation, Industry 4.0, and Internet-of-things. We have to do this both from the technology as well as business landscape standpoints. We then explore why all businesses are becoming service-oriented, explain the idea of seamless interoperability, and establish the need for the same. Finally, we propose an eight-stage framework that you can follow to pursue your goals. We believe these ideas are applicable, whether you are a start-up or a large entity.
What is set in stone?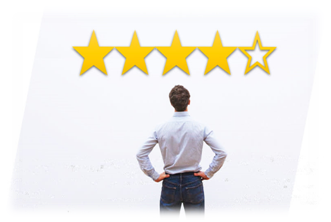 In the fourth industrial world, you will continue to
Serve customers
Deliver value to generate revenue (product or service)
Use technology to deliver this value
What will change?
There has been a rapid proliferation of the internet and smartphones into our day-to-day lives. Off-late rapid advancements in technologies like artificial intelligence and augmented reality are starting to change the way we live. These changes have resulted in a new consumer-behavior, where customers have subconsciously started expecting seamless interoperability. This new expectation from consumers will force every business out there to collaborate and interoperate like never before.
Organizations are starting to recognize the importance of collaborating to leverage the disruptive potential of these technologies. In one such example, 230 manufacturers (of commercial kitchen equipment, domestic heating, and cooking appliances) collaborate at the HKI Industrial Association of House, Heating, and Kitchen Technology to standardize the smart kitchen data models[2]. Together with drones and autonomous cars, these initiatives may end up eliminating kitchens from our homes.
Organizations that fail to recognize and adapt to this new consumer-behavior will face extinction. The only way forward is to reinvent processes, products, and workflows to see the network as the backbone, limit their scope to their core competency, and leverage others for the rest. They should also learn to protect their customers against new threats to privacy, confidentiality, and safety.
Note: This article uses the word "network" in a broader context to include a unified communications infrastructure that is necessary to provide the ultimate connected experience to the end-user.
Fortunately, when we design with the network as the backbone, there are just two high-level use-cases
Horizontal (e.g., machine-internal, machine-to-machine, factory floor, office floor)
Vertical (e.g., on-premise, edge, fog, cloud)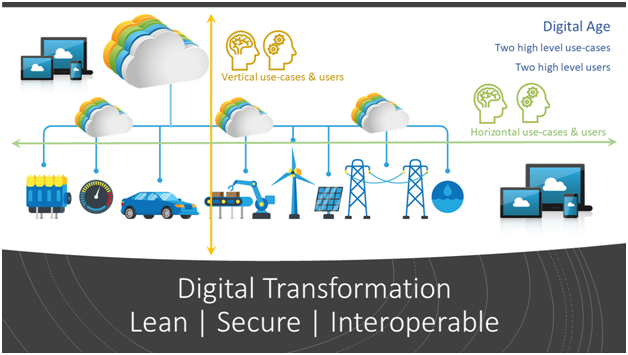 All modern technology components like AI, AR, Blockchain, can be a part of any block in these two broad level use cases. You may decide to run AI components in a distributed manner to realize your horizontal use-cases. Or you may also have them centralized to realize your vertical use-cases.
You may have multiple vertical flows as well. E.g., the machine vendor might want to centralize data in his cloud to provide additional services like predictive maintenance. Whereas, as an end-user, you may have multiple factories, and you may want to consolidate all the data from similar machines for your productivity tracking purposes.
Seamless integration of all other technology components with a near-zero lead time for such integration will be an essential requirement in the fourth industrialized world: minimal human-to-human and human-to-machine interaction in developing and delivering a given use case. So, whether you build internally or leverage third-party components, this is one aspect that you must consider thoroughly.
Demystifying the buzzwords
The devil is in the details. Let's begin by demystifying the terms:
Digital Transformation
Industry 4.0
Internet of Things
Let us start by looking at the definitions of these terms, what they are, and what they are not.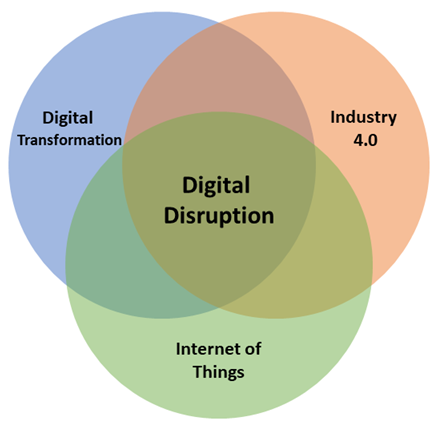 What is digital transformation?
At its core, digital transformation is a simple idea. It emphasizes replacing manual business processes through digital technologies like computers, mobile phones, the internet, and internet-of-things. According to a McKinsey article, Europe operates at only an estimated 12% of its digital potential, and the United States is at about 18% while 64% of their data collection process can potentially be automated[3][4]. These estimates highlight the potential for business transformation even in the advanced economies.
In its simplest form, Digital transformation starts with making your process paper-less. It then moves onto combining processes and automating them in new ways using technology to gain a disruptive advantage over competitors. Those who coined the term "Digital Transformation" might have considered – "Digital Disruption" instead. They might have finally chosen "Digital Transformation" as it appeals to the broader market. On the downside, it does not specify anything about the transformation part of how to go about it, so most marketing messages you receive around digital transformation ignore the need for interoperability. They also do not focus on standardization that enables sourcing from multiple third parties. They do not provide a migration path for standardizing existing brownfield installations, nor do they confront newer security challenges with the right design approach.
Essentially, if you focus too much on incremental transformation without planning for the bigger picture, then be prepared to have the rug pulled out from under your feet by a competitor coming in from nowhere and disrupting everything you do today.
What is Industry 4.0?
As per the definition of the German Government's Platform Industrie 4.0 group, Industry 4.0 or the Fourth Industrial Revolution refers to the intelligent networking of machines and processes using modern information and communication technology. The following are the outcomes envisaged:
Customer-oriented solutions
Optimized logistics
Flexible production
Convertible factories
Further use of data:

Improve productivity & efficiency
Predictive maintenance
Circular-economy
Industry 4.0, at its top-level, does not define what an industry is. Thus, when experts talk about Digital Transformation & Industry 4.0, there is a tendency to divide the landscape into process industries and discrete manufacturing. While this classification is a simple way to represent the current state, it ends up complicating your technology selection process as it leaves out sectors such as agriculture, healthcare, mobility, and several others from our imagination.
Why is this important? We believe that Industry 4.0 (like previous Industrial revolutions) is about transforming the way we live. The Industry 4.0 market is estimated to be valued USD 71.7 billion in 2019 and is expected to reach USD 156.6 billion by 2024[5].The disruptive potential of Industry 4.0 is possible only when we allow the boundaries between different sectors to merge
The term industry in Industry 4.0 includes everything from agriculture to manufacturing to software development. In this context, it may no longer make sense to have different automotive and industrial standards. It may also no longer make sense to have rigid walls between the worlds from agriculture to healthcare to industry and mobility.
Some of you might still wonder why we are talking about 'worlds' and not the industrial space to which Industry 4.0 is generally related. At the end of every industrial revolution, human life transformed to the extent that previous generations can no longer relate or understand the life-style that came after. With each industrial revolution, these transformations have happened in a shorter span of time than the one before. Also, it took lesser time to spread across the globe.
The world of machines and consumer devices has become too fragmented at the end of the third industrial revolution, making it difficult to achieve seamless interoperability. Seamless interoperability is the next big wave that will result in the fourth industrial revolution. Don't ignore this essential dimension when you start your Industry 4.0 project.
What is the Internet of Things?
The Internet of Things (IoT) is a system of interrelated computing devices, mechanical and digital machines, with the ability to transfer data over a network without requiring human-to-human or human-to-computer interaction. In the Internet of Things world, there are devices, cloud, and the human user. A new addition is an artificially intelligent bot that tries to make sense of everything on its own and tries to add value to human life.
The most significant barriers to real IoT are privacy, confidentiality, and safety. The sheer maintenance overhead brought in by these three aspects forces organizations to opt for creating information islands and aggregating them through gateway devices. To what extent does this clip the wings of the disruptive potential of your business? Is there a better way to design so that you don't lose out despite investing at the right time?
Seamless interoperability – why is it so challenging?
The main improvement in transitioning from the third to the fourth industrialized world is the envisaged seamless interoperability. This seamless interoperability has to happen between many machines, the cloud, and consumer devices. On top of it, consumers expect this level of interoperability without awareness of the current state and these dimensions:
Use-cases

Machine-to-Machine vs Machine-to-Cloud
Brownfield vs Greenfield
Quirks associated with different industry verticals

Technology Selection

Emerging vs proven technology
Open source vs proprietary software
Cloud vs On-premise
True IoT vs Information Islands (Security aspect)
How much data to collect – CPU, memory, bandwidth, and redundancy costs
Low power battery operated systems vs mission critical (overengineered) systems

Vendor Selection

In-house R&D vs third-party technology
Single vendor vs multi-vendor
Existing vendor vs new vendor
Size of technology vendor – big-company vs small-company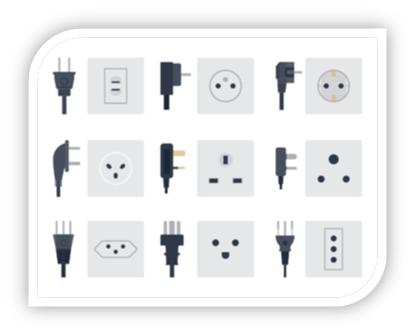 To deliver disruptive new business value, you have to rely on both emerging and proven technology components. Examples of emerging technology components would include Robotic Process Automation (RPA), AI (AI engines, machine learning), Blockchain, Augmented Reality (AR), cloud computing, Bigdata storage, and analytics, edge computing, mobile, data communication/network technologies like 5G, and Time-Sensitive-Networking. Examples of proven technology components would include HMI, SCADA, MES, ERP, programmable logic controllers (PLC), sensors, and actuators. Even within these grouping, not all components are in the same part of the technology adoption curve.
You must be ready to understand each technology block in your solution architecture and its position in the hype-cycle and the chasm. The ability to understand the technology blocks at a high level will enable you to choose when to opt for an emerging technology block or when to reuse mature technology.
Inhouse creating of new technology will make sense only when you can get a disruptive advantage in return. Else, you can go ahead with the mature technology that is already available from third parties.
Why everything new is service-oriented?
Over the last few decades, we have witnessed that as the network and connectivity improved, global product development life cycles became shorter. This shortening of the product life cycle has happened despite customers expecting more features and more variants. This consumer behavior and the need to keep him/her happy are challenging the very idea of a product; everything is becoming service-oriented. In this scenario, you may have to be less protectionist and more collaborative to retain and grow your customer base. The RAMI 4.0 architecture proposed by the Industry 4.0 initiative builds on this idea of service-oriented architecture (see picture).
Also the following are essential:
Protect your customer

Privacy, confidentiality, and safety

Enable your customer with interoperability

Lock-in shall not be your core strategy to retain customers
It should be your integrity, quality, and connected experience that shall result in customer continuing to be with you

Protect yourself

Ensure that you can change your strategy fast

Understand technology – what's inside the black-box
Avoid being a mere buyer of technology
Avoid

Vendor lock-in
Technology lock-in
Collective lock-in
Common questions
Existing vendor vs new vendor: Every vendor of your business would have told you how their solution is smart and how they have all the needed features. By now, you have probably realized that there was much marketing, and you needed to be careful about the choices you make. Everybody offered a perspective, and reality happens to be much bigger than that. There is too much news to grasp and too little information to trust and act. A deeper understanding of the underlying technology, vendor's integrity, and the ability to deliver high quality connected experience relevant to your business and cost of switching should drive your decision-making process.
How much data is useful data? – CPU, memory, storage, and bandwidth costs:
Myth:
You need to collect data from all possible sources in your manufacturing operations, and then, in due course, you can figure out what to do with it.
Reality:
This drives up your cost in terms of CPU cycles, memory, storage, and network bandwidth.
Think about what you would like to achieve in your digital transformation journey and understand the current status only in that context. This approach will significantly reduce the amount of data you need to collect or look into for decision making. Also, focus on where you want to be, instead of concentrating too much on your competition. In the digital world, competitors usually come from a completely different space – think of what the iPod did to the music industry, and NetFlix did to the movie industry. Be clear on why you exist as a business and reinvent yourself if needed.

Your digital transformation plan has many things in common with your physical fitness plan
Digital transformation is like exercise – do not look into the mirror after one day of effort and expect miracles. Miracles do happen when you consistently put in small amounts of focussed effort over a long period. Like in physical exercise and its role in improving health and fitness, there is no one size fits all solution; you need to find your rhythm and unique solutions.
In short, it all depends on where you are right now and where you would like to be in two years or four years. You may be a leading automation vendor or machine builder/system integrator or an end-user in your space. Still, for you to maintain your leadership position and stay ahead of the competition in this 4th industrialized world, you must find new ways to deliver new value to your customers by leveraging Industry 4.0 standards and technologies.
Before setting your footprint into this digital transformation journey, start with a lean workflow focusing on a Minimum Viable Product (MVP) tailored to meet your customer-specific needs. Continually engage with your customers, and closely align with their feedback, pivot if needed. An approach like this will help you incrementally improve your product in this rapidly progressing digital transformation world.
Lean Strategy Works
Listen to your entrepreneurial gut and disrupt from within. If you already have a sense of your digital transformation opportunity, start a new business vertical around it. Start lean and grow your data related spends along with your growing business. Rely on data that you already have and look at decisions that you can take today. If you agree with this approach, then you no longer have to:
Buy bloated technology and then figure out how to use it
Break your head on how to retrofit your brownfield installations
It is easier to invent something new than to retrofit end-to-end. Also, when you create something new, you don't have to make many trade-offs that you would otherwise have to do when trying to fit your business into the constraints of an existing digital platform.
Be careful with the large-enterprise approach
Don't fall into the trap of starting a new data collection project. You will never have all the data you need. You probably already have all that you need to take a few bold steps. Look into your existing data to identify an opportunity. Put your focus on disruption and not just on incremental improvement in efficiency/productivity. Go about it one stage at a time and then iterate based on results.
Don't miss the wood for the trees
Deeply understand the three widely used terms in this space – Digital Transformation, Industry 4.0, and IoT.
Digital Transformation starts with simple IT integrated workflows that make your process paperless
Industry 4.0 refers to the intelligent networking of machines using information technology
Internet of Things is a system of interrelated computing devices, mechanical and digital machines that can talk to each other without requiring human interaction
You should know how to combine them for a disruptive outcome. It is easy to miss out on one dimension if you focus too much on short-term gains. To illustrate:
(A) When the focus is on using existing infrastructure, it leaves out true IoT devices
(B) When the focus is on material movement, it leaves out the equipment world
(C) When the focus is on incremental improvement, it leaves out the real transformational opportunities
An 8-stage technology framework to stay lean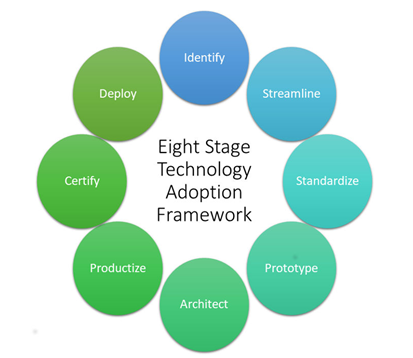 The following 8-stage technology adoption framework can serve as a starting point: First, start by identifying potential threats to your existing business model. Then identify opportunities for new business models, document existing and future use cases. You may realize that you may be in various stages of the 8 stage framework in different parts of your current business. You may have to iterate and simplify the problem statement and solution landscape rigorously. Identify that one aspect of your business that has transformative potential and approach it like a start-up.
Secondly, streamline your existing product, process, workforce, and technology. Identify missing links and address the gaps.
Third, identify relevant standards for your products or services and start building capability within your organization. Take care of regulatory aspects and compliances as part of your standardization effort. Think and plan for the likely changes in regulatory elements and also variations in different geographies. Among the other standards, pay close attention to the interoperability related standards that you may want to implement. If you have identified the right standards, you have significantly simplified your journey ahead as you will not be traveling this path alone. Identify opportunities to collaborate with others in the standards and share costs.
Prototype your Minimum Viable Product (MVP) use cases and evaluate technologies while iterating to keep things simple. Standardize all non-core parts of the business model so that you can externalize sourcing from third parties. Focus on your core capabilities and build intellectual property around it. On items that you source from third parties, plan to use standards, stay vendor agnostic and reduce switching costs, just in case.
Architect your solution for horizontal and vertical scalability. Implement continuous integration and deployment strategies. At this point, you will be ready to productize, certify, and commercially deploy your business model.
Conclusion
If you are a giant, don't be complacent. Industry 4.0 is about disruption. Remember that the playing field is level and the world has become flat. It's time to start a strategic business unit that functions as a start-up in your organization, with the goal being to figure out new business models to disrupt from within and to generate more value to you and your customers. It is always a better idea to disrupt from within than getting disrupted from outside.
If you are SME, remember that even large organizations have to start small to win this race. Digital Transformation and Industry 4.0 are not only for big players in the industry, and building a digital business is not so hard. You can succeed if you start understanding technology at a high level and build the ability to combine them to deliver new value to your customers. It would help if you also have a sense of the latest security and safety-related challenges inherent to this new world. Knowing how to protect yourself and your customers from expensive lock-in is an essential skillset of the future. Another necessary skillset is the ability to plan and design for scaling from the word go.
In summary, start small, identify a lean workflow focusing on your new business model. Don't shy away from building your own lean platform, adopting relevant standards, leveraging technology components from third parties, with a clear strategy to keep recurring costs low over your business's entire lifetime. If your organization culture imbibes philosophies like design-for-test and DevOps, deployment, scaling, security, safety, and maintenance will become much more manageable. These will also enable you to respond to customer feedback, market changes, and regulatory framework changes in an agile manner, and evolve or pivot as needed. A lean start-up approach and iteratively improving is the only way to succeed in the fourth industrialized world.
References:
[1] Fortunly – Automation and job loss statistics in 2020 – The robots are coming
[2] OPC Foundation – Markets collaboration
[3] McKinsey – Driving impact at scale from automation and AI
[4] McKinsey – Digital europe realizing the continents potential
[5] MarketsandMarkets – Industry 4.0 market by technology
[6] Forbes – A look back at why Blockbuster really failed and why it didn't have to
[7] i-SCOOP – Industry 4.0: The fourth industrial revolution – Guide to Industrie 4.0
About the Author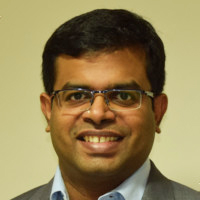 Mr. Bhagath Singh Karunakaran – CEO , Kalycito Infotech Private Limited is a first-generation entrepreneur. He aspires to create a positive difference in the lives of every human being through the use of engineering and technology. He believes that the interoperability-challenges faced in the equipment world makes life inefficient for everyone and is passionate about solving them. He founded Kalycito in 2007 – an Industry 4.0 Technology Solutions & Software Integration Services business that focuses on empowering customers in their Digital Transformation projects.  

He can be contacted at Email –  [email protected]  or Mobile : +91 87540 18003.   If you are looking for any consultation on Industry 4.0, IIoT and Digital Transformation, you can reach out to https://www.kalycito.com/