Edge computing is rapidly gaining popularity in industrial and commercial markets.From driverless cars to faster actions on video surveillance, to real-time push sales offers, to swifter shop-floor actions – edge computing holds the key to faster, real-time decision-making.Edge computing is also hailed as the fourth wave in the evolution of computation history.Let us briefly look back at this evolution path.
Wave1- Monolithic Mainframes
The age of Mainframes saw the need for large corporations to maintain and produce huge volume of data, mainly for work and for future usage. Information was carried by data cables, thus creating an interrelated system of networks. The demand for computing came into existence due to a higher need for future accessibility of data.
Wave 2 – Web Technologies
Eventually systems were built up with much larger scale of speed and the need to store capacity for processing data within a short period of time was paramount. In this wave of web technology, data was controlled by central systems for accuracy and of course maintenance. While the core data was always centrally stored, the mode of data transfer between data centres and the end-user clients was implemented by hypertext modules. This of course brought in the risk of security threats to data centres.
Wave 3 – Cloud Computing
Cloud computing, whether used as infrastructure as a service or platform as a service or software as a service, provide unprecedented means to corporations to save maintenance costs related to data and storage. Cloud computing also provides the opportunity to take advantage of remote processing thereby providing opportunity for further cost optimisation.
Wave 4 – Edge Computing
While cloud computing holds data centrally, the large volume of data exchange between the central repository and other premises – leads to a lot of network bandwidth congestion. This also leads to a lot of latency issues. And this is particularly a road blocking issue when it comes to scenarios that need swift local computation. Edge computing tries to overcome these difficulties by providing a scattered computation process module where end user data is executed at the last note of the network which is indirectly known as "Edge".
From a business angle, edge computing aims to reduce the latency levels and from the tasks at the nearest possible data source. It relies on real time data, which is processed by sensors or even in clients. This, is a key advantage, considering that cloud computing works on big data, which is generated from different sources and locations.
There is a significant operational benefit too. With terabytes of on-premise data being generated every day, the fact remains that <2% of all monitoring data is useful to derive proper business insights such as predictive or preventive analysis, which is primarily cloud application-dependent activity. Hence edge computing can provide a solution to derive the same analysis, much faster with real-time data, preventing transmission of terabytes of irrelevant data to cloud or data centres, thus lowering the ever-increasing IT costs on cloud and on network bandwidth.
Why is it important to invest in Edge Computing now?
The Edge market is projected to be sized at 43 b$ by 2027, growing at an incredible 37% CAGR (source: Grandview Research). 5G technology is expected to be one of the catalysts for growth. The key industries which are expected to drive this growth, are:
Manufacturing
Energy & Utilities
Automotive
Pharma & Healthcare
Infrastructure (Smart homes, Smart cities, etc)
These industries have all been heavy users of IoT technology over the years. While the US, Canadian and German markets are seen to be the principal adopters on Edge technology, India & South Asia is also predicted to be one of the early adopters as well, considering the fact that the availability and usage of data in India, is very much on the rise. While we explore the assured benefits this technology brings, it is also important to understand the possible roadblocks in this adoption process. A primary detractor for enterprises to adopt Edge technology is the initial CAPEX for infrastructure. Enterprises looking for comprehensive Edge computing solutions need to upfront invest heavily on edge devices, edge data centres and on edge nodes. In 2018, Netflix dropped the idea of investing in edge computing, citing CAPEX factors. However, the post-COVID scenario in manufacturing is seeing an upsurge in the acceptance of edge technology. Hence, while edge infrastructure costs might still be a restraining factor among small and medium enterprises, there is a greater adoption for this technology among large enterprises.
About the author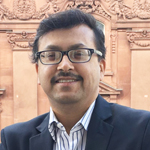 Mr. Sanjay Guhathakurta leads the Manufacturing & Natural Resources industry in IBM India, and is a thought-leader in Industry 4.0. An alumnus of London School of Business, Sanjay has several years of experience in working with various global clients helping them in their journey on Digital Transformation. In this rapidly-changing era, the fusion of technology and business is striking and Sanjay loves to explore this role that technology plays in transforming client enterprises and client experiences. He can be contacted at +91 – 98301 45784 or by Email: [email protected]