On Sunday, the 28th February, 2021, the indigenous PSLV-C51 Rocket of ISRO was launched from the Sriharikota Launch Pad, at 10.24 AM. It carried a payload of around 19 Satellites, notable among them are the Amazonia Satellite of the Brazilian Govt. for monitoring the Amazon Forests, Sindhu-Nethra of the Indian Govt. for monitoring the ship movements in the South China sea (this is to guard and protect our rightful sea lanes in that part of the sea).
For the motley crowd of assembly technicians and engineers (of Space Kidz) huddled together on a backwater island 6 km away from the launch pad, the thunderous, patriotic roar of the Rocket launch skywards on a Southern Trajectory was a poignant moment. The rocket was moving at around a hair-raising 9 miles per second speed to create the necessary Escape Velocity for the successful deployment of the Satellites.

They all felt very satisfied that they have played their small roles as engineer-citizens of this great nation, perhaps the last vestiges of the Indus Valley Civilization to protect its own citizens and assets, almost wholly by indigenous technology and brains. This humble, ancient-turned-modern Civilization leaves no stone unturned when challenged by seemingly mighty neighbour-powers.

There were 3 other small satellites made by a Chennai-based Start-Up, www.spacekidz.in and two Academic Institutes respectively. The one built and launched by Space Kidz is of the 3U* Cubesat Category, measuring 10cm x 10cm x 30cm (an International Standard) for demonstrating the possibilities of Space based IoT communications using LoRa technology.
*3U — 3-Unit; 1U — 1-Unit (10cm x 10cm x 10cm)
Satellites come in all myriad shapes and sizes and these being of Cubical / Rectangular Prismatic shapes, named aptly as Cubesats.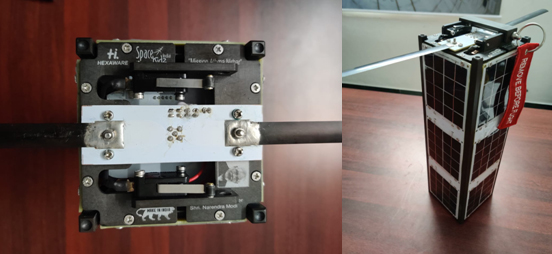 Why Satellites?
Satellites are essential, be it for deploying Industry 4.0 (Connected Factories), or for Autonomous Driving of Road Vehicles, or for exploring the Universe, or for the Defence of the motherland, say, to monitor beyond our borders. While bigger satellites need the finance and Technological power of giants like NASA, ISRO, smallish ones can be built by even Start-Ups. Of course, this 3U CubeSat was launched by ISRO.

About this Start-Up
Space Kidz is a Chennai-based Start-Up launched in 2010 by Dr. Srimathy Kesan for kindling School kids to discover their own potential in understanding space technology. The humble beginning of this small firm started with hands-on training and assisting school kids to launch weather balloons and to decipher the collected data. Interestingly, Mr.Rifath Sharook, (as an 18-year old student then) became the first in India to launch a 3D-Printed microsatellite (about 5cm x 5cm x 5cm) in 2017. He was able to achieve this feat as a NASA Cube-in-Cube Satellite Contest Winner. He has since risen to the level of CTO of this Start-Up.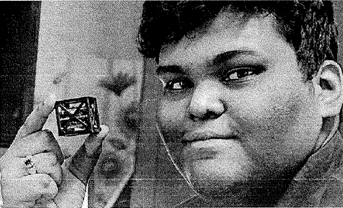 This legendary leader was inspired by the vision that a Nation can become advanced only if exotic technology like Space gets embedded at the grassroots level like Schools and the spin-off benefits will naturally flow to non-Space solutions to benefit the "(common) man in the street"!
How Micro / Nano Satellite Build Technology will nurture Industry 4.0 ?
These CubeSats can be made of space-grade aluminium walls assembled together to form the frame in which the PCBs and Electronics are housed. Of course, an Antenna, a Li-Ion Battery (Power Source) and some interlock switches are there too. These Aluminium Wall panels were 3D-modeled and after an exhaustive Digital-Mock-Up validation, CNC-machined for assembly and integration. This Built-Up design was preferred as against the costlier 3D-Printed, One-Piece Aluminium Design which is considered by some experts as more reliable. However, equivalent Assembly Integrity is possible with the advent of the reliable fastening technologies which are available now. We can also CNC-Machine the entire metal frame out of a single block of Aluminium of the specified grade. Composites structures are also chosen for Lightweighting. Digital Mock-Ups are the stepping stones to Digital Twins.

This Aluminium Frame and the PCB Platens were supplied and assembled by another Chennai-based Start-Up, www.emachineshop.in , a DRDO approved source engaged in advanced Design & Manufacturing Engineering Solutions.

Needless to add, Embedded Software plays a major role in periodic Health-Monitoring (BIT — Built-In-Tests) as well as for reconfiguring the circuits, should a fault occur, which in itself is a very remote probability given the Design For Reliability (DFR).

The 20k-30k Lines of (C++ ) Software Code were compressed in a matter of around 6 months by a very passionate, almost self-taught Software Engineer / Tester. The 4 Solar Panels also serve as the protection walls against any possible collision with orbiting micro space-debris.
Test Prowess
Any satellite has to undergo exhaustive testing before qualifying for launch. The Test Sample Satellite was destructively tested for — among others — Shock, Vibration, Space Environment and other electronic / Software functions. Tests were conducted at ISRO as well as in Private facilities. The engineers braved COVID-19 environment in this and other efforts.
Tracking
The Operation and tracking of the Satellite also needs separate set of infrastructure and skills which the same Start-Up has. The tracking station is also in Chennai. A sample screen grab of Track Data is shown here.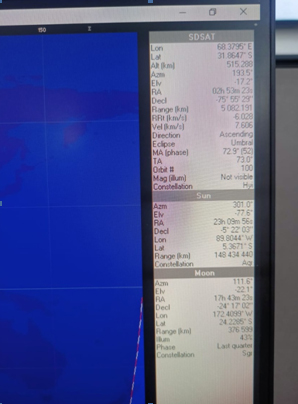 As can be seen, the Satellite (CubeSat) is orbiting Earth at an Altitude of 515 km at a speed of 7.6 km per second @ (approx.) 16 times per day. The satellite is healthy and functioning as intended, as at the moment of writing this Report. The Design Life (MTTF) of this Cubesat is estimated to be within 3 to 6 Months.
Enabling India to leap frog into the Industry 4.0 Era
The foregoing skill-sets and Manufacturing / Testing capabilities, it is believed, will embolden India into venturing into Industry 4.0.
About the Author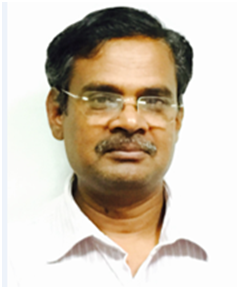 Mr. Mohan Kalaiyappan is a Contributing Author to Industry4o.com and is an Automotive Lean Six Sigma expert who has acquired Aerospace Expertise as well. He also serves as CTO of www.emachineshop.in
The Author is a Production Engineering graduate from NIT, Trichy with 38 years of expertise. He has worked on R&D of Air (WABCO) & Hydraulic Brakes, Disc Brakes, Clutches (Maruti Suzuki), Supply Chain Management, Reverse Engineering of Steel Plant parts (Vizag Steel), Quality Management Systems at G-Plast & Janatics. Was Principal Consultant at TCS Global Sourcing Department, Project Manager for Daimler India Heavy Duty Truck Prototype build and SME (Subject Matter Expert) for Indian Offset Partner (Axis Cades Aerospace) of Thales for the IAF Mirage 2000 Fleet Midlife Upgrade Project. He is an ISI Certified Six Sigma Black Belt and an ASQ Certified Reliability Engineer. He is a classic member of SAE and a Life member of Aeronautical Society of India. His interests include AR, Drones and 3D Printing
He can be contacted at Mobile : 9443720397 / Mail : mohan@emachineshop.in / kaymohan007@gmail.com
Also read my earlier Article