The Transition
From a labour-focussed function, to a more talent-management one, the human resources function has undergone massive transformation since its inception about two decades back, post Globalisation in 1991.
From what was a labour-focussed, union-driven IR-led function, the modern-day HR has come a long way to become the strategic people's function that it is now. Since its inception about two decades back, a lot has impacted the way it is perceived, how it functions and how much organisations value it.
Looking back at post independence era, it was Govt of India that established industries to  make the country self-sufficient. To avoid atrocious attitude of Babu's as learnt from British Kingdom, labor union was recognized. Post privatization when private organizations started enjoying more power than Govt, the legacy continued more ferociously to uphold the necessity of labor unions and protect the interest of workers with the help of several labor laws. Things started changing after the famous politician and trade unions leader, Dutta Samant passed away in 1997. With the gradual influx of contract labour, newer models of employment and better salaries, the aggression levels also came down. As a result, the focus of the function moved from being IR managers to ER (employee relations) managers. The function was also known as the personnel department in those days.
Post Globalization in 1991, organizations under intense competition from MNCs desired to reduce the cost by reducing manpower and offered VRS. This trend continued till year 2000. This is when they realised they are short of skills & talents  and recognized the power & importance of skill to form Human Resource Dept. This is when the HR function became a differentiator, offering a competitive edge to an organisation.
The Expectation
Russi Modi, chairman and managing director of Tata Steel and a leading member of the Tata Group preached the 'work together and grow together' concept, which also largely contributed to moulding HR into its current workforce-oriented form.
Ganesh Chandan, Chief human resources officer, Greaves Cotton, said, "Over the last decade, HR has transformed from an IR and compliance-oriented function to a more evolved talent manager for the organisation." He explains that the early stages of transformation witnessed HR becoming more business focussed, supported by deep understanding of the business dynamics and challenges posed by micro and macro environmental influences.
It was expected that HR function to gradually become a business partner and an enabler. The focus moved increasingly towards talent acquisition, development and retention. Furthermore, the function became highly process orientated, largely enabled by IT and quality standards adopted from the business.   People performance being key to enterprise value creation, the approach of HR was expected to gradually move from commoditisation to individualisation. As opposed to standardisation of mass production days, individual talent became the key differentiator to organisational success.
But, HR functions remain largely confined within IR function across manufacturing sector even till date. Payroll & Recruitment being outsourced,  talent development was largely ignored with least focus and minimal engagement.
The 16th Annual CEO Survey results of PwC during 2013 have thrown some interesting opinions from Indian business leaders. In spite of the Indian economy growing at the lowest rate in a decade, Indian CEOs continue to be optimistic about their growth prospects. However, they have voiced deep concerns about the VUCA (volatile, uncertain, complex and ambiguous) times we are operating in. Notably, 81% of the 73 Indian CEOs surveyed have stated that the biggest threat to growth prospects of their enterprise is the unavailability of key skills. So what does it imply for the Indian HR leader? 
Future of HR 2020 by KPMG suggests a particularly striking finding from Future of HR 2020 survey – in which over 1,300 HR executives from across the globe participated – 3 in 5 HR leaders believe that the HR function will rapidly become irrelevant if it doesn't modernize its approach to understanding and planning for the future needs of the workforce. In short, organizations of all shapes and sizes across the globe generally agree that the HR function will cease to exist in its traditional form if it continues to operate or deliver in the same way.
The HR function today is dealing with a range of questions: How can it prove its relevance within its organization and bring strategic value? How can HR design an employee experience that responds to evolving demands? And how can it utilize technology to truly understand the needs and motivations of employees?
Clearly, the people agenda has entered the boardrooms. Indian CEOs expect their HR leaders to support the business on multiple fronts today. While the overarching HR agenda remains unchanged, finer nuances of the job appear to be changing. For example, the war for quality talent has intensified but the focus on hiring at any cost is diminishing. Existing growth-related HR priorities and securing the leadership pipeline will co-exist with the pressures of driving organisational efficiencies. At the same time, areas such as managing the environment, which HR leaders post-1990s would have seldom had the opportunity or necessity to focus on, will make a return.
The war for good quality talent is intensifying. At the same time, there is further discernment and thoughts around the kind of talent to hire, and how well he or she fits into the organisational requirements and culture.
There is a paradigm shift in talent spotting what it existed in 19th & 20th Century that has seen transition from intelligence, experience, and past performance to verbal, analytical, mathematical, and logical cleverness of 20th Century.
Unfortunately, potential is much harder to discern than competence. Moreover, your organization will be looking for it in what will soon be one of the toughest employment markets in history—for employers, not job seekers. The recent noise about high unemployment rates in India hides important signals: Three forces – globalization, VUCA World and the Technological disruption – is posing serious challenge to organizations.
HR 4.0
With the advent of Industry 4.0 global CEOs expect HR to play its role to revive the function. Industry 4.0 has seen paradigm shift in the way we do business- from business practice to business model. Traditional skills have been completely replaced by new analytical role.
As per PwC CEO Survey report-
 • Improving operational efficiencies continues to be a top priority for 36% of Indian CEOs.
• Fifty-three per cent intend to initiate cost saving initiatives in the next 12 months.
• However, there has been a reduction in the focus towards cost reduction as compared to 2012 (60%).
At the same time…
• Forty-one per cent consider implementing new technology as a key investment priority in the next year.
• Eighty-one per cent intend to bring changes to their organisation structure.
• Close to one-third of Indian CEOs may consider initiating outsourcing of a business process or function in the next 12 months.
81% of Indian CEOs see the unavailability of key skills as the biggest threat to their growth prospects. They expect the HR leader to champion the cause of operational efficiencies. In addition to addressing overall organisation productivity issues, the overall effectiveness and efficiency of the HR function has to come into focus to improve Total Factor Productivity, Multi-factor productivity, Improve GDP per Employee to Employment Cost, Improve Wealth Creation for sustainability goal etc.
The impact of the Fourth Industrial Revolution – the term used to describe the convergence of AI, RPA, Machine Learning (ML), and cognitive platforms – is forcing teams to shape their workforces to consist of all worker types, including permanent, gig, contingent, and machine. To use the 4Bs vernacular: buy, build, borrow, and bot.
This Fourth Industrial Revolution has irreversibly altered the genetic make-up of the modern workforce. Indeed, the Big Innovation Centre estimated that 65 percent of our jobs do not exist. 2019 Global CEO Outlook by KPMG, in sharp contrast to earlier anticipation, confirmed that CEOs continue to be more optimistic on the matter, with close to 70 percent expressing that AI will create more jobs than it eliminates. Regardless of what might happen, we must prepare for it, one way or another.
To meet the needs of organizations, HR needs to actively challenge who – or what – carries out the majority of traditional tasks. Ninety percent of organizations cite that identifying the workforce relevant to new normal is a strategic priority, and approximately 80 percent believe they are largely prepared to do so. However, over half of their counterparts report they are either not particularly, or not at all, prepared. Since the world has now recognized that machine can only provide insights required for decision making process, no technology can ever take over Human Brilliance, Human Skill & Human Ingenuity. HR need to focus for holistic improvement in organisational culture and potential of Human Intellectual Capital to deliver as per business dynamics and organisational need. Machine will always be by humans. Human can never be governed by machine as is being hyped.
Deloitte's recommendations reflect the ambition of the World Economic Forum's Reset initiative, encouraging leaders to think about creating more resilient societies and ecosystems – as well as businesses.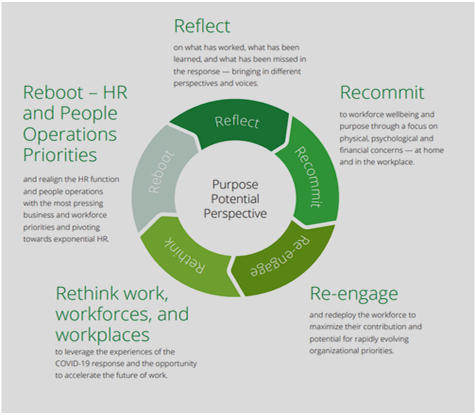 HR 4.0 is now expected to deliver in the disruptive age acquiring deep business economic wisdom & insights about product & process to spot & prepare talent  upskilling / reskilling them across all the level of hierarchy-from CEO to Blue Collar focussing on following parameters-
Curiosity
Engagement
Insight
Determination
Analysing capability
Critical thinking capability
Emotionally Intelligent
HR will need to look at making people processes more efficient and customer-friendly. They have to keep close co-ordination with process for maintaining supply chain of potential talents adding value to the value chain. Tracking of tangible benefits being delivered by the HR function has to be high on senior leader's priority list hereinafter. Implementing HR 4.0 roll out initiative is therefore of prime importance and challenging task before HR Leaders to keep up to the organizational & CEOs expectation to stay relevant and be an organizational pride.
The irony is none of the organizations and even HR leaders are aware of the steps required in rolling out initiative. For this organizations will have to have clarity about requirement of Industry 4.0 which according to PwC latest survey report 90% of Indian CEOs have no idea.
Developing capabilities and Business Skills relevant to Industry 4.0 looking beyond conventional skill is the first step towards smooth transition to new normal. Every business has its own dynamics. There cannot be any one-size-fit-all solution, be it software, hardware or skill set. Organizations have to develop it of its own to succeed and best return on investments. HR has to play a big role in this transition and prove their importance.
About the Author

Mr. Abir Biswas
Worked through Fortune 500 companies in a senior position, He is an HR Expert with 25+ years of industrial experience revolutionizing HR domain and adding value to Human Intellectual Capital besides looking after Industrial Relations. He has formulated HR 4.0 roll out initiatives with sole focus on improving productivity of the organization, the main purpose of Industry 4.0.He can be reached at 8738085745 // 7760997033 & [email protected].