Driving Continuous Improvement in Manufacturing
with Industry 4.0 Solutions
"If you can't measure, you can't improve." This quote by Peter Drucker sums up the importance of data and measurement in continuous improvement programs in manufacturing. The history of manufacturing is filled with examples of companies that have achieved great success by implementing innovative and efficient production processes. Henry Ford's assembly line revolutionized the automotive industry, while Toyota Production System (TPS) introduced Lean Manufacturing, which aimed to increase efficiency and reduce waste.

Lean Manufacturing focuses on the efficient use of resources to reduce waste and improve efficiency. It aims to eliminate non-value-added activities, which are referred to by the acronym DOWNTIME – Defect, Overproduction, Waiting, Non-Utilized Talent, Transportation, Inventory, Motion, and Extra Processing. By eliminating these activities, Lean Manufacturing aims to improve the flow of materials and reduce the time required to complete a process.
On the other hand, Six Sigma was first introduced by Motorola in 1986 to improve its manufacturing process. Since then, it has been widely adopted by companies across various industries. The goal of Six Sigma is to reduce variability in the manufacturing process and eliminate defects by using statistical methods. Six Sigma uses a structured approach called DMAIC (Define, Measure, Analyze, Improve, Control) to identify and eliminate the root cause of defects in the manufacturing process. It is a data-driven approach that relies on statistical analysis and measurement to improve quality and reduce defects.
Despite their differences, both Lean Manufacturing and Six Sigma aim to improve the manufacturing process by eliminating waste, reducing defects, and improving efficiency. However, achieving these goals requires data, which can be a challenge in manufacturing environments where machines are often isolated and not connected to any network.
This is where Industry 4.0 solutions like Fogwing Industrial Cloud come into play. By bringing together Operation Technology (OT) and Enterprise data (IT), Industrial Cloud solutions can harness data from the shop floor and provide visibility into the manufacturing process. It can help in tracking their production lines, and identify areas for improvement, such as reducing downtime or optimizing production processes. The platform provides insights into the performance of machines and equipment, enabling manufacturers to make data-driven decisions and optimize their processes for increased efficiency and quality. The platform includes tools such as visual dashboards, alerts, and automated reporting, allowing manufacturers to monitor their processes and react quickly to any issues.
Armed with this data, manufacturers can run continuous improvement programs with ease and achieve process excellence.
In conclusion, Lean Manufacturing and Six Sigma are both powerful methodologies for improving the manufacturing process. However, the success of these programs depends on the availability of data. Industry 4.0 solutions like Fogwing Industrial Cloud can provide the data required for these programs to succeed, making it an essential tool for manufacturers looking to achieve process excellence. Industry 4.0 solutions are no longer experimental, they are the need of the hour and a necessary step forward in these turbulent times.
About the Author :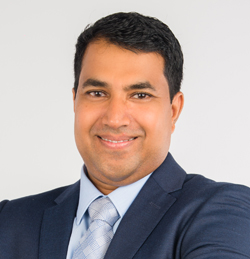 Mr. Anup Chandran
Director – Digital Transformation
DX Advantage Technologies LLC


Mr. Anup Chandran, is an engineer and business leader with over two  decades of experience in the IT industry. Anup holds a degree in Instrumentation Technology from Mysore University, an MBA from GIM, and certifications from Michigan State University and Wharton School in Logistics & SCM and Business Analytics, respectively.
Mr. Anup Chandran is currently serving as the Director of Digital Transformation at DX Advantage Technologies LLC, focusing on driving digitalization, smart factory, and smart city initiatives.
Mr. Anup Chandran has worked for prominent companies such as Mercator,  Bombardier Aerospace, and Dassault Systems and has contributed significantly to the development of next-generation Product Lifecycle Management (PLM) platforms.
Mr. Anup Chandran is also a co-author of an IBM Redbook on "Architecting Portal Solutions" and has been a member of the CTO advisory panel at Enovia R&D center.
Mr. Anup Chandran is Bestowed with the following Licenses & Certifications :
https://www.linkedin.com/in/anupchandran/details/certifications/
Mr. Anup Chandran can be contacted at :
Mob: +971 50 6943755 | Email | Gmail | LinkedIn | Website