Emerging Counter Drone Technologies – A global opportunity for Indian Manufacturing
Drones seem to suddenly be visible around all major airports around the world more so specifically in the United Kingdom Post the Gatwick drone incident . In the drone circles there are those who vouch that the drones were really there and an equally vociferous group that are convinced that the claims of drone sightings is a fake there never were any drones in the first place . These opposing points of view cannot be reconciled primarily because there is absolutely no data what so ever to prove either side right . Unlike commercial aircraft locational data awareness is the critical missing link relating to the drones while there is sufficient data as regards the aircrafts operation .It is this factor that is going to be the future of drone regulations going forward and a huge potential for India to build a manufacturing ecosystem .
The Drone Regulation/ Counter / Anti  drone Market size is estimated to be around $ 1.85 billion by 2024 with a CAGR Of 24.1 %. Source : https://bit.ly/30E15Bg
Among countries globally India is possibly among the top few to be affected by this illegal Drone menace created largely by DJI's range of drones. These drones estimated to be around 1/2 a million in India require to be got into the regulatory framework to ensure the successful implementation of the Drone regulations in India   .
With the global drones shipment standing at around 40 million drones between 2014 -18 it is clearly a global  problem as well .
The Drone regulatory system would evolve into a two layered system consisting of :
Non Destructive Solution for Tracking Drones
Destructive , aggressive Anti Drone Systems
Non Destructive Solution for Tracking Drones :
These systems are primarily inclusive systems that track drones as they operate continuously without interfering with them as long as the drone operators do not enter areas of convergence in an unauthorized manner. In the event of such incidents regulators shall be equipped to take action that warns the operator as the first step and then activate landing procedures automatically as the second step to ensure integrity and safety of the airspace .
The Indian government already has the required system to on board these illegal Chinese drones by way of MORTH's AIS 140 Hardware specifications and the Vahan Portal.
Adapting this system for drones will open up the digital sky system for drones to all the manufacturers and service providers approved under MORTH's Vehicle Locating System .
This would enable fast roll out and effective implementation of the drone regulatory framework for an estimated 1/4 ~1/2 million drones.
The Gatwick drone incident clearly highlights the huge GAP as regards operational data  of the " GHOST " drones at GATWICK  .
A Tracking systems of the MORTH type adapted for drones  will fill this crucial GAP .
The combined manufacturing capacities established for catering to the requirements of both the regulatory requirements Of MORTH and MOCA will achieve the required economies of scale to ensure the competitiveness of Indian products Globally.
In short the strong domestic demand for Made in India Certified regulatory products for drones and public service vehicles will support their exports .
An Indian solution by way of a certified regulatory product will always command a higher level of credibility given the global trust deficit for Chinese origin products. The  credible data generated and logged of the  drones operations directly by the regulators instead of the option via the APP of a  Chinese Service like DJI  would be readily welcomed by regulators across the globe .
Destructive , aggressive Anti Drone Systems
Such systems for will primarily be scaled down versions of existing military grade systems . Theses are primarily an antiaircraft like defence systems around Airports and sensitive installations of National interest that can aggressively take down Rouge Drones that violate airspace .
Given the potential of the Indian markets for civilian and defence applications collaborations can be created with manufacturing countries of such products like Israel under Make In India Defence initiatives to develop such capacities in India.
Hence implementation of an indigenous Non Destructive drone tracking system adapted from the MORTH along with Destructive aggressive military style system under make in India defence initiatives can provide the required impetus and opportunity for India emerging as a manufacturing HUB that targets a huge projected global demand for Counter Drone solutions .
The manufacturing opportunities created by the deployment of drone tech to other Industry 4.0 applications as highlighted in my article will further enhance the economies of scale for Indian manufacturing.
Governmental Support :
The Indian government should incubate , foster and develop global Drone manufacturing clusters focused on :
Certified Non Destructive Counter Drone products
Made In India Destructive Counter drone products for both Civilian and Defence applications
Drone tech centric embedded electronics Industry 4.0 products for future Automobiles like Vehicle Telematics, ADAS , E Mobility to name a few .
The key foundation for effective manufacturing of these future oriented technologies centric products are
Automotive Industry along with ancillaries manufacturing
Large scale Electronics manufacturing capabilities
Strong IT infrastructure
The above are critical for developing manufacturing and service capabilities for both the emerging drone and automotive industries.
Two industrial hubs in India namely Pune and Chennai already have these key requirements in place with Chennai fast closing the gap with Ulsan , Korea in terms of number of cars manufactured annually.
The government of India should support , nurture and encourage manufacturing of future technology centric products and solutions by way of effective national level policies and country to country level engagements in the sensitive security area of counter drones for Indian manufacturers .
With the creation of such manufacturing ecosystems in  India the potential of India to emerge as a global power house for cutting edge future technologies will be set in place .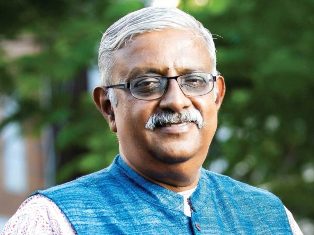 Sai Pattabiram is the MD M/S Sree Sai Aerotech Innovations Pvt Ltd ( SSAI) . His company is  recognized by the Department Of Science & Technology as one among India's most Innovative MSME's who cater to a range of civilian applications for their Proprietary AI & Geo IoT  devices in mining, land surveys, machine data acquisition, infrastructure project monitoring , precision agriculture and solar plants to just name a few.  Sai has a career spanning 4 decades across major verticals. etc.