How Big is the Digital Transformation Market and which Industry is Spending the most?
According to IDC, Global spending on the digital transformation (DX) of business practices, products, and organizations was estimated at $ 1.8 trillion in 2022, and will continue to grow with a five-year compound annual growth rate (CAGR) of 16.6%. To come up with this number, this study evaluated 12 technology markets and 300+ DX use cases. From an industry perspective, manufacturing comprises 29.1% of worldwide EX spending for the year (18.2% Discrete and 10.9% process), followed by professional services in a distant second at 8.6%. The category of "others" comprised insurance, securities and investment services, construction, resource industries, wholesales, personal and consumer services, transportation, healthcare provider, media, federal/central government, state/local government, telecommunications, and education.
What are the forces driving digital transformation?
Consumers are demanding more, faster. According to Pitney Bowes, 73% of customers prefer to do business with brands that personalize their shopping experience. Sustainability, being environmentally friendly, and acting ethically have also become decision criteria in the purchasing process. Consumers are demanding a faster response to sales or marketing questions with faster delivery, right to the doorstep.
Artificial Intelligence is infiltrating our lives. AI is extremely versatile in its application – it spans every industry and impacts nearly every job function – from entry level all the way up to CEO. According to PwC, AI is expected to contribute $15.7 trillion to the global economy by 2030.
Innovation Everywhere. Companies are investing more formally in creating a culture of innovation, oftentimes resulting in adopting the new role of "Chief Innovation Officer". The Global Innovation Index shows that investment in innovation has been resilient during the COVID-19 crisis and even reached an all-time high with R&D expenditure growing by 8.5% in 2019.
Government Assistance. Whether it is the U.S.'s Manufacturing USA initiative or Germany's "High-Tech Strategy 2020" or China's "Made in China 2025", Governments around the world are investing billions in developing manufacturing technologies to help overcome technical hurdles and train tomorrow's workforce to spur the next wave of global economic growth.
Data is Everywhere. Humans and machines are creating far more data than we know what to do with. Those that can capture the harness the power of data will have a massive competitive advantage. According to Statista, an estimated 97 Zettabytes of data was created in 2022 (which is roughly 19,000 times as much as the data created by all of humanity up until 2003).
How successful are companies?
Back in 2016 McKinsey & Company shared a study that showed a whopping 70% of Digital Transformations Fail.  But since 2016, surely things have gotten better, right? Lets review a few other findings:
In 2020, Boston Consulting Group (BCG) found 70% of Digital Transformation projects fall short of their goals – even when leadership is aligned.
In 2021 an Everest Groupstudy found that 68% of companies failed to provide any business value from their digital transformation process.
In 2021 a Couchbase study showed that 82% of enterprises were prevented from pursuing digital transformation projects, and 80% had projects fail, suffer delays, or scaled back.
So, after finding 4 studies by 4 different companies spanning 5 years all saying basically the same thing.  What gives??? Unfortunately, there is no simple or single answer.
Truly successful Digital Transformation requires a total redesign of how your business operates, generates revenue, approaches problems, and even engages with employees and customers. Furthermore, this "transformation" will result in the people needing to change as much as the company itself.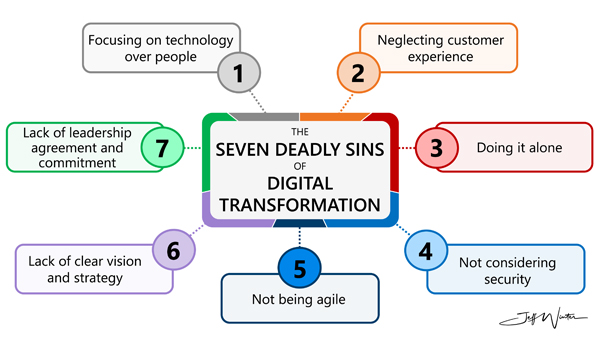 The seven most common failure points in Digital Transformation:
Focusing on technology over people : While technology is certainly an important aspect of digital transformation, it's arguably more important to consider how the changes will impact employees. According to Boston Consulting Group, in a study for 40 digital transformations, they found hat the proportion of companies reporting breakthrough or strong financial performance was five times greater (90%) among those that focused on culture than it was among those that neglected culture (17%). Strong leadership and good change management will help ensure employees are inspired, motivated, and aligned with the digital strategy.
Neglecting the customer experience: Customer experience must be at the heart of digital transformation. Process optimization and cost reduction will help improve the business, but they won't change the game. Leveraging high-quality product, customer, and market data allows companies to create new business models that provide better product/service performance, customer experience, and business outcomes for customers.
Doing is alone : Adopting and implementing a variety of new technologies that need to cohesively work together while simultaneously modifying processes and managing cultural changes is a tough undertaking. Very few companies, if any, have the expertise and experience in-house to pull off a successful digital transformation by themselves. The right partner ecosystem brings diverse skills, industry insights, and proven methodologies, thus reducing risk and accelerating transformation. Partners can provide tailored solutions that match your specific needs, offering scalability and flexibility.
Not considering security : As organizations adopt new technologies, it's important to consider the security implications, both for the organization and for the customers. Cybersecurity is too important to be considered an afterthought in the digital transformation process. According to Microsoft's Digital Defense Report 2022, Manufacturing at 28% had the highest ransomware incident and recovery engagements of any industry.
Not being agile : Very few large-scale transformations go exactly as planned. In addition, technological advancements and market conditions are changing so fast that failure to react and adapt quickly can be catastrophic. Agility also encourages cross-functional collaboration, transparency, and an iterative approach. Without this, resistance to change may flourish, leading to a lack of alignment between departments and undermining overall business objectives. This resistance can stagnate the culture of continuous improvement, further reducing the organization's adaptability.
Lack of a clear vision & strategy: Not everyone has the same definition of Digital Transformation. According to Baker McKenzie, 69% of organizations define Digital Transformation as a tool for improving process efficiency. Meanwhile, 23% view Digital Transformation as a tool for developing new ways to sell products and services, and only 8% think of it as a developing business model change. A good digital transformation strategy should include a vision that aligns with business objectives, describe what success looks like, how success will be graded, how the combination of technologies will be integrated across all systems and processes to transform the business, and a transition / change management plan. A simplified digital transformation statement should be continually communicated by all employees, with managers ensuring their employees understand exactly how their role fits into the transformation and the outcome.
Lack of leadership agreement & commitment : Digital transformations are designed to be disruptive and can often be costly. Company leaders not only need to agree on the digital strategy, but they also must be fully committed. Otherwise, digital initiatives will run the risk of goal and priority misalignment, high levels of resistance, and loss of funding.
My Advice: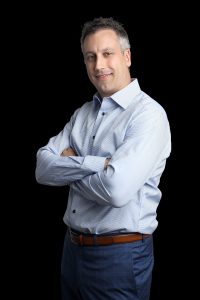 Digital business transformation is a multifaceted process that involves a wide range of strategic changes and adaptations across an organization. It is crucial to recognize that there isn't just one type of digital transformation; rather, it encompasses various aspects such as process, business model, cultural/organizational structure, customer experience, domain, and ecosystem transformation. Focusing solely on one dimension can limit an organization's overall success and hinder its ability to thrive in a rapidly evolving digital landscape.
The leaders and managers of a Digital Transformation initiative need to understand and fully appreciate that success requires a change in behavior and attitudes of those involved, not just a replacement in technology and processes. Technology is an enabler of transformation, not the goal of transformation.
Digital Transformation should be viewed as a strategic initiative, not a set of tactical "to-dos". This means it can't simply be assigned to others to complete – it requires a company-wide "all-in" mindset focused on a shared mission. It is part of the long game, not a yearly or quarterly accomplishment.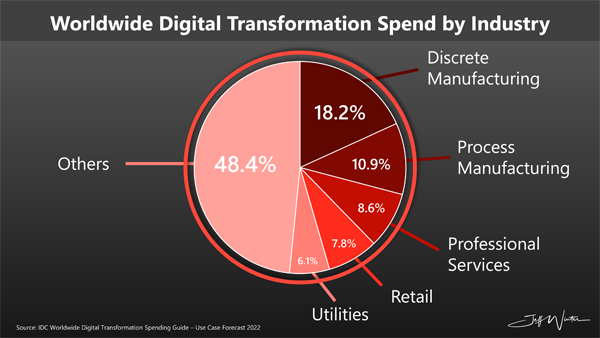 Mr. Jeff's passion is helping manufacturers digitally transform in
innovative ways through Industry 4.0 technologies.Doing so requires a unique ability to bridge the gap between business strategy, industry trends, technology implementation and change management.
Mr. Jeff enjoy building collaborative relationships with clients,
partners, coworkers, and industry evangelists to help empower
manufacturers to achieve more. As a Industry strategy leader for
manufacturing for Hitachi Solutions, he focus on helping companies that build "things" (discrete manufacturers) or "stuff" (continuous/process manufacturers) digitally transform.
Mr. Jeff is very active within the industry as a thought leader to help inspire companies, professionals, and students to be excited about the future created by the fourth industrial revolution.
About the Author :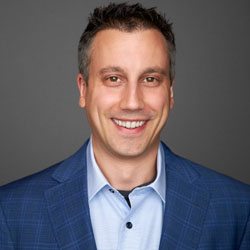 Mr. Jeff Winter
Sr. Director of Industry Strategy, Manufacturing,
Hitachi Solutions America

Jeff Winter is an Industry 4.0 & Digital Transformation Enthusiast | Business Strategist | Avid Storyteller | Tech Geek | Public Speaker
Jeff Winter with over 15 years of experience working for different industrial automation product and solution providers, Jeff has a unique ability to simplify and communicate complex concepts to a wide range of audiences, educating and inspiring people from the shop floor up to the executive board room.  As part of his experience, Jeff is also very active in the community of Industry 4.0. 
Jeff is a part of the International Board of Directors for MESA (Manufacturing Enterprise Solutions Association), he is in the leadership committee for the Smart Manufacturing & IIoT Division of ISA (International Society of Automation), he is a U.S. registered expert for IEC (International Electrotechnical Commission) as a member of TC 65, and also part of Purdue University's Smart Manufacturing Advisory Board.
Mr. Jeff is Accorded with following Honors & Awards :
https://www.linkedin.com/in/jeffreyrwinter/details/honors/
Mr. Jeff Winter is Bestowed with the following Licenses & Certifications:
https://www.linkedin.com/in/jeffreyrwinter/details/certifications/
Mr. Jeff is Volunteering in the following International Industry Associations & Institutions:
https://www.linkedin.com/in/jeffreyrwinter/details/volunteering-experiences/
He can be contacted at :
Email : [email protected], [email protected]
LinkedIn : https://www.linkedin.com/in/jeffreyrwinter/
Also read his earlier Articles :